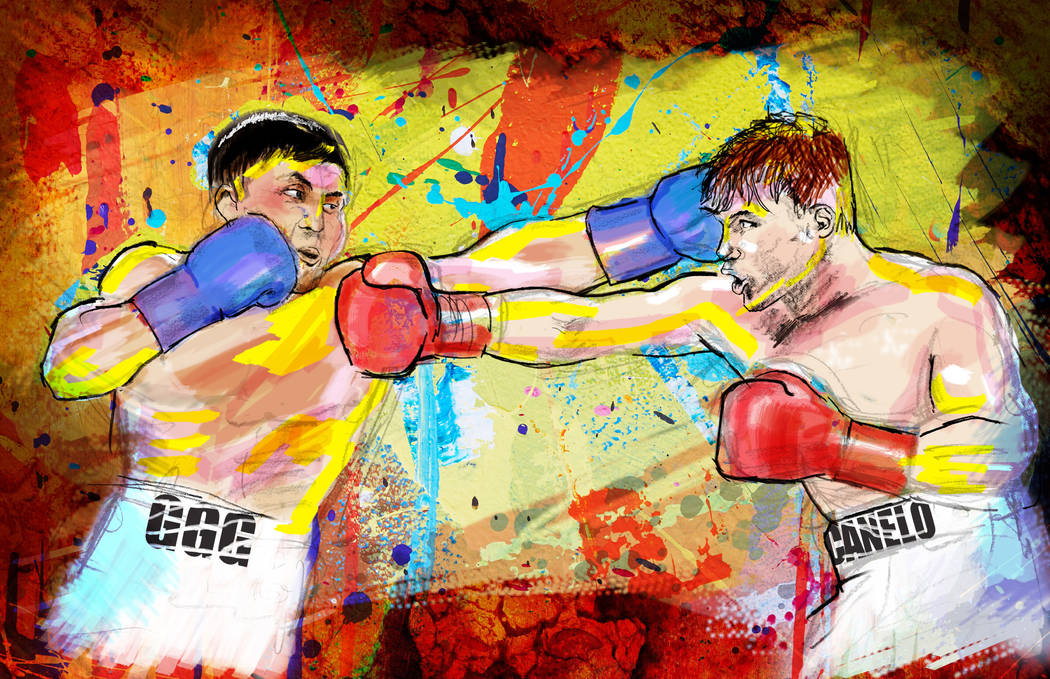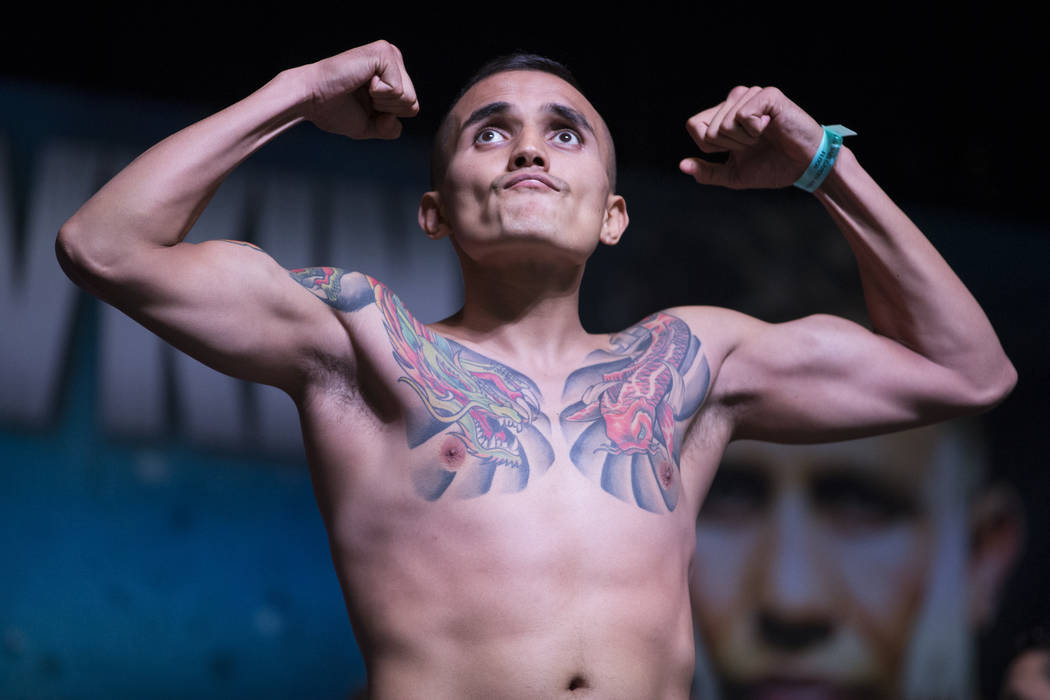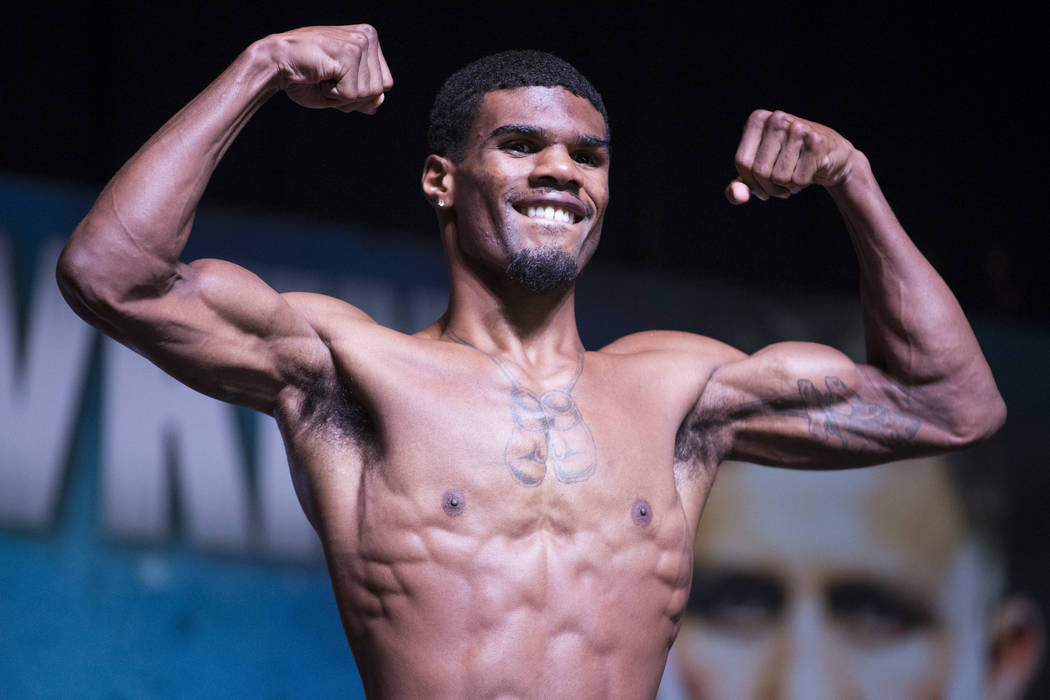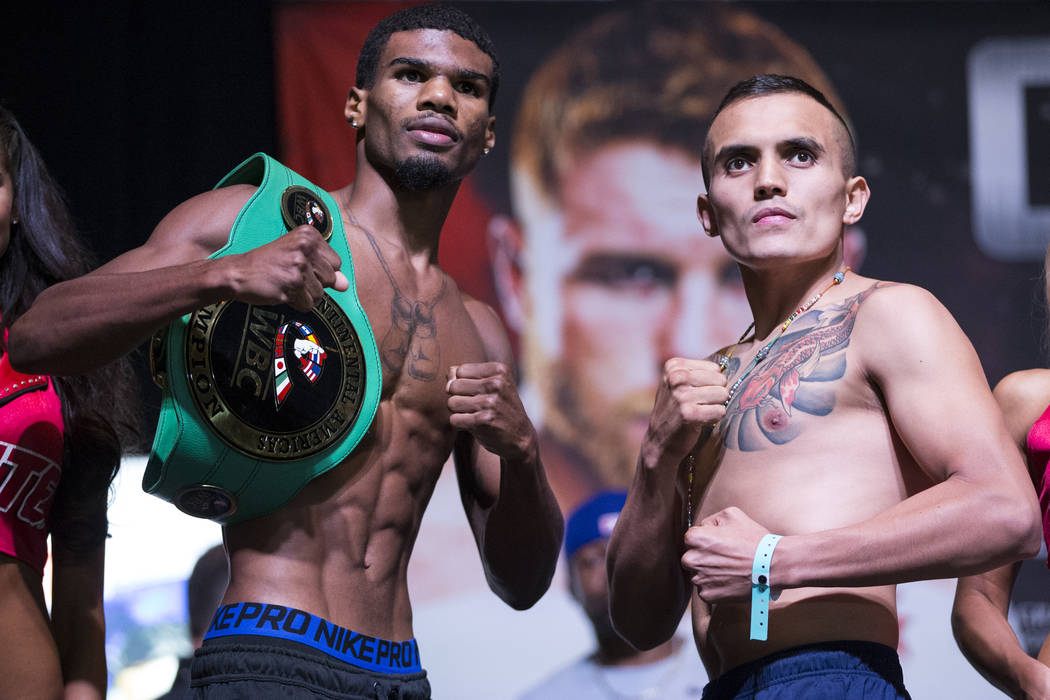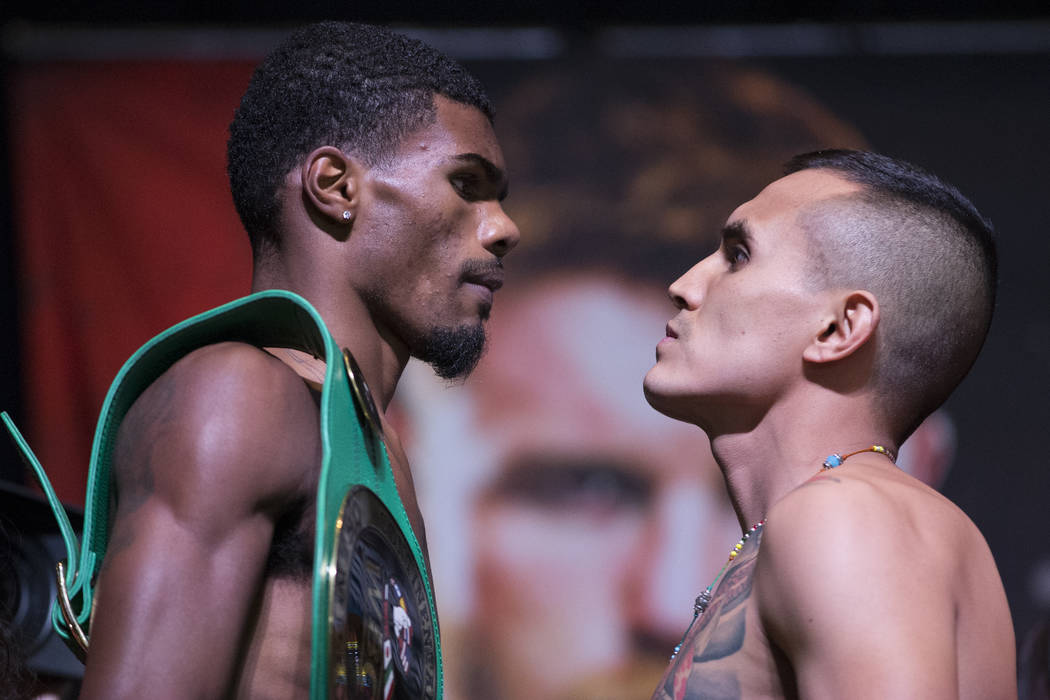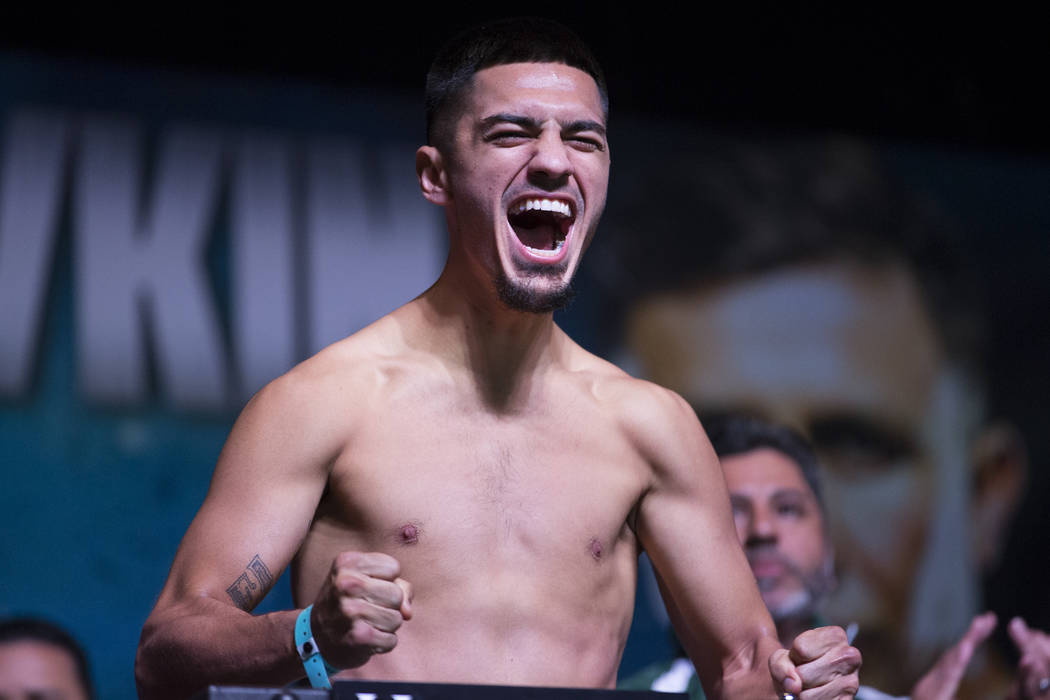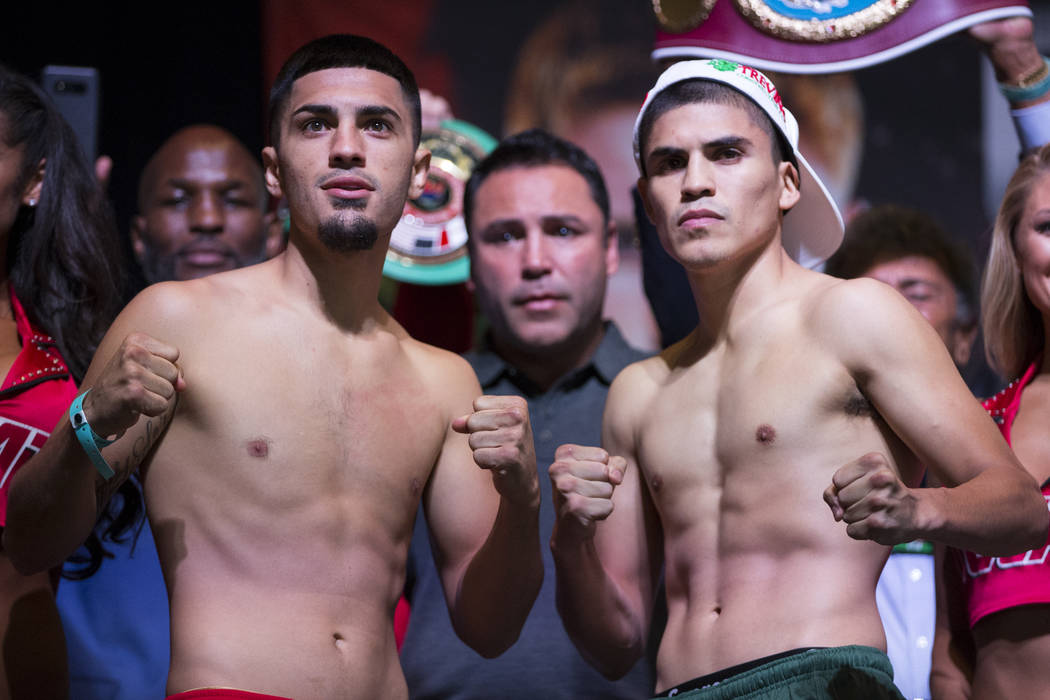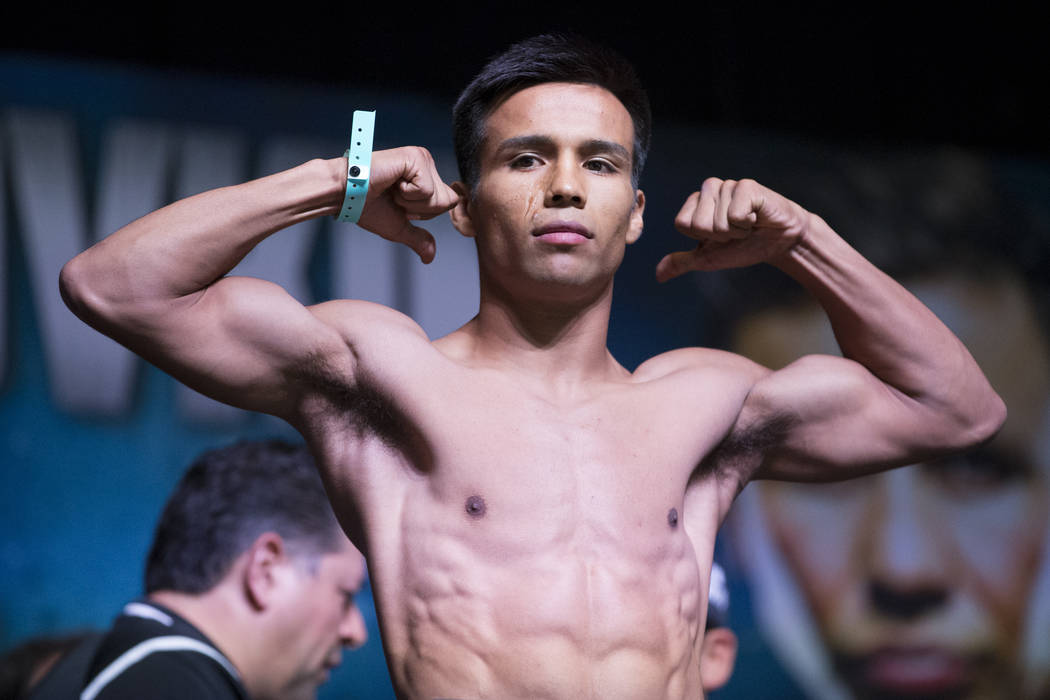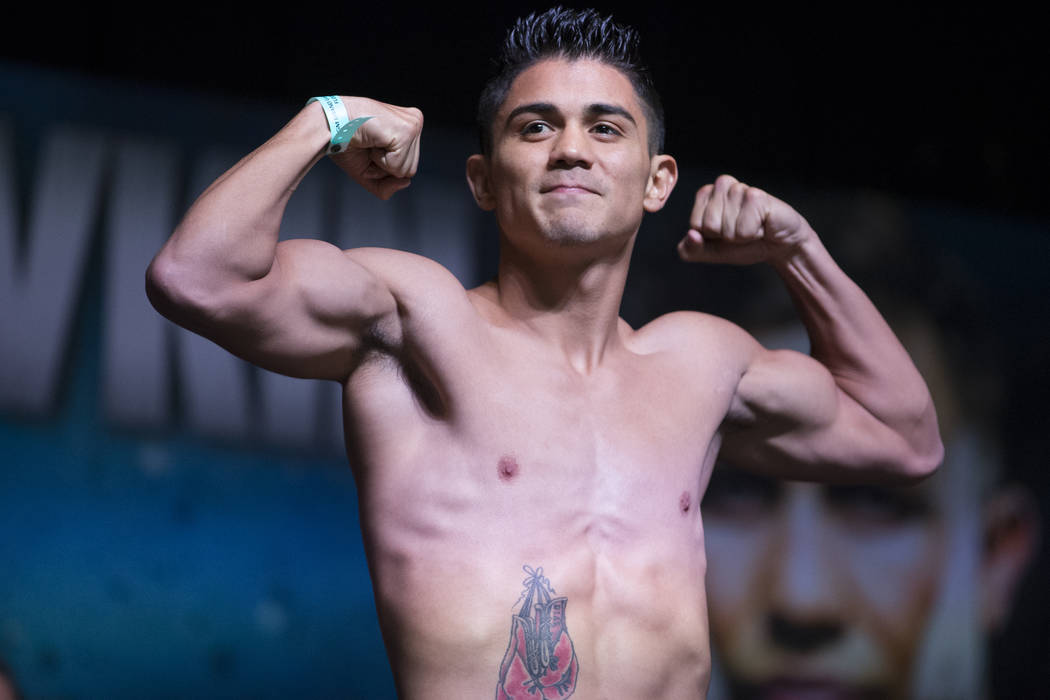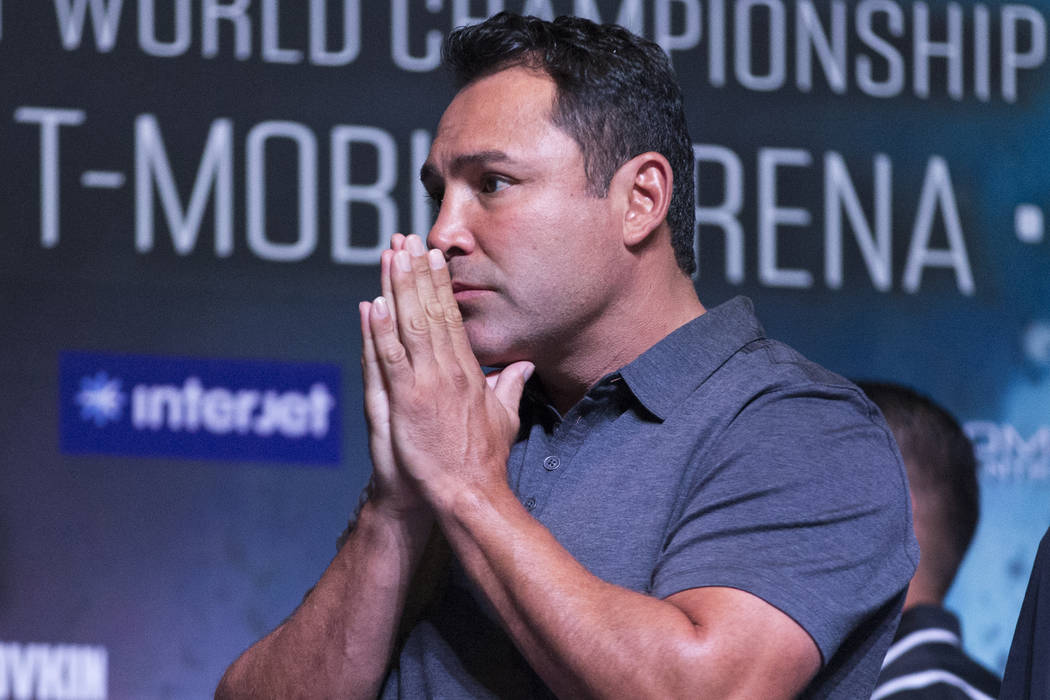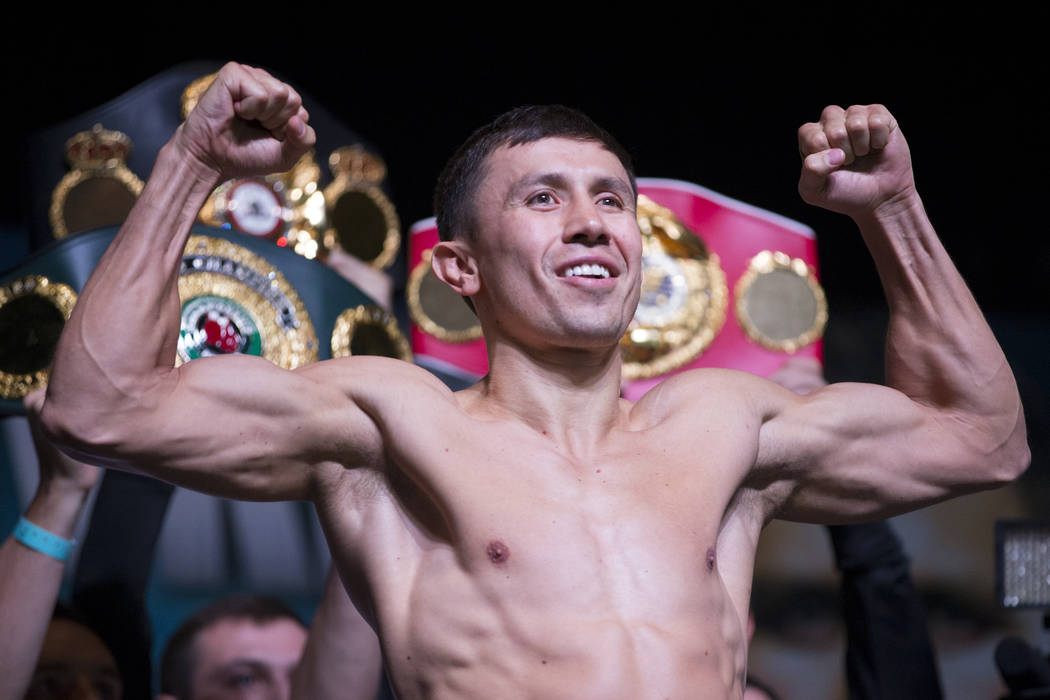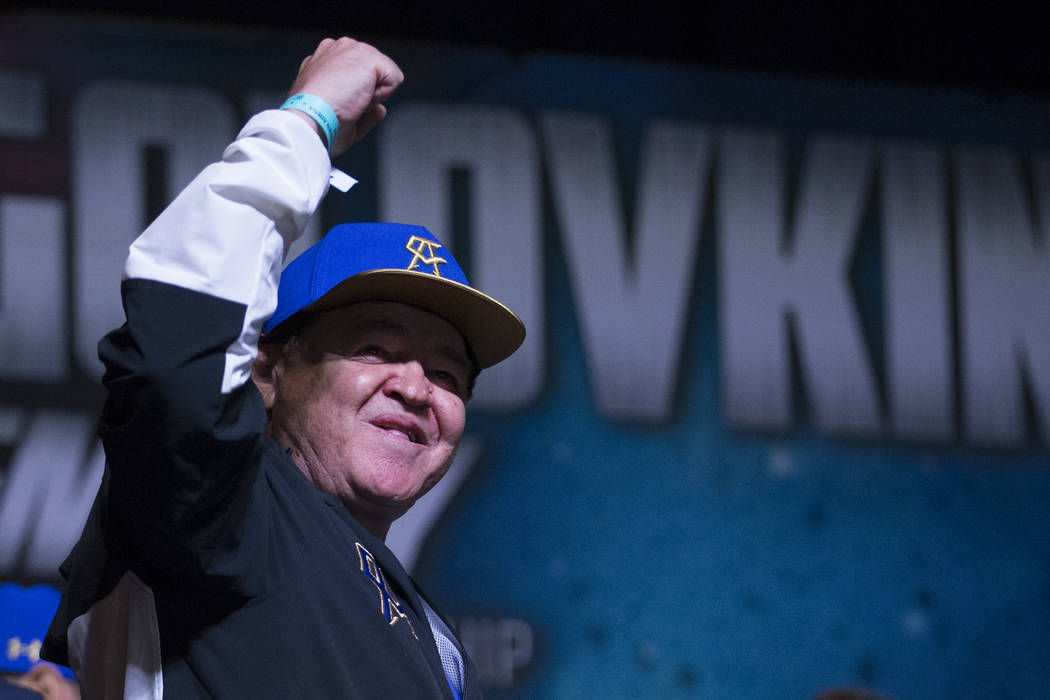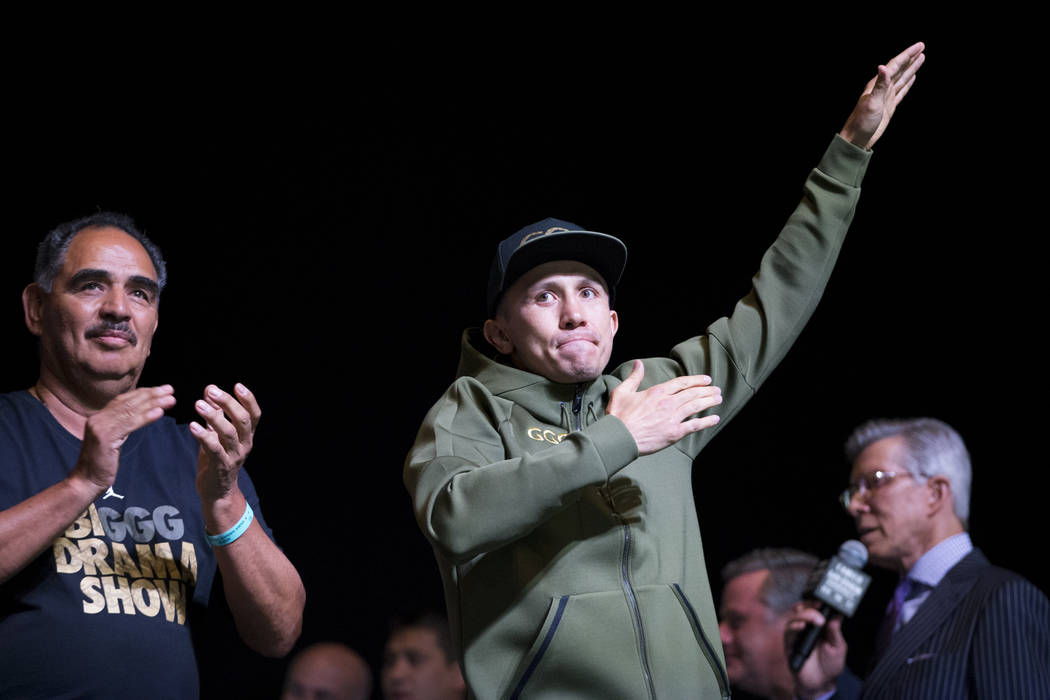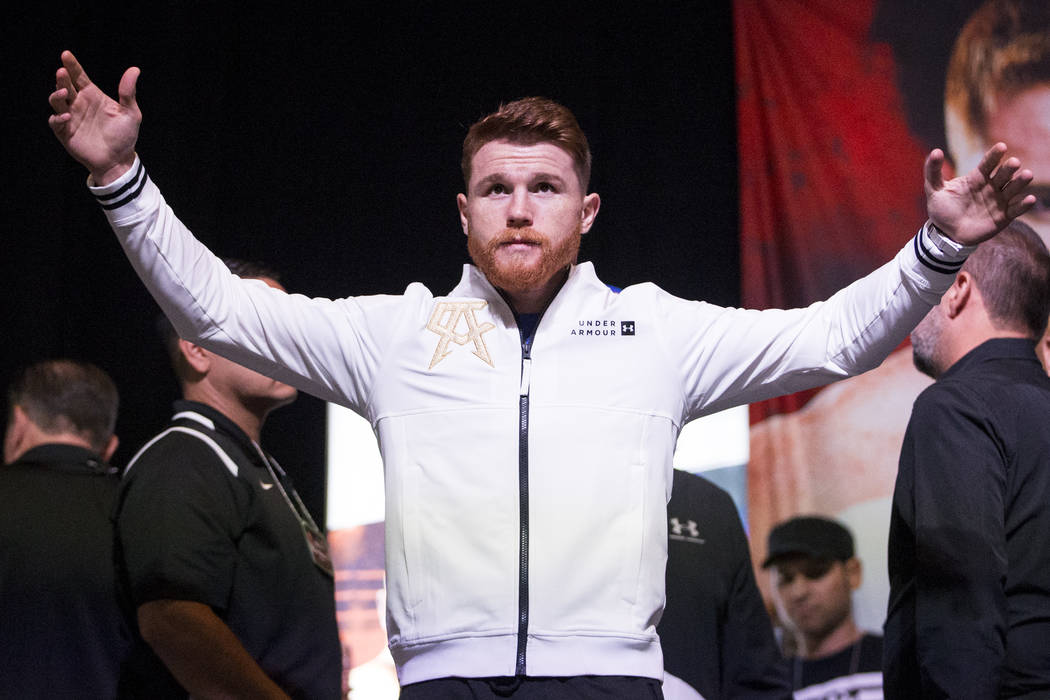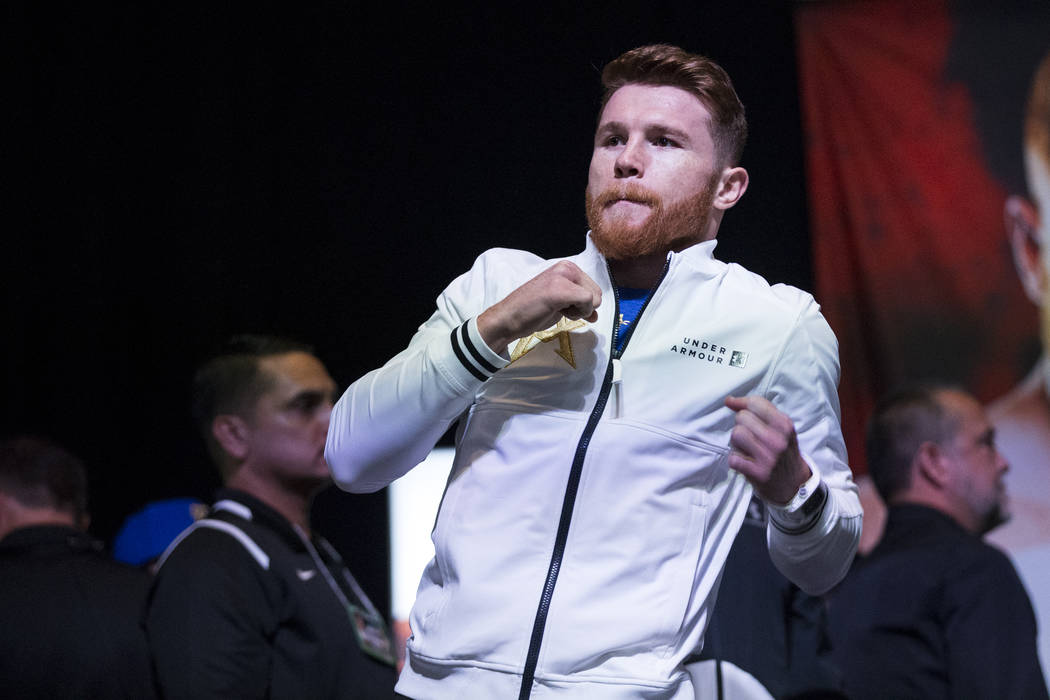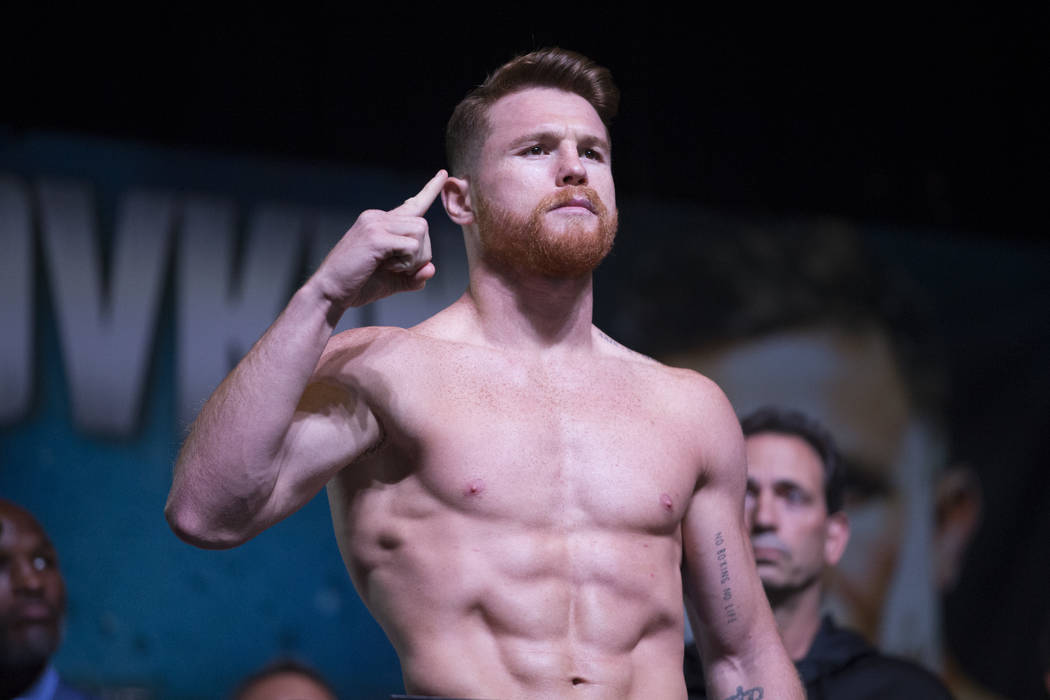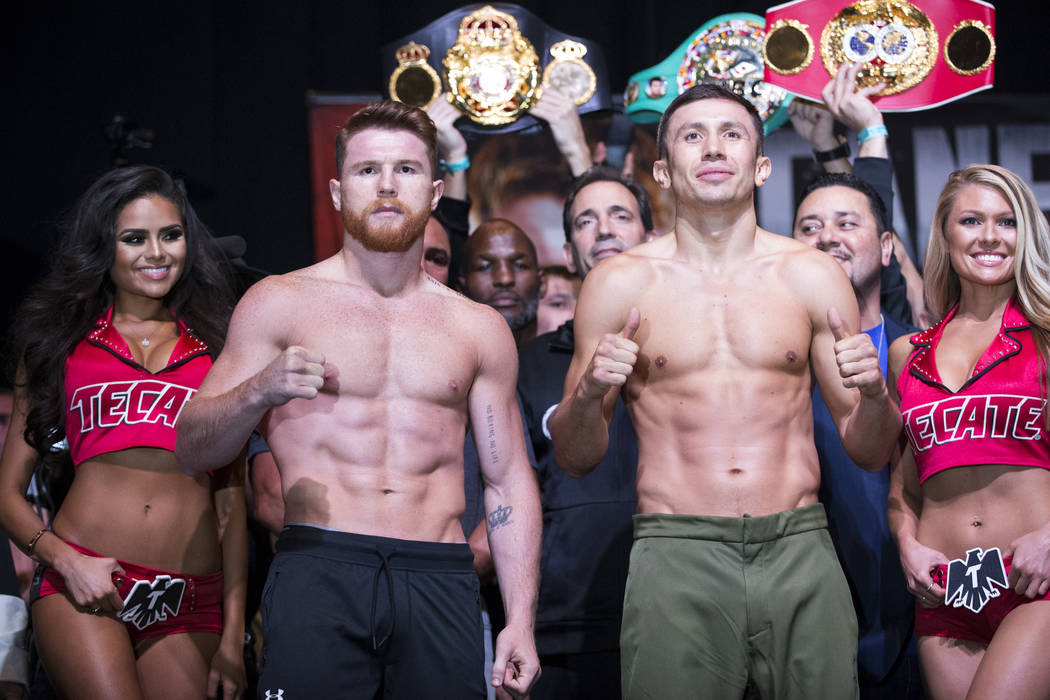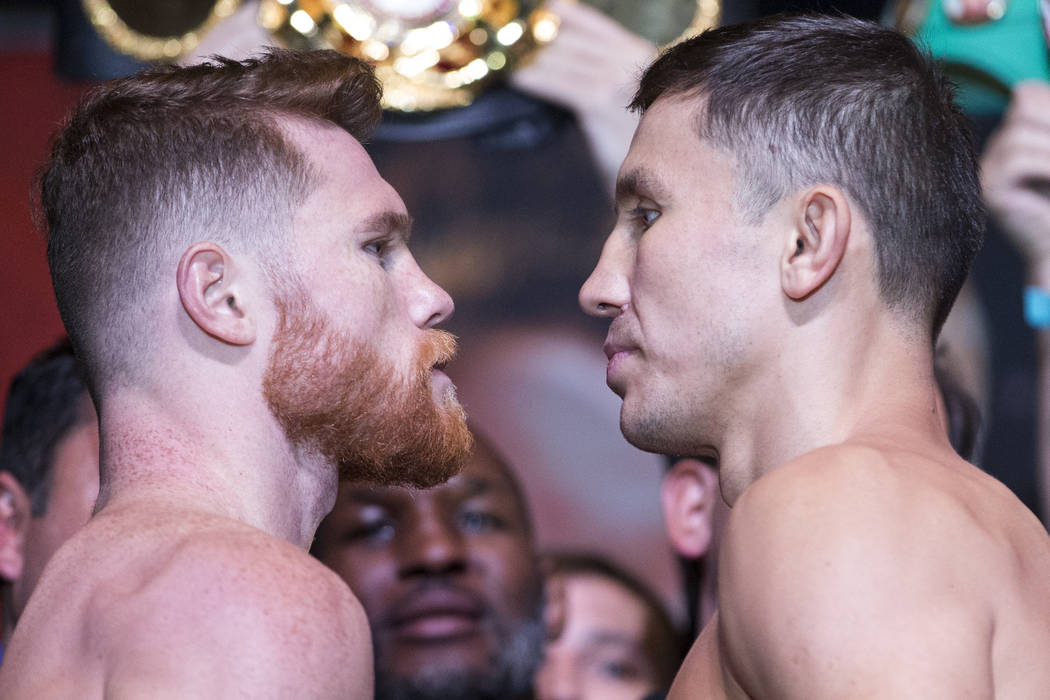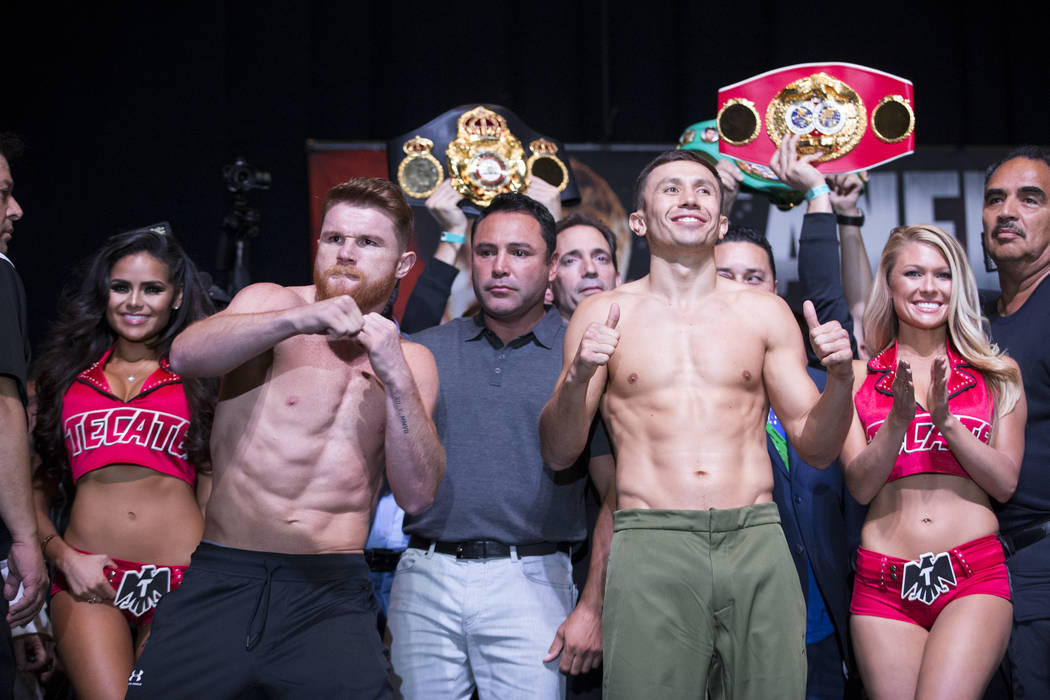 It was all set up for Saul "Canelo" Alvarez to take center stage Friday at the MGM Grand Garden Arena for the weigh-in with his opponent, Gennady "GGG" Golovkin.
Golovkin had his fair share of support, but most fans were there to see the Mexican superstar, a big reason the line to get into the event started forming at 5 a.m.
The estimated crowd of more than 10,000 was getting ready to explode when Alvarez's video clip appeared on the arena screens. Smartphone camera lights were turned on as the stands began to shake.
But Alvarez's grand entrance was skipped. Longtime ring announcer Michael Buffer forgot to introduce Alvarez and proceeded to have Golovkin step on the scale with Alvarez nowhere in sight.
Amid the confusion, Alvarez mysteriously popped up on stage and threw one of his patented combinations.
The megabout being called "the real fight" didn't need trash talk to build up hype or any special arrivals to get the crowd excited. Fight fans just needed Alvarez and Golovkin to be under 160 pounds to make the potential fight of the year official.
Making weight was never a concern for two of the hardest workers in boxing. Alvarez and Golovkin each weighed 160 pounds. No decimals needed for the perfectionists.
The highly anticipated bout that took more than two years to make is finally set for Saturday night at T-Mobile Arena. Golovkin, the middleweight kingpin, will defend his WBC, WBA, IBF and IBO titles against Alvarez, who will put his lineal title on the line.
"Thank you to all the fans, Mexican, American, everybody," Golovkin (37-0, 33 knockouts) said on stage while getting booed. "I've been a champion for a very long time. We'll see tomorrow (what Alvarez does)."
Golovkin, 35, arguably the second-most popular boxer behind Alvarez, wasn't going to let the boo birds ruin his first Las Vegas weigh-in. He smiled and took a bow during modest "Triple G" chants.
Alvarez, 27, is the marquee attraction for a busy Mexican Independence Day weekend in Las Vegas even with iconic Mexican singers such as Alejandro Fernandez, Marco Antonio Solis and Mana scheduled to perform on the Strip.
"When I was born, I got rid of the fear," Alvarez (49-1-1, 34 KOs) said on stage. "I'm not afraid of anyone, and we're one day away from finding out who Canelo really is."
Many are wondering which Alvarez will show up. The one many claimed was afraid to face the hard-punching Golovkin a year ago and an overrated pretty boy? Or the much-improved Alvarez who's entering his prime and ready to solidify himself as one of the best pound-for-pound fighters?
"I believe I can get better," Alvarez said. "I'm in a great moment in my boxing career, and I've learned a lot. But there's still so much I can improve on. I just hope (Golovkin) brings out the best in me, and that's what I expect him to do."
Alvarez's guaranteed purse is $5 million with Golovkin taking $3 million, according to the Nevada Athletic Commission. That doesn't include their share of the HBO pay-per-view.
Twelve years before Alvarez was a seven- to eight-figure fighter, he was taking home $60 for his early professional bouts as a 15-year-old in Mexico.
The red-haired fighter doesn't have the long amateur and Olympic background that Golovkin has. The fighter from Kazakhstan fought more than 350 amateur bouts and won an Olympic silver medal in 2004.
Alvarez was forced to turn professional at an early age because he couldn't find sponsors to support his traveling expenses for an amateur career.
The Mexican star needed to grow up quickly in the ring, and that eagerness probably cost him against Floyd Mayweather four years ago for his only career loss. But Alvarez doesn't see the Mayweather fight as a blemish on his record; he took it as a learning experience.
The former two-division titlist is eight years younger than Golovkin, but he has more experience on the big stage after facing 12 former or current champions. Golovkin has defeated five former or current champions.
"It's important to have experience against A-level fighters, and I have many fights of that type," Alvarez said. "I do have more experience. But he has a lot of experience from the amateur days to now as a professional."
Alvarez said his goal is to knock out Golovkin, a minus-155 favorite at the Westgate sports book.
There's an unproven tale that Golovkin never has been dropped in any fight or sparring session. Alvarez hopes to be the first and make his 50th career victory a memorable one.
"He's not a monster," Alvarez said. "I'll show everyone who's the better fighter on Saturday."
More boxing: Follow all of our boxing coverage online at reviewjournal.com/boxing and @RJ_Sports on Twitter.
Contact Gilbert Manzano at gmanzano@reviewjournal.com. Follow @GManzano24 on Twitter.
Fight night
Who: Saul "Canelo" Alvarez vs. Gennady "GGG" Golovkin
What: Middleweight championship bout
When: Saturday
Where: T-Mobile Arena
TV: HBO PPV, $80 HD, 5 p.m.
First fight: 3:15 p.m.
Weigh-in: Alvarez 160; Golovkin 160
Odds: Golovkin minus-155; Alvarez plus-135 (Westgate)
Purses: Alvarez $5 million; Golovkin $3 million
Records: Alvarez (49-1-1, 34 KOs); Golovkin (37-0, 33 KOs)
Ages: Alvarez 27; Golovkin 35