Bronze statue honors 'Tark the Shark' on UNLV campus
October 30, 2013 - 4:28 pm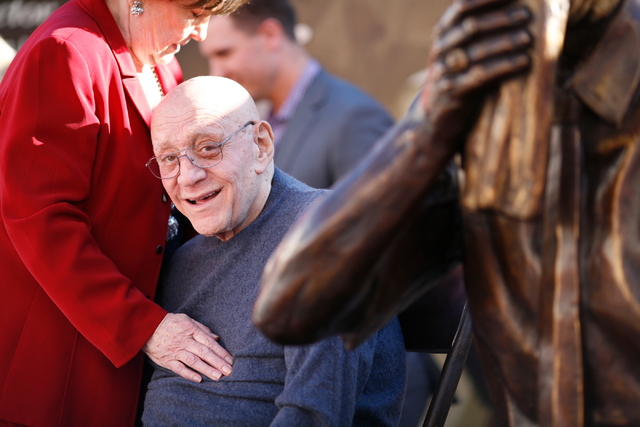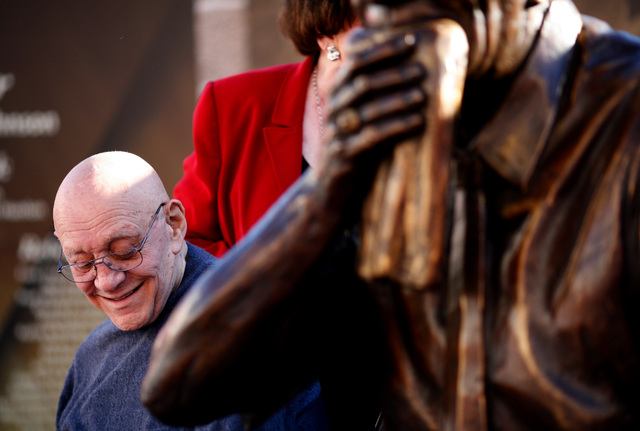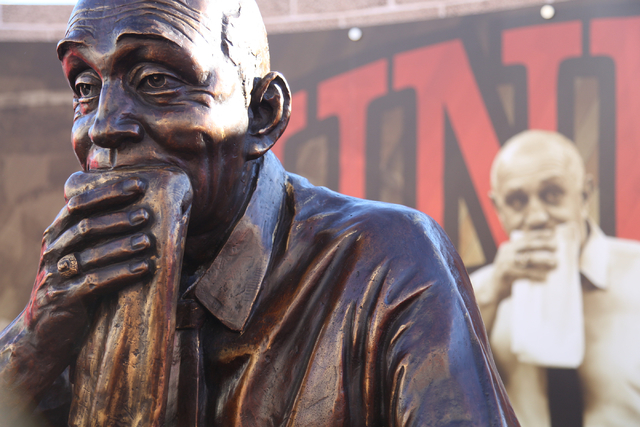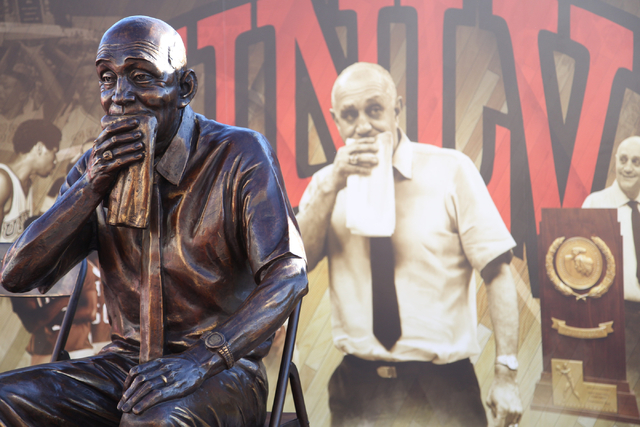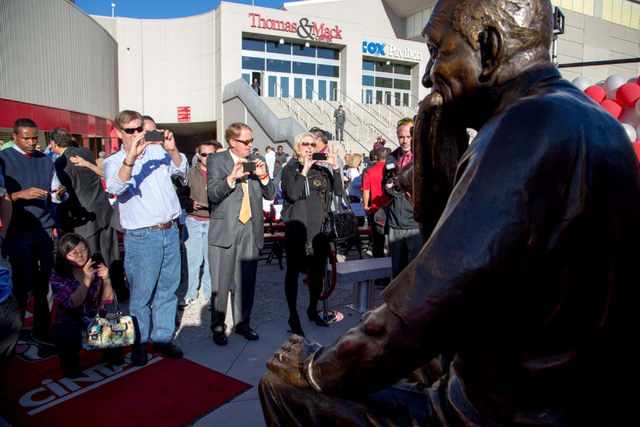 There was a Shark sighting on the UNLV campus Wednesday.
But this Shark was bronze. And it sure looked like Jerry Tarkanian.
The school officially dedicated a statue to the 83-year-old Hall of Fame basketball coach who guided the Rebels to four Final Fours, the 1990 national championship and in 19 seasons at UNLV posted a 509-105 record.
"It's a beautiful statue," Tarkanian said of the likeness of himself, located between the Thomas & Mack Center and the Mendenhall Center practice facility adjacent to Cox Pavilion. "I never dreamed something like this could ever happen."
The life-sized statue, created by noted sculptor Brian Hanlon in what is officially called "The Jerry Tarkanian Legacy Project," has Tarkanian seated on a chair, his trademark towel in his mouth, a national title ring on his finger and an empty chair to his right. The "Ghost Chair," one of Tarkanian's many superstitions, helps personify who he was — brilliant, yet quirky.
Behind the statue is a listing of Tarkanian's numerous accomplishments along with a timeline of his coaching career.
"It was an absolutely wondrous feeling," his wife Lois said after the statue was unveiled before approximately 300 invited guests, including the current UNLV men's basketball team. "It is a wonderful tribute to Jerry's legacy and the program, all the players and coaches."
Hanlon initially took on the project in April, shortly after Tarkanian learned he was going into the Naismith Basketball Hall of Fame in September. Hanlon had several other projects he was working on but he made Tarkanian's statue a priority. He began the actual work in June and finished it just over four months.
"Usually, something this size is a 15-month project," Hanlon said. "But with Coach's health an uncertainty, we wanted to get this done quicker."
Wednesday, Tarkanian was energized. He needed a walker to get to the front row for the ceremony but that's not unusual for him these days. His voice was strong as he thanked everyone for the honor bestowed upon him through the efforts of the UNLV Alumni Association, particularly Chip and Helen Johnson, who spearheaded the private fund-raising efforts for the $125,000 statue.
"I love UNLV and I love the state of Nevada," said Tarkanian, who also coached at Long Beach State and Fresno State. "I want to thank all of you on behalf of myself, my family, our players, coaches and staff."
Current coach Dave Rice, who played for Tarkanian from 1989-91 and also worked on his staff as an assistant in 1991-92, said the statue is more than just recognition for winning basketball games.
"He helped establish an identity for the institution and it's so important to understand history," Rice said. "I've always said you don't know where you're going until you know where you've been. And for our players they get to be reminded of the legacy they are now part of and the importance of what representing the program means."
Athletic director Tiny Kunzer-Murphy hopes that when students walk by the statue, they'll take a moment to reflect on what Tarkanian meant to the school and the community.
"It's bigger than basketball," she said. "When you read the wall and look at it, I hope people will see he was more than a basketball coach."
Contact reporter Steve Carp at scarp@reviewjournal.com or 702-387-2913. Follow him on Twitter @stevecarprj.