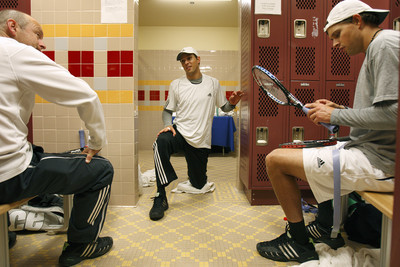 Card counting didn't work. Neither did playing by the proverbial "book." The Bryan brothers just couldn't catch a break this week at the blackjack tables at the Las Vegas Hilton.
The 29-year-old twins, Bob and Mike, lost a staggering 18 straight hands during one session at the host hotel for this week's Tennis Channel Open.
"The dealer said it was the worst shoe he ever saw," Mike Bryan said.
Bob then issued what has become a familiar refrain among some of the players competing in this week's event at the Darling Tennis Center: "We have to win (Wednesday night) to break even."
Fortunately for the Bryan brothers, the top-ranked doubles team in the world, they've fared much better on the tennis courts in Sin City than they have at the tables.
They won the first two Tennis Channel titles and on Wednesday cruised to a 6-2, 6-1 victory over Argentina's Guillermo Canas and Sergio Roitman.
"We have fun here, so we're in a good mood every time we step on the court. … The fans really pull for us," Mike said Wednesday morning at the breakfast buffet at the Hilton. "There's a little altitude here, and we like the fast conditions."
Fast was the operative word Wednesday as the Bryans breezed through their first-round romp in a mere 41 minutes — or less time than it took them to eat breakfast.
"We felt good. We got up and just kind of rolled them," Bob said. "They never really put any pressure on us. It was a nice, stress-free day.
"Now, we'll go get some dinner, get a massage and do it all over again."
The Bryan brothers, known for their enthusiasm and trademark "Bryan Bump" after winning key points, feed off the energy of Las Vegas.
"We like Vegas. It's fun. It's got the casinos, good restaurants and a lot of stuff to do," Mike said. "We don't really have to leave the hotel. They've got everything right here, even tennis courts."
In preparation for Wednesday's 5:30 p.m. match, the Bryans ate breakfast, did a short workout, then retired to their room for a little rest and relaxation.
"If we play at night, we'll usually just have breakfast in the morning and either play music or relax during the day," Bob said. "We'll probably take an hour nap in there somewhere and hit the gym for a half-hour just to get the blood flowing. We don't like to hit in the morning. We like to just chill, then warm up for a half-hour and go."
Mike said the twins, who grew up in California and helped Stanford to two NCAA team titles — while also winning an NCAA doubles crown — also enjoy playing cards and board games in their spare time.
"We're addicted to Scrabble these days," he said. "We love games. We've got to be competing at something almost every minute of the day, whether it's cards, Scrabble, Ping-Pong, Monopoly, anything. Along with tennis, we play another 20 games during the day."
Besides tennis, music is their primary passion. The brothers have performed with their band at tournaments around the world. Their father, tennis commentator Wayne Bryan, plays guitar for the Bryan Brothers Band and introduced them to music at a young age.
"I think he just wanted to jam. He wanted me to play drums and Bob to play keyboard so he could play his songs," Mike said. "We had no TV in our house when we were growing up. He'd put instruments in our living room, and when we got home from tennis, we had dinner, and then we'd usually learn a song."
American tennis star Andy Roddick performed the rap song "Ice, Ice Baby" with the band before winning his first major, but now only sings with the band in private.
"Andy makes cameos," Bob said. "He loves to rap and loves to sing, but now that he's famous, he doesn't want to be on YouTube."
The Bryan brothers, who performed at last year's players' party in Las Vegas, continue to make music on the court, as well. They're coming off their most successful season, winning 11 titles and a match to clinch the Davis Cup crown for the United States.
Overall, the twins have won the career Grand Slam among their 44 titles, leaving them 17 shy of the all-time record of 61, set by the team of Todd Woodbridge and Mark Woodforde.
The Bryan brothers have won at least five titles in each of the last six seasons. At that rate, they should catch "The Woodies" in about three years.
"It would definitely be really special to pass that. That's the No. 1 record there is in doubles," said Mike, who is the oldest brother, by two minutes, but is one inch shorter (at 6 feet 3 inches) and 15 pounds lighter than Bob.
This year's main objective for the Bryan brothers is to win an Olympic gold medal, which would be the crowning achievement of their career.
"If we win the gold medal, it doesn't matter what we do the rest of the year, it's a great year," Bob said. "The gold medal is something special. That would be pretty cool, to have a medal for your country."