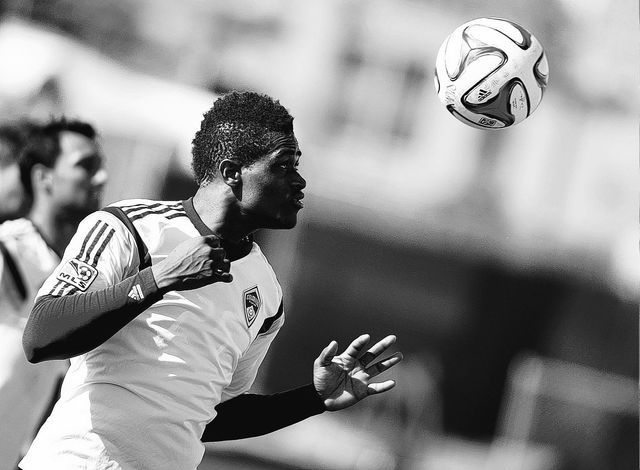 A year ago, the Colorado Rapids were desperate for success in Major League Soccer.
Three years removed from their only MLS championship, the Rapids wanted to get back to the postseason after missing the playoffs in 2012. They drafted a young striker from Jamaica out of the University of Central Florida in the 2013 MLS SuperDraft with the sixth overall pick and hoped he would bolster their attack.
Deshorn Brown did all of that and more. The 6-foot-2-inch forward scored a team-leading 10 goals, was runner-up for MLS rookie of the year and helped the Rapids return to the postseason. He also has re-energized the team's fan base and is one of the league's bright young stars.
"It was a lot of fun," Brown said of his rookie season. "The coach gave me an opportunity to play, I had great teammates who got me the ball, and I just tried to do my best.
"I looked at the environment and I believed I could play at this level."
He's being modest. Brown, 23, has an innate ability to accelerate and gain separation from opponents. And as the season went on, he did a better job of finishing his opportunities.
Brown's immense skills will be on display at 7:30 p.m. today at Sam Boyd Stadium, where the Rapids will meet Chivas USA in the Las Vegas ProSoccer Challenge.
"The first thing that comes to mind is he's a physical specimen; he's a monster," said Pablo Mastroeni, Colorado's assistant to the technical director, who will coach the team tonight in the preseason game.
"He's got so much speed. He scored 10 goals, and there was a wide variety. It wasn't like they were all penalty kicks. He was scoring from everywhere. And he's got so much upside. Our job is to make sure we keep Deshorn a step ahead of the other teams that are trying to stop him."
Brown spent a week in Spain last month participating in a program called Sports Networking Spain. He was exposed to training sessions and preparations by FC Barcelona. He also saw how players use video and other tools to learn and prepare for matches.
"It was a great experience," said Brown, who went back to Denver with a special souvenir — an autographed jersey from Barcelona's Lionel Messi, arguably the world's best player. "I learned so much about the mental preparation, how to get yourself ready to play and how to think on the field.
"I had a good year last year. But I know I have to get better. This was an opportunity to do so."
The trip also gave Brown an opportunity to think about his future. While he's happy competing in MLS, he would love an opportunity to play in Europe, be it in England's Premiership or Spain's La Liga or in Italy's Serie A.
"You want to play against the best, and maybe someday that opportunity will be there," Brown said. "But I'm only in my second year in MLS, so I have much still to learn."
Brown also represented his native Jamaica in World Cup qualifying. He learned the game at age 5, and he loved seeing the ball go into the back of the net. And while the Jamaicans didn't advance to this summer's finals in Brazil, Brown's two appearances left him wanting more.
"It was a great feeling to hear my name called," he said. "To represent your country is such an honor, and it was a wonderful experience. I hope the national team will call me up in the future."
The Rapids lost the Las Vegas ProSoccer Challenge last year to Chivas 3-0. Mastroeni hopes for a different result tonight as the team prepares for its March 15 regular-season opener against Red Bull New York.
"I think we have a really spirited group," he said. "They're hungry, and they're tuned in to what we're doing. We want to build on what we did last year, and this is an opportunity for us to keep moving forward."
Contact reporter Steve Carp at scarp@reviewjournal.com or 702-387-2913. Follow him on Twitter: @stevecarprj.
LAS VEGAS PROSOCCER CHALLENGE
WHAT: MLS Preseason
WHO: Chivas USA vs. Colorado Rapids
WHEN: 7;30 p.m. today
WHERE: Sam Boyd Stadium
TICKETS: $23, $43, $78; Juniors $15, $20