Buffalo Bills player apologizes for social media rant directed at fans
November 2, 2015 - 5:48 pm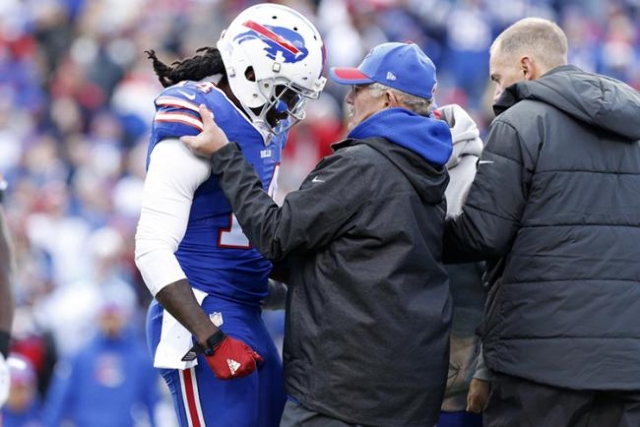 ORCHARD PARK, N.Y. — Sammy Watkins knew he made a mistake almost the moment he hit the send button. The wide receiver made some disappointing comments last week directed at Buffalo Bills fans who made some disparaging and cruel remarks on his Instagram account after he had posted a picture of himself and his daughter walking around at Disney World.
In a somewhat incoherent and grammatically-challenged rant, he basically told the fans to get a life and go back to "y'all little jobs." The next day he sent out an apology, and he addressed the issue with the media for the first time Monday.
"I made a bad comment," he said. "As a football player, you've got to take the good with the bad and never comment back on your comments or pictures. I'm never on the comments, it just happened to be the bye week and just being frustrated about the loss, me not playing, you look for negative stuff and that's what I was doing. I looked at the comments and immediately I reacted. Misspelled a couple things, just not paying attention. That's something I can't do in the NFL, I represent the organization, the team, so I would just say sorry to all the fans who took heart to it and I'll never do that again."
— For the first time since suffering a concussion in an Oct. 4 loss to the New York Giants, running back Karlos Williams took the field Monday morning when the Bills returned to practice off their bye week. Williams said he left the stadium after the game Oct. 4, but returned about two hours later due to a headache and nausea. Having suffered two concussions as a senior at Florida State, he had a hunch what was going on.
"Me and my fiancee came back to the stadium, met one of our trainers and I knew right then I had a concussion," he said. "I got it probably end of the third (quarter), simple power play, took a bad hit, guy picked me up and slammed me to the ground and got my head shook and bounced."
Williams was not seen by the media before Monday, but he said after about a week and a half he was able to drive himself to the stadium for treatment. He is now symptom-free, which should mean he'll be cleared to play by the weekend if he remains that way.
"Just trying to get back to getting game ready," he said. "It has been difficult staying at home. I got to spend time with my kids and my fiancee which was very, very good, so now I'm just trying to get back to playing. Got to go through a run-through practice, got to be able to touch the ball, catch some balls and took some handoffs so that was great."
Like Sports News on Facebook: