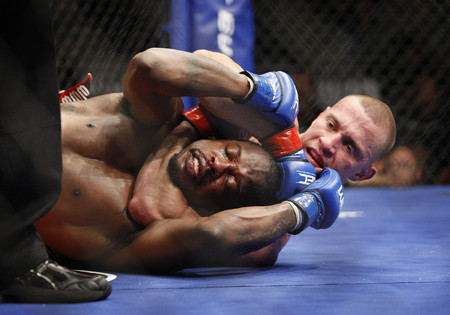 Donald Cerrone has been seeing a sports psychologist in an effort to correct a poor habit of starting slowly.
Fortunately for the World Extreme Cagefighting lightweight, he's still a very accomplished finisher.
Cerrone locked in a rear-naked choke and forced Ed Ratcliff to tap out at 3:47 of the third and final round Saturday night in the main event of WEC 45 at the Palms.
Cerrone charged across the cage at the opening bell, but still had a hard time settling into the fight.
"I didn't really have that part figured out. The charge part I had figured out. When I got to the end of the charge, I really didn't know," he said. "When I got to the end of it, I was like, I might as well grab him."
Cerrone then landed two separate low knees in the first round and was deducted a point.
"That definitely put a damper on (the start)," he said. "I felt like I did finally get into a rhythm late in the first round and then more in the second, but those definitely put a damper on getting started like I wanted to."
Cerrone lost another point when it happened again in the second round, but he said he was more concerned with having a good fight than he was with the scorecards.
"Greg Jackson in my corner said 'Man, they're taking (points), but you won the rounds. I need you to go out and get this third round and win the fight," Cerrone said. "But I was like, 'Whatever, I'm going out there and having fun. Let's just do this.' "
As it turned out, Jackson was right and Cerrone could still have won a decision as all three judges had the fight 18-18 going into the final round.
But Cerrone made all of that irrelevant. He controlled the final round, landing kicks almost at will.
He then came close to locking in several exotic submission attempts before finally taking Ratcliff's back and locking in the choke.
After exiting the cage, Cerrone's first item of business was finding Ratcliff's mother in the crowd.
Laceine Mason had been very vocal from her front-row seat throughout the fight, especially after the low blows.
Cerrone wanted to make sure there were no hard feelings.
"I was telling her, 'I'm sorry ma'am, I'm not doing this intentionally.' She was (going crazy) and she was legitimately angry," he said. "I just wanted to tell her I didn't mean anything by it."
There was nothing slow about Anthony Njokuani's start.
The ex-breakdancer showed he also could use his feet in the cage, stopping Chris Horodecki at 3:33 of the first round after landing a right kick to the face.
The final sequence started when Njokuani reversed a takedown attempt and threw Horodecki to the ground.
Horodecki quickly got up and retreated, but Njokuani didn't allow him to get away.
The Las Vegan caught Horodecki with a head kick that landed square and sent Horodecki sprawling back to the mat.
Horodecki tried valiantly to recover, but the fight was stopped moments later as Njokuani landed punches through the gloves of his downed opponent.
Also, Joseph Benavidez made quick work of Rani Yahya, knocking him out in the first round, and Scott Jorgensen dominated the first two rounds and held on in the third to win a unanimous decision over Takeya Mizugaki.
Contact reporter Adam Hill at ahill@reviewjournal.com or 702-224-5509.