Controversial players Howard Lederer, Chris Ferguson get cold reception at WSOP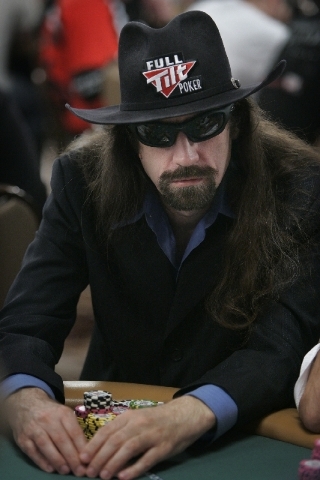 One of the longest-running inside jokes at the World Series of Poker is that the Rio Convention Center's Amazon Ballroom is as cold as Elsa's ice castle.
It's been an appropriate setting for the return of two former poker outcasts.
Howard Lederer and Chris "Jesus" Ferguson each ended their six-year absence from the WSOP this summer, and their reappearance figures to be the defining moment of the 47th annual event regardless of what happens over the remaining 5½ weeks.
But the former bracelet winners have received a frosty reception from players, many of whom haven't forgiven the duo for their role in the Full Tilt Poker scandal five years ago.
"I appreciated Howard Lederer's willingness to own it in a public statement," well-known professional poker player Daniel Negreanu said Sunday. "I'm disappointed and ashamed of Chris for showing up here after five years, after hiding for five years, and not releasing any statement as though everyone's forgotten.
"There's a lot of people that were hurt. A lot of people's bankrolls were tied up. Any human with a shred of decency would know that whether it makes a difference or not, an apology is warranted and he's done nothing to show any remore. And I wonder, 'Does he even give a (expletive)?' "
Lederer and Ferguson were part of a civil lawsuit filed by the U.S. Justice Department in September 2011 alleging Full Tilt Poker was a Ponzi scheme. Federal prosecutors claimed Lederer and Ferguson each collected more than $40 million over a four-year period "that was directly tied to the criminal conduct" from Full Tilt.
Lederer's return this summer was anticipated by many after he issued his apology on May 19 through Negreanu's blog. But it's Ferguson's appearance that has not gone over well with many professional players and tournament regulars.
Ferguson, a five-time WSOP bracelet winner and 2000 Main Event champion, has not spoken about the Full Tilt Poker controversy since the government crackdown on illegal online gambling in April 2011 and has only offered an "I'm just here to play poker" this summer.
"I'm surprised to see Chris back at the WSOP prior to making any public statement regarding Full Tilt," bracelet winner and popular online poker streamer Jason Somerville wrote in a Twitter direct message. "I think our community would be more willing to forgive, if not forget, had he shown remorse, apologized, and told his story before returning."
Lederer, a two-time bracelet winner, registered for the WSOP's $10,000 buy-in 2-7 Draw Lowball Championship on Saturday night and busted out of the tournament Sunday afternoon. Ferguson re-emerged June 4 and has cashed in four events thus far, including a 13th-place finish in the $565 buy-in Pot-limit Omaha tournament that concluded Saturday.
There have been no incidents involving Lederer and Ferguson, according to WSOP officials.
"(I) haven't seen (an) impact one way or another," WSOP executive director Ty Stewart wrote in an email to the Review-Journal. "Certainly both were very prominent players before the scandal, and there appear to be a lot of mixed emotions from the community."
Lederer and Ferguson's return has created an especially venomous atmosphere on social media. But a small minority of professional poker players appear willing to move on.
"Yeah, it kind of irks me a little bit seeing both Howard and Chris showing up playing $10,000 events while I'm sitting out of those, but I don't see any value in wishing that they both just go into the desert somewhere and bury themselves," said three-time bracelet winner Dutch Boyd, who went through a similar scandal in 2001 with his failed online poker site PokerSpot.
"Poker attracts some colorful characters, to put it lightly and mildly, so I feel like when we're playing poker, this isn't really the place to start throwing around moral judgments."
Contact reporter David Schoen at dschoen@reviewjournal.com or 702-387-5203. Follow him on Twitter: @DavidSchoenLVRJ
RELATED
Poker player Lederer agrees to forfeit millions to settle lawsuit