Cubs rookie Kris Bryant goes undercover as Lyft driver in Chicago
September 18, 2015 - 10:21 pm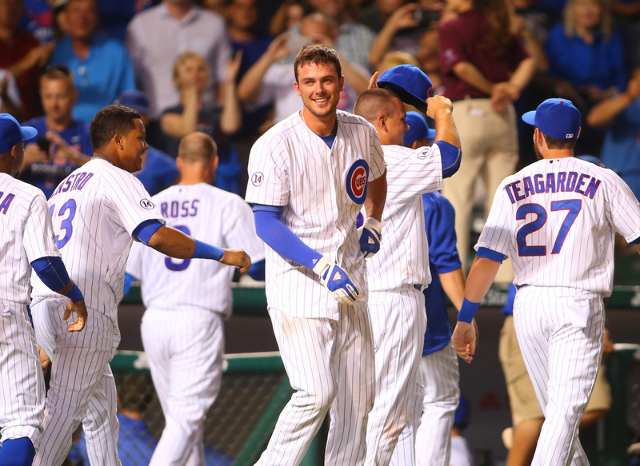 Chicago Cubs rookie third baseman Kris Bryant has quickly become one of the most popular players in baseball. However, the Las Vegan's name is still much more recognizable to casual fans than his face.
Bryant, a Bonanza High School product, recently went undercover as a Lyft ride-sharing driver in Chicago and, despite steering the conversation to the Cubs and himself, his unsuspecting passengers didn't know who he was.
"I'm not sure who the third baseman is," one passenger told Bryant, 23. "What is it? Kris Bryant, who's projected to just kind of be a stud."
As they drove past Wrigley Field, Bryant feigned indignation that there wasn't a picture of his favorite player (himself) hanging outside the venerable ballpark. "But he's like newish, so give him some time," replied a female passenger.
One passenger inadvertently jabbed Bryant after he asked him if baseball players are athletes.
"I feel like they're kind of like chess players, man," the passenger said, to which Bryant replied, "Yeah, chess players. They kind of just stand there."
Another passenger thought he recognized Bryant, but not for his baseball prowess.
"Have I seen you before? How long you been driving with Lyft? I feel like we've taken a ride together before," he said.
Bryant had an amusing exchange with another passenger after asking if he played ball.
Passenger: "I play volleyball. What about you?"
Bryant: "I play baseball. I'm pretty good."
Passenger: "So why aren't you in the pros then? Not to make you feel bad about it."
Bryant: "I'm actually the third baseman for the Chicago Cubs."
Passenger (staring at him): "You look like him."
Bryant (extending his hand): "I'm Kris Bryant. Oh, that was fun."
Passenger: "No way."
Bryant: "You heard of me?"
Passenger: "Of course I heard of Kris Bryant. No way!"
It probably won't be long before Bryant will be unable to go anywhere in Chicago without getting recognized. He's the leading National League Rookie of the Year candidate with a .274 batting average, 24 home runs and 94 RBIs for the playoff-bound Cubs.
Check out the video above.