Dallas Cowboys valued at $4B as most valuable sports franchise in world
September 14, 2015 - 11:02 am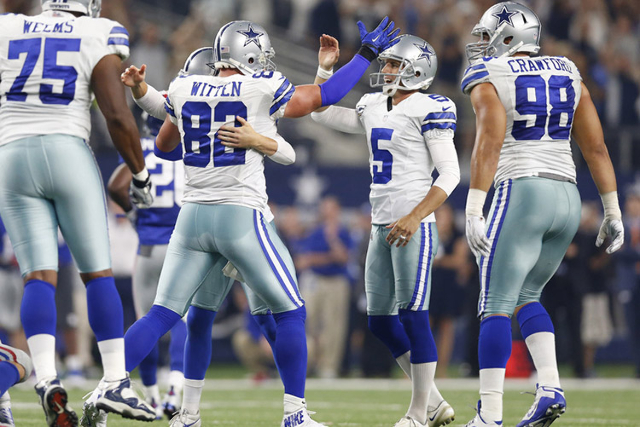 The Dallas Cowboys are valued at $4 billion, making them the most valuable sports franchise in the world for the first time since 2007.
The NFL continues to be the world's most lucrative sports league, according to Forbes' 18th annual NFL Team Valuations list.
The magazine declared the Cowboys as the most valuable team in the NFL for the ninth straight year. Jerry Jones bought the Cowboys in February 1989 from H.R. "Bum" Bright for $140 million.
The average NFL team is now worth nearly $2 billion, a 38 percent increase from last year, according to Forbes. The one-year increase and new average value are both the highest since Forbes began tracking NFL team values 18 years ago.
The gain was fueled primarily by a $39 million increase in national revenue for each of the league's 32 teams. The record values are in large part due to the league's broadcasting deals, which total $4.4 billion.
The Cowboys made an NFL record $620 million of revenue last season, according to Forbes.
The Cowboys became the most valuable sports team by passing Real Madrid ($3.26 billion). The Patriots and New York Yankees ($3.2 billion) are tied for third, with FC Barcelona rounding out the top five at $3.16 billion.
Forbes ranked the New England Patriots second, with a valuation of $3.2 billion. Rounding out the top five are the Washington Redskins ($2.85 billion), New York Giants ($2.8 billion) and San Francisco 49ers ($2.7 billion).
The values for the rest of the teams:
New York Jets — $2.6 billion
Houston Texans — $2.5 billion
Chicago Bears — $2.45 billion
Philadelphia Eagles — $2.4 billion
Green Bay Packers — $1.95 billion
Denver Broncos — $1.94 billion
Baltimore Ravens — $1.93 billion
Pittsburgh Steelers — $1.9 billion
Indianapolis Colts — $1.88 billion
Seattle Seahawks — $1.87 billion
Miami Dolphins — $1.85 billion
Atlanta Falcons — $1.67 billion
Minnesota Vikings — $1.59 billion
Carolina Panthers — $1.56 billion
Arizona Cardinals — $1.54 billion
Kansas City Chiefs — $1.53 billion
San Diego Chargers — $1.53 billion
New Orleans — $1.52 billion
Tampa Bay Buccaneers — $1.51 billion
Cleveland Browns $1.5 billion
Tennessee Titans $1.45 billion
Jacksonville Jaguars — 1.45 billion
St. Louis Rams — 1.45 billion
Cincinnati Bengals — $1.45 billion
Detroit Lions — $1.44 billion
Oakland Raiders — $1.43 billion
Buffalo Bills — $1.4 billion