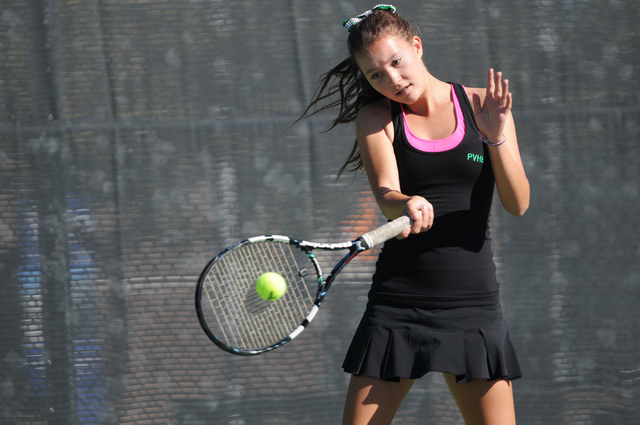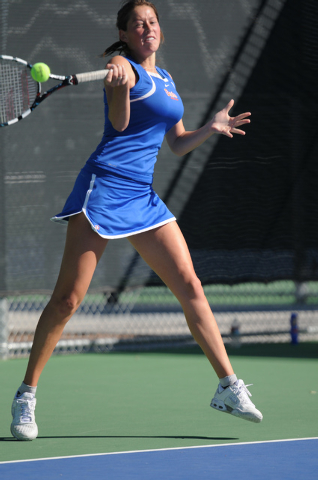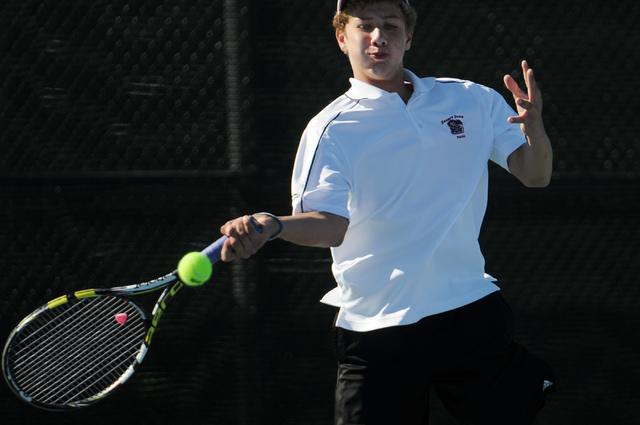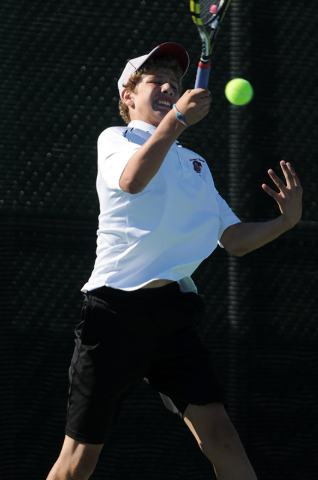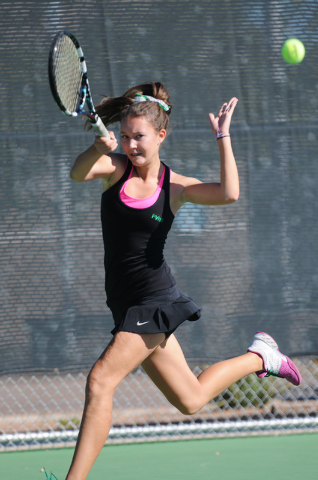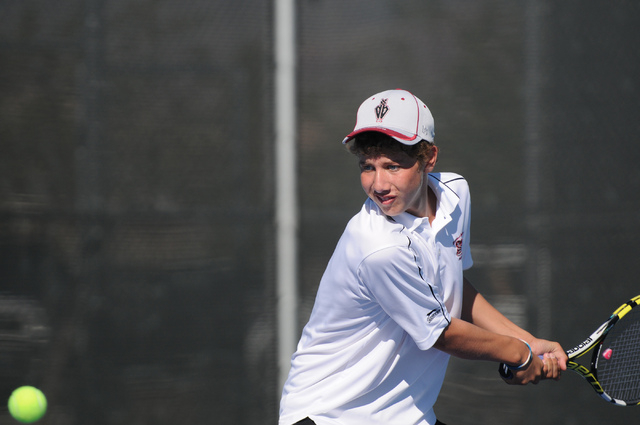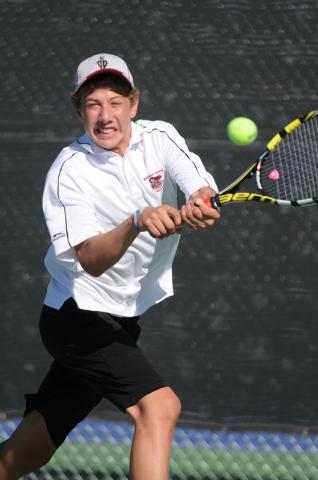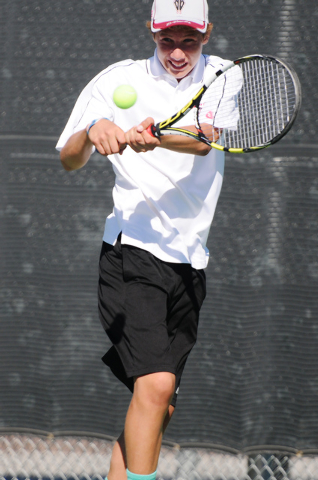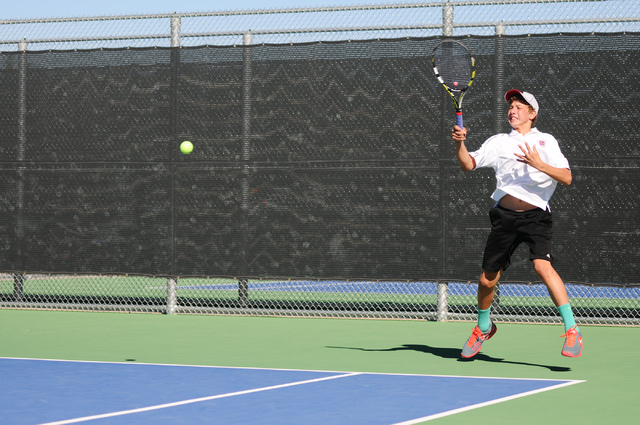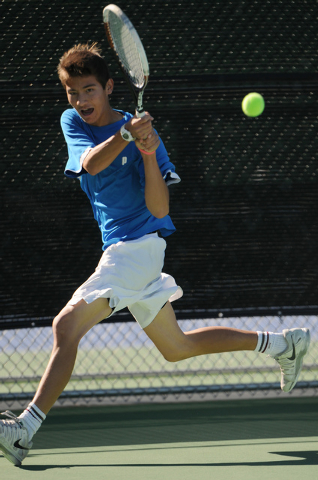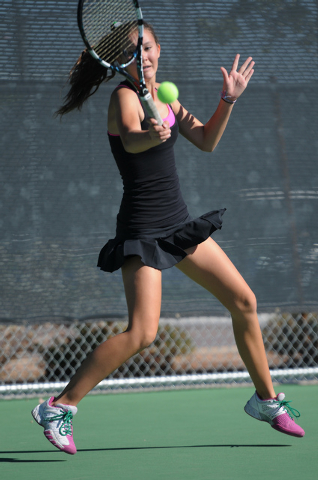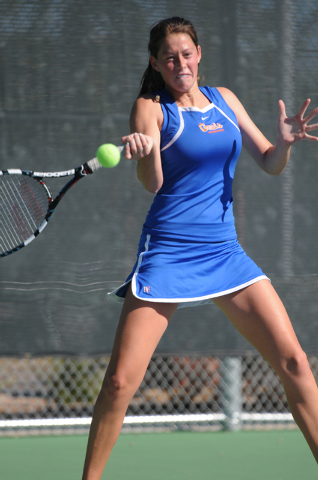 Bishop Gorman junior Chelsea Crovetti found herself in serious jeopardy of losing the first set of her Sunset Region girls singles final Saturday.
The defending Division I state girls singles champion shook off her nerves, wiggled out of trouble and then made sure the situation didn't come up again.
Crovetti fought off three set points in the first set before putting on a clinic in the second set of a 7-5, 6-1 win over Palo Verde freshman Annie Walker at Gorman.
"I get really nervous at the beginning, and it takes me awhile to get started," Crovetti said. "Every match is a new beginning, and you've got to win everything. There's always nerves."
Crovetti had an early lead in the opening set before Walker stormed back to move ahead 5-4 and three times pull within a point of winning the first set.
It was as close as Walker got.
Crovetti repeatedly hit punishing groundstrokes in the second set, running Walker from side to side, and closing the match in style with a perfect cross-court winner.
"After I won the first set, I knew it was going to be quick," Crovetti said. "I cleared my head, and I got my shots."
Gorman players swept the singles titles, as freshman Dylan Leavitt avenged his only regular-season losses in a 6-1, 6-2 win over Desert Oasis freshman Ben Gajardo.
"I was more focused for this match," said Leavitt, who is recovering from a nearly torn ligament in his elbow. "I prepared better. I got every single ball back. I tried to keep the points as long as possible."
Leavitt lost a set to Gajardo both times their schools met in team competition in the regular season. Leavitt didn't even drop a game to any other player in the regular season, but the losses to Gajardo relegated Leavitt to a No. 3 seed in the region draw behind teammate Sam Sholeff and Gajardo. Leavitt beat Sholeff 6-2, 6-4 in the semifinals.
"There are a lot of great players here," Leavitt said. "This feels good."
Palo Verde's Zack Surmacz and Jordan Baduria made short work of Centennial's Parker McDonough and Ricky Koplow, posting a 6-1, 6-1 win over the Bulldogs tandem in the boys doubles final.
The Panthers swept the doubles crowns, as sisters Chloe Henderson and Sophie Henderson downed Gorman's Julia MacDonald and Zoe Lier 6-3, 6-4.
The top two finishers in each flight advance to the state tournament, which begins at 3 p.m. Friday at Darling Tennis Center. The third-place finishers in the two Southern Nevada Division I regions meet in a state play-in match at 3 p.m. Tuesday at Darling.
Palo Verde's Rhett Bossung finished third in boys singles, and Panther teammates Conor Safbom and Brandon Sulzberg were third in boys doubles.
Centennial's McKay Novak was third in girls singles, and Palo Verde sisters Abby Till and Alissa Till were third in girls doubles.
Contact reporter Bartt Davis at bdavis@reviewjournal.com or (702) 387-5230.