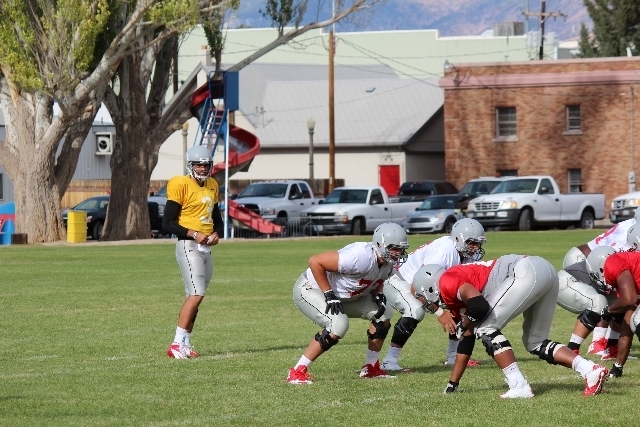 ELY — The tone was set on the first play of the scrimmage when one sophomore faced another, and defensive end Sonny Sanitoa came out the winner by batting down quarterback Nick Sherry's pass.
It was a winning play for a winning Saturday afternoon for the defense.
"I was in the right place at the right time," Sanitoa said.
Sanitoa and his fellow defenders spent most of the scrimmage in the right place at the right time. They didn't give Sherry and the first-team offense much of a chance. Or, for that matter, the second-team offense.
But UNLV's starting offense also wasn't at full strength.
Coach Bobby Hauck rested some of the veterans, limiting senior running back Tim Cornett to one carry, which went for 3 yards. Junior wide receivers Devante Davis and Marcus Sullivan barely made it onto the field, combining for one catch, though Davis did drop a pass.
Sherry's struggles were emblematic of the kind of day the offense experienced. He completed 5 of 14 passes for 38 yards, misfiring on his first four and his last four attempts.
"My reads are there," Sherry said. "I need to be more accurate and more consistent."
Hauck pointed out Sherry has been more consistent this training camp, and that he has had previous struggles in scrimmages. Sherry completed 7 of 16 passes for 93 yards in last year's main preseason scrimmage and then went on to have the best passing year by a UNLV quarterback since Jon Denton in 1997.
"Comparing to where he was last year, he's far ahead of where he was," Hauck said.
Hauck insisted he wasn't concerned about Sherry, and the offense's difficulties on this day went far beyond the starting quarterback.
Senior backup Caleb Herring played better than Sherry but still was just 6 of 11 for 48 yards. Like Sherry, Herring didn't lead a touchdown drive.
Four series ended on field goals by senior kicker Nolan Kohorst. And Kohorst was given those opportunities to score mostly because coaches kept moving the ball forward, not so much whoever was behind center.
Two freshmen scored touchdowns. Running back Henri Jussila ran for a 12-yard TD, and wide receiver Kendal Keys caught an 11-yard scoring pass.
The rest of the day clearly belonged to the defense.
The dominance by that side of the ball was punctuated at the end when the defense repeatedly kept the offense out of the end zone to win a goal-line drill. As the offensive players ran sprints to serve their punishment, the defensive players let them hear it.
They had plenty to shout about.
Redshirt freshman linebacker Trent Langham had the best statistical day with three tackles, a pass breakup and a fumble recovery. His recovery of a fumble forced by junior defensive end Jordan Sparkman would have turned into a long touchdown had the coaches not blown the whistle.
Junior defensive end Siuea Vaesau led the Rebels in tackles with four, including two sacks.
Their play underscored what was a strong day not only for the defense but particularly the defensive line.
"We've been improving," Sanitoa said. "We've been moving faster and quicker."
Too fast and too quick, on this day at least, for the offense.
Contact reporter Mark Anderson at manderson@reviewjournal.com or 702-387-2914. Follow him on Twitter: @markanderson65.