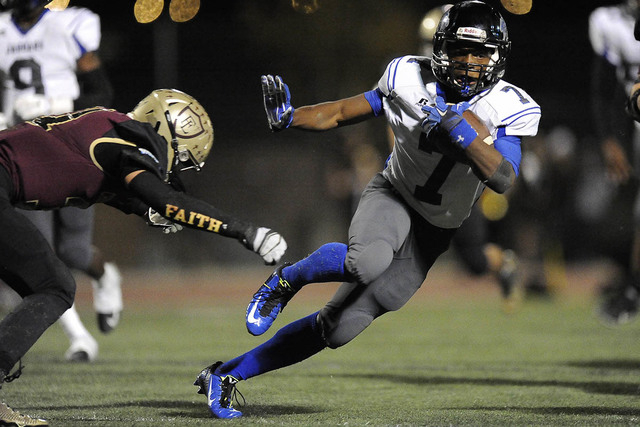 Desert Pines football coach Tico Rodriguez wasn't sure how much production he would get out of the Jaguars' skill positions this season.
But Rodriguez knew he could rely on the players along the line of scrimmage.
Desert Pines leaned heavily on its experienced offensive line during the first half of the season while a young group of skill-position players, led by sophomore quarterback Marckell Grayson, developed. Now that they're up to speed, the Jaguars offense has taken off.
Desert Pines (11-1) will put a nine-game winning streak on the line Saturday when it meets Moapa Valley (12-0) in the Division I-A state championship game at 3 p.m. at Bishop Gorman.
"There's been some growing pains when you're dealing with sophomores at key positions," Rodriguez said. "What helped us is having the offensive line to let them develop, being able to keep our quarterback from losing his confidence because we had stability with the line."
The Jaguars went 9-2 last season, Rodriguez's first as coach, and reached the Division I-A state quarterfinals before losing to eventual state champion Faith Lutheran. Desert Pines had to replace its quarterback, leading rusher and top two receivers (including UNLV signee Tim Hough) heading into this season, leading some to believe the Jaguars would take a step back.
Rodriguez knew better.
"Last year, we were really young on the offensive and defensive lines, but we were experienced at the skill positions. This year, it's flipped," Rodriguez said. "I knew we had the talent. I just wanted to see how our younger players would develop, and I think they developed at the right rate."
Grayson took over at quarterback and has 1,988 yards passing and 26 touchdowns against eight interceptions. He threw for 344 yards and four scores in his first varsity start and guides an offense that averages 39.3 points per game.
"Marckell is a cerebral player. We knew he was a young man that was actually ready for the varsity level and made everyone feel comfortable and have confidence in him," Rodriguez said. "Right off the bat, he let everyone know, 'I'm the new quarterback, and I can get it done.' ''
Sophomore Isaiah Morris has rushed for 1,327 yards and 16 touchdowns and is averaging more than 9 yards per carry. Andre Watts emerged as the top receiving threat and has 34 catches for 498 yards and 10 TDs.
The Jaguars' improving defense held Faith Lutheran largely in check during the state quarterfinals this season and made a late goal-line stand to preserve a 34-27 victory. Desert Pines blanked Churchill County 16-0 last week in Fallon to earn another shot at the Pirates.
Moapa Valley defeated the Jaguars 43-30 in the Sunrise League opener Sept. 13. Desert Pines led 22-20 with three minutes remaining in the third quarter before the Pirates scored 23 straight points.
"What makes Moapa special is they're able to make adjustments, and they saw things and they capitalized," Rodriguez said. "We know what they do very well, but they've improved also in watching them. They're playing really high-level football right now. So it's a different Moapa team that we're going to face. They're better, and I think we're better."
This is Desert Pines' first appearance in a state title game since losing to McQueen in the Class 4A final in 2002. Rodriguez said he has noticed the excitement on campus this week.
"The energy in the school has just been electric, and the kids are really excited to have an opportunity," Rodriguez said. "That should make for a very good game."
Contact reporter David Schoen at dschoen@reviewjournal.com or 702-387-5203. Follow him on Twitter: @DavidSchoenLVRJ.