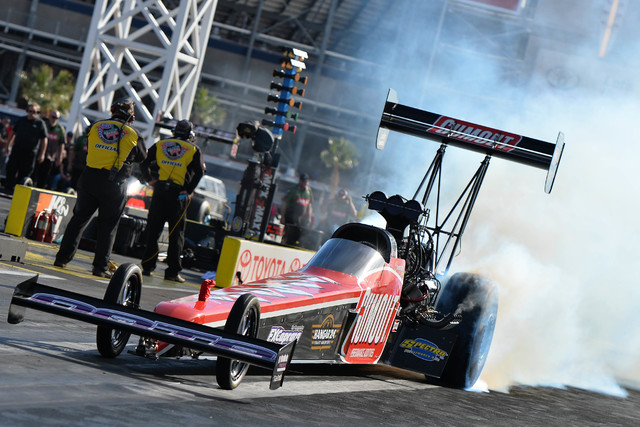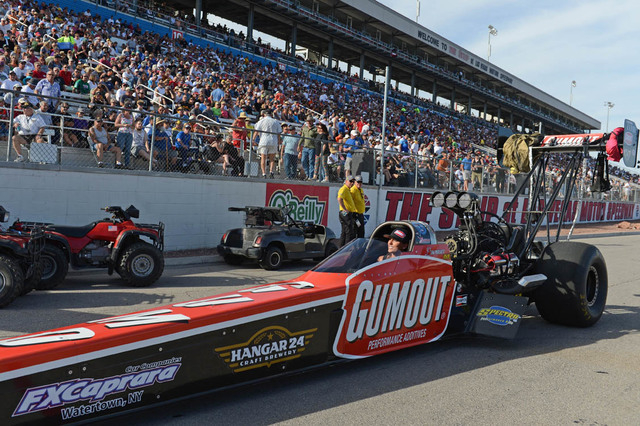 Hi again, it's Leah from The Strip at Las Vegas Motor Speedway and I can't explain how excited I was to be at the track Friday.
First, I was anxious to drive my Top Fuel dragster first time in competition at a race track I have been racing on for 18 years. When you are driving a nitro-burning dragster, it is so exhilarating to run some 320 miles per hour in just 1,000 feet.
Second, I'm extremely excited that our program is expanding for 2015 and it's great to have a strong automotive major sponsor like Gumout helping us again. We had a great press conference Friday afternoon to announce our Dote Racing team's partnership with a legendary company like Gumout.
I have huge shoes to fill in following a drag racing legend like Bill 'Grumpy" Jenkins as a spokesperson for Gumout. Obviously, we will be doing it in our own way a few decades later. The times are different now. Still, I wish I had known 'Grumpy' (who died in 2012) and could have a conversation with him like I am able to do with another legendary racer, Don "the Snake" Prudhomme. Don has been very helpful in explaining driving tips to me over the years.
"Grumpy" was such legendary character and I feel privileged to continue his legacy as a Gumout spokesperson. Top Fuel racing is highly-competitive and we want to be in the mix with the top teams like Schumacher, Al-Anabi, Kalitta and others in 2015. Gumout is helping us in our pursuit of that kind of success.
On Friday afternoon at The Strip, I made my first Top Fuel run at the famous track and it was a good one. The Gumout machine hooked up pretty well and we clocked in with a 3.88-second pass with a top speed of 313.66 miles per hour. At the time, the track temperature was 109 degrees and sun was beating on the track surface. At that point of the day, we held the No. 1 qualifying position, so that really pumped up our team. Later, Tony Schumacher took the top spot at 3.78 after the first round. However, the track temperature was 97 degrees for Tony. So overall we felt pretty good about our first run of the day.
In the later run on Friday, we improved to 3.80 seconds at 317.42 m.p.h. We were able to get two solid runs right out of the gate. This is our last race of the season and we wanted to produce some good numbers. Plus we are not in the Countdown of the top-ten so we are working towards the 2015 season, too.
The weather is expected to be cooler on Saturday and that could make for better times and faster speeds. We need to be ready to go on that first qualifying run on Saturday. We'll qualify at 1:30 and 4:30 p.m. again. The track really became cooler in the afternoon Friday and there were many improved runs in Top Fuel. With 22 Top Fuel cars at this weekend's NHRA Toyota Nationals, we wanted to be in the top-ten after Friday and we ended up seventh. The quickest 16 cars make up the field for Sunday's final eliminations.
I don't know if the track surface has changed that much over the years, but there is one unique characteristic with the Las Vegas track that you have to be careful of as a driver. The strong cross winds at the top end of the track can move your race car around. The grandstands are big and beautiful but the wind really kicks up when you are driving past the stands. I hadn't experienced that wind in a Top Fueler but I have in other cars and I know what to expect at the far end of the track. And the wind was picking up as the day went on. I felt the wind at the top end on my first run Friday but not so much on the second pass.
The Strip is a world-class facility and the views of the mountain and the desert are spectacular. It's fun to take that all in at the track.
I hope you can make it out this weekend to see the drivers, cars and the great atmosphere of National Hot Rod Association drag racing.
Leah Pritchett is a National Hot Rod Association Top Fuel Dragster driver. She will be blogging this weekend about her experiences in the NHRA Toyota Nationals at The Strip at Las Vegas Motor Speedway. Follow her on twitter @LeahPritchettTF.