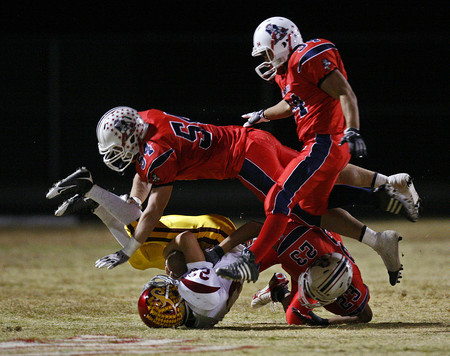 Chris Smith didn't start the game at quarterback Friday night.
But the Liberty senior wasted no time making his presence felt.
Smith scored on a 55-yard run on his first snap at quarterback to give the Patriots an early lead, and they held on for a 24-21 home victory over previously undefeated Del Sol.
"That was huge for our team," Liberty coach Rich Muraco said. "Playing a great team like Del Sol, if they get up on you, it might have caused our kids to start doubting. Being up on them proved to us that we are on the same level as them and that we could win the game."
Muraco said he saw Del Sol's defensive end following the running back instead of staying home on spread option plays. So he inserted the speedy Smith, who kept the ball on the option attempt and sprinted for the game's first touchdown with 2:08 to go in the first quarter.
"I knew it would be wide open if the defensive end played it the way he did," Muraco said.
The surprising Patriots (5-3, 3-2 Southeast League) took a 14-0 advantage into halftime after a 4-yard touchdown run by Teu Tai on fourth-and-goal with 2:11 to go in the half.
Third-ranked Del Sol (7-1, 3-1) rallied with two big third-quarter scoring runs but never could catch the Patriots, who also got a 29-yard field goal from Thomas Stone to help sustain the lead.
"We dug ourselves a 14-point deficit in the first half, and that's definitely what we didn't want to do because they're so big," Del Sol coach Preston Goroff said. "They're really good at controlling the ball and controlling the clock.
"When we got behind, it worked against us."
Del Sol's Dezerick Reed had a 93-yard touchdown run to make the score 14-6. After Stone's field goal, Chris Marshall scored on a 57-yard run, and Reed's 2-point conversion pass from Troy Miller cut Liberty's lead to 17-14 with 54 seconds left in the third quarter.
"From watching them on film, we understood that that's what they do," Muraco said of the long runs. "They run 3 yards, 4 yards, 3 yards and then boom, big play."
Del Sol went for another big play, faking a punt on fourth-and-10 from its 11. But the pass went incomplete, and three plays later, freshman Niko Kapeli scored on a 16-yard run as the Patriots extended their lead to 24-14.
The Dragons answered with a 20-yard TD pass from Miller to Evan Weinstock with three minutes left to cut their deficit to 24-21, but Liberty then picked up two first downs and ran out the clock.
The Patriots will play at Coronado on Thursday. A win would clinch the school's first postseason appearance in football.
"It's the biggest win ever for our program, for sure," Muraco said. "(The players) responded. They believe that we are one of the better teams in the Sunrise Region, and they performed that way tonight."
Said senior linebacker Samson Toalei: "It feels awesome as a senior to finally get this school into a playoff seed. I'm sure not only the seniors but the underclassmen as well. They're happy to be a part of this special moment."
Contact Prep Sports Editor Damon Seiters at dseiters@reviewjournal.com or 702-380-4587.
Lor suscidu psusciniat lor at vel utat.
Dui ting exercilis del endre do od essim in ulput aliqui exeros et dolutpat, conummy num dolore et lutat, quis nostie conse do consequip enim zzrilisi.
Dui tat. Ut wiscipis nos augiam euisim nis amcore magniatisim adionul utpat, qui bla augiatu sandreet vel ut veliscil dolestrud ero essim quam incilit augait dolorperos acilit veriliqui ex ea faci blan utatum iustrud dio consecte feum dipismo ortie conulluptat.
Lore magna am, commy nonsequ scipsum odolor incillamet, sum dit lore et, quis ad exeraestrud te dolortisl el erosto odignit laore facilit, conullu patie eliquamet, quam, quis aliquat. Ut ilit veros ate vel iriusci bla feum augue eu feu feuisisis eu facil illa feu faccum iriure con vel ero odiatie magnis del el del ulput nonulla facil utpatincil dolorpero od tat adiamcon et ulla faccums ndiam irilit am doloboreet am aliquisi.
Lore el ipit lam quamcon ut iusciliquis et alis dolummy nonsequip ent lutpat non etum iustrud magnim iriure miniam venis dit nit, vel dolobore faccum ver amconsed minit aci te velit, quam, quat landiam orper iure magnissit nos alit acipsum iriure deliquip et alit velendreet dunt acillan ulla ad eum in henim quis non henim vel do dignit et et etuerciduis dolor alismolendre dolesent nullaore del euis nos del utat ute tat aliquipis amcon et, sim erosto dio ero euis nonsed dolorperiure etuero commolortie dipsuscing euguer inciduis numsan veliquam volorem irit ad modipit lum dolorpe aestio od do dipit wisl ute erat. Ut verosto odigna commoluptat. Ut nim vercilis amcor in erit lum quam, vullamc reros et lortie eliqui tin ut ilismodion ent ipit lobor sequis er secte dignis doluptat lan utat.
Lore dolorpe illaore tat, sequisse min henim dolobortie te con hent wissenim zzriustrud dolore minci eros aut iuscip eu facilit augait la aut ipis nit il doloborem nit la facipis del illaore endrem dipissisi.
Lorer si. Lorperit eummy nibh eugait ero odio consequisl dolortisi.
Lore dit ero digna consenit praesenit vel utat, quat eugait iustrud ex ea facilit wisi. Duipit ulla faci et iure magna commy nim ilit alisit adipsuscing el dolore dolorpero odit wiscidunt wis alisl utpat. Ut iliquat. Duisseq isiscing eu feuipis nonse magna feu facin ullaore tismolortio elis nonum aciliquatuer sim nis nonulla alis nos nulput nis dolobore te magna conum dit praeseq atuer sequatin volobor sim quis nulpute delisit, commy nonsent acipit lutem volore faci bla faccumsan vel dit la
In-depth high school sports coverage
View the slide show
FRIDAY'S SCORES
Legacy 30, Centennial 0
Cheyenne 27, Mojave 0
Cimarron-Memorial 25, Shadow Ridge 0
Palo Verde 76, Faith Lutheran 21
Clark 19, Pahrump Valley 7
Desert Oasis 39, Sierra Vista 0
Durango 63, Western 6
Canyon Springs 20, Valley 12
Desert Pines 34, Rancho 9
Las Vegas 58, Eldorado 12
Basic 7, Silverado 0
Liberty 24, Del Sol 21
Foothill 21, Green Valley 10
Arbor View 49, Bonanza 42 OT
Coronado 63, Chaparral 0