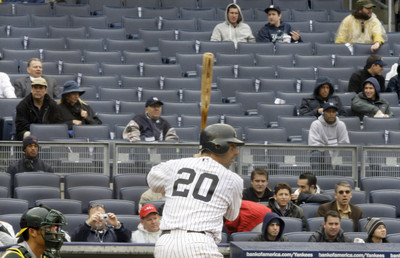 NEW YORK — At the new Yankee Stadium, the best seats in the house have turned out to be the emptiest.
The most expensive spots in America's costliest ballpark have become an embarrassment packing a financial sting to the proud New York Yankees. The Legends Suite section in the infield has been filled only once in the six games since the $1.5 billion stadium opened last week.
On most days, the seats that cost $500 to $2,500 as part of season-ticket packages and go up to $2,625 for individual games haven't been close to full. And as TV cameras pick up the patchy attendance with every pitch, it serves as a little tweak to the nation's richest baseball franchise.
"We're done talking about seats," Yankees president Randy Levine said Wednesday. "We're not talking about seats."
But fans sure notice.
"It's been pretty phenomenal," said Aaron Feldstein, a native Californian who lived in Brooklyn for a couple of years and now resides in Baltimore. He was part of the far-from-sellout crowd at the Yankees' 9-7 victory in 14 innings Wednesday over the Oakland Athletics on a showery, cold afternoon. The Legends Suite section was about 80 percent empty, and the upper decks — which have been mostly full — were a quarter empty.
"I remember watching and you couldn't find an empty seat at Yankee Stadium. And now right behind home plate there's 15 to 20," said the 29-year-old Feldstein, who scored a free ticket from a friend behind home plate — an area that costs $325 as part of season tickets.
Another snapshot of the problem:
A count by The Associated Press totaled 1,895 seats in the Legends Suite, of which 146 were in the front row from dugout to dugout, costing $2,500 as season tickets and $2,625 individually.
— On Tuesday night, only 64 of the 146 seats at the top price level were occupied in the bottom of the second inning. The outermost Legends Suite sections, which each contain 90 seats, were entirely empty until two fans finally emerged to sit in them during the late innings.
— On Wednesday, in the third inning, just 37 of the highest-priced, front-row seats were occupied, though it was impossible to know if some fans had taken shelter in stadium restaurants.
Yet another sign of how the best seats have been overpriced is their resale level.
Legends Suite seats in section 27B, row 2, down the left-field line that originally sold for $500 were available for $225 early Wednesday on the online ticket broker StubHub.com. Tickets in section 23, row 7, behind the visitors' dugout could be had for $263, down from their $850 original price.
"Yeah, we understand it's not full. We actually understand why it's not," left fielder Johnny Damon said. "It's tough for, you know, business owners to justify those seats. It's either have those seats or lay off people from work, and I think that during this tough time, people are going to want to put it back into their companies and put it back into people instead of spending that type of money for seats."
The Yankees built the stadium in boom times and don't seem to have counted on the recession dampening enthusiasm for the storied franchise.
The team refuses to talk about the financial impact of the empty seats, but if every spot in the Legends Suite were sold, the club would gross $1.63 million per game, according to AP's calculation.
Then there is the possible effect on the game itself.
All those empty cushioned seats with teak armrests translate to less crowd noise, making Yankee Stadium a less-intimidating place to play.