Entrepreneur on cusp of tracking down dream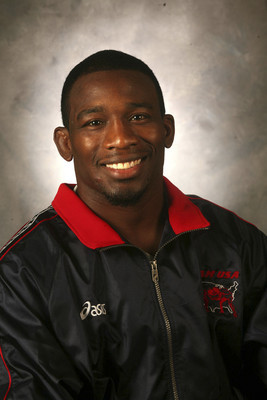 T.C. Dantzler enjoys hearing cheers after winning a Greco-Roman wrestling match, but it's not his favorite ovation.
Nor do his best takedowns come on the mat with a body-lock or gut-wrench.
Rather, the 37-year-old Illinois native uses computers and a dedicated staff to stop child predators from working with youth sports programs.
It warms Dantzler's heart when TClogiQ employees erupt into raucous cheers after his high-tech system for background checks has exposed a child molester trying to work in a youth sports program.
"There's nothing better than catching a predator. It's a big deal in our office when we catch someone; it's a celebration," Dantzler said of the company he founded in 2004. TClogiQ completes about 200,000 background checks a year, and businesses use it to check job applicants' histories.
Dantzler has entrusted investigations to his workers this weekend because he has to focus on his other mission.
The three-time reigning national champion at 163 pounds (74 kilograms) is on the cusp of qualifying for his first U.S. Olympic team at the Thomas & Mack Center. By winning the USA Wrestling Senior National title two months ago in Las Vegas, he is seeded into Saturday night's best-of-3 championship round.
Dantzler has applied the same work ethic in a singlet on a wrestling mat as he does in boardrooms, where he wears a suit, crisply starched white shirt and power tie.
"Wrestlers tend to work extremely hard, and we work smart," said Dantzler, a four-year letterman at Northern Illinois, from which he earned his bachelor's degree in economics. "I apply those traits to the business."
His company (TClogic.org) and its 23 employees — soon to grow by six — is based in Colorado Springs, Colo., where Dantzler settled to work out at the Olympic Training Center.
He used April's senior nationals as a tuneup for the biggest tournament of his life two weeks later in Rome, where his performance guaranteed the United States would have a representative in the Beijing Olympics in his weight class.
"I've been waiting for this chance for a long time," he said of the Olympics opportunity. "Qualifying in my weight class was getting a monkey off my back that had turned into an 800-pound gorilla that eats meat."
Dantzler is trying to become the second-oldest American wrestler to win an Olympic medal. He has competed in 27 international matches to help achieve the feat.
Greco-Roman, unlike freestyle, forbids attacks below the waist. Throws are encouraged, and Greco-Roman wrestlers cannot avoid being thrown by hooking or grabbing an opponent's leg.
Members of the U.S. Olympic wrestling and judo teams will be determined during the weekend trials. Wrestling — including women's freestyle — will be contested today through Sunday, with men's and women's judo competition limited to today and Saturday.
Competitors have dedicated much of their lives to making it into the Olympics. Focus and limiting distractions are as vital as honing skills and cutting weight.
So, too, is turning negatives into positives.
A half-hour before Dantzler wrestled for the senior national title in Las Vegas on April 23, he received a call that told him an assistant college coach and longtime mentor, Dan Edwards, had been killed that day when a truck cut in front of Edwards' motorcycle.
"I spent 15 minutes pacing and bawling," Dantzler said. "That drained me emotionally. But I got things in perspective and won that match for Dan.
"Dan convinced me to move to Colorado Springs to train at the Olympic Training Center. When I got out of college, sometimes he'd send me $65 or tell me to call a guy who'd give me $40 to help me get to the next tournament.
"Dan is a big inspiration."
If Dantzler earns his American stars and stripes after Saturday's match, he will face happier diversions.
Tanya, his wife of seven years, is expecting their third child and first daughter in July — the month before the Beijing Games. Two months after the Games, the couple will adopt a 17-month-old girl.
"I don't know what it is, but each of my sons were born in Olympic years," he said of Thomas Curtis III, 8, and Tyce Cayden, 4.
And now a daughter.
Maybe it's Olympic testosterone.
Contact reporter Jeff Wolf at jwolf@ reviewjournal.com or 702-383-0247.