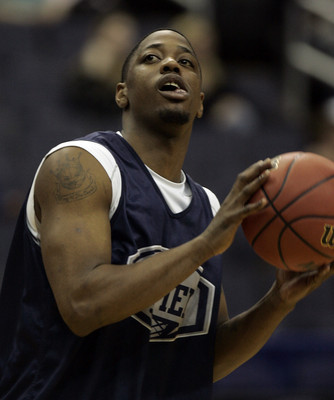 Not every guy wants to hit the beach for spring break. Some prefer to visit Las Vegas to bet on basketball games while slamming beers and hitting on waitresses.
Sports books roll out the red carpet for those guests, especially the ones who lack discipline, money management and sophistication.
It's time for the NCAA Tournament, which means out-of-control bettors are about to be tempted beyond belief. With 48 games over the next four days, the party that seems as if it will never end is about to begin.
"The excitement of the close games, who's winning and covering the spread, it seems to emotionally drain everybody after the first three days," Las Vegas Hilton sports book director Jay Kornegay said. "It's nonstop action and 12-hour days, and by Sunday, most people are tired and have had enough.
"The excitement level is off the charts. There is nothing like this."
But as the tournament's popularity continues to grow in terms of wagering, some betting patterns are changing. No longer is the majority of the party crowd always eating chalk — or playing favorites.
For example, Wisconsin is an 111/2-point favorite over Cal State Fullerton today. In the past, the Badgers might have been the public's clear choice. But this week, the underdog has attracted more interest in that matchup.
"The one thing that really has changed from 10 years ago is the general public doesn't shy away from betting on the mid-major teams anymore," Kornegay said.
If siding with more underdogs is a sign of sophistication — and that's not always the case — the betting public is not so simple to figure out.
A selection committee of six professional handicappers offers best bets for the first round:
TODAY
• Xavier (-8) over Georgia: Xavier is a legitimate top-10 team, vastly undervalued by both the betting marketplace and the general public. The Musketeers have proven their mettle against major-conference schools, beating Indiana by 15 points, Kansas State by 26 and Virginia by 38.
Georgia got incredibly hot in the Southeastern Conference tournament, winning four games in four days against a relatively weak field. Do not expect that momentum to carry over to today's early game.
The Bulldogs are a No. 14 seed for a reason, finishing 4-12 in a watered-down SEC during the regular season, and winning just twice on the road. Expect a blowout.
— Ted Sevransky
Sportsmemo.com
• Southern California (-3) over Kansas State: This matchup is intriguing because of a pair of ultra-talented freshmen who are certain NBA lottery selections in June, the Wildcats' Michael Beasley and the Trojans' O.J. Mayo. Looking beyond those two stars, however, USC ranks as the superior team from the slightly superior conference. The Trojans can score from all five positions.
Kansas State's offense is heavily dependent on the talents of Beasley and freshman Bill Walker, who can be highly emotional and has disappeared in several key games. The Trojans have fared much better away from their home court, compiling an 11-5 record against the spread that includes straight-up victories at UCLA, Oregon and Arizona.
— Paul Stone
Vegassportsauthority.com
• Pittsburgh (-81/2) over Oral Roberts: Oral Roberts has had a good season but has not played a team the caliber of Pittsburgh, which is 5-0 straight up at neutral sites this season. The Panthers, led by forward Sam Young, won and covered their past three games against Georgetown, Marquette and Louisville. The stronger, faster Pittsburgh starting five each should score in double digits.
— Joseph D'Amico
Allamericansports.info
• Texas A&M (-11/2) over Brigham Young: The Big 12 was for the most part an underrated conference all season, yet Kansas and Texas have shots at the Final Four. Texas A&M struggled at times, but the transition from former coach Billy Gillespie to Mark Turgeon seemed to go well.
The Aggies are a more athletic team than BYU, and the Cougars seemed poorly coached at times, unwilling, or unable, to take advantage of their edges in the middle. They failed to adapt to UNLV's halftime adjustments in the Mountain West championship game, just the latest evidence of a team that often plays below its talent level, especially away from home. Texas A&M has faced better competition and should win by six to 10 points.
— Andy Iskoe
Thelogicalapproach.com
FRIDAY
• Drake (-4) over Western Kentucky: Drake (28-4) is the most underrated team in college basketball. The believers are few and far between because, despite their success, the Bulldogs are 20-8 against the number. Drake is a team made up of a relentless group of no-names who play with everything they have for 40 minutes. The Bulldogs' four losses came by a total of 13 points. Western Kentucky is a solid team that is about to be sliced and diced by the relentless focus and intensity that Drake brings to every game.
— Kelso Sturgeon
Kelsosportshandicapping.com
• Miami (-1) over Saint Mary's: In tournament play, the referees usually let teams get away with more contact, and Miami is one of the longest and most physical teams around. The Hurricanes average 4.7 blocked shots per game. To stop Saint Mary's, you have to stop freshman point guard Patty Mills, who will get off outside shots but will have trouble once he penetrates the lane. If the game is close, Miami's 74 percent free-throw shooting could be the difference.
— Lee Sterling
Paramountsports.com