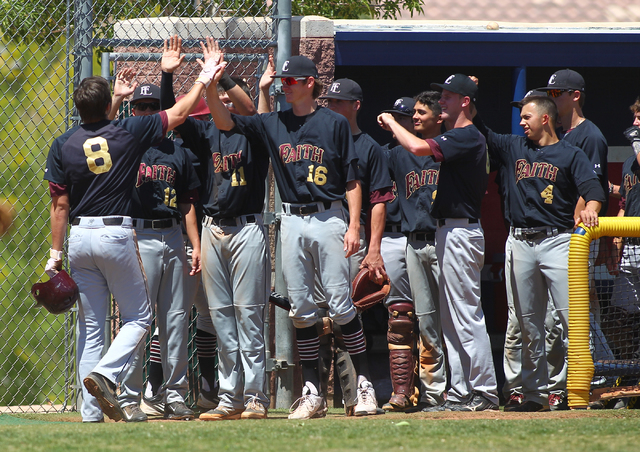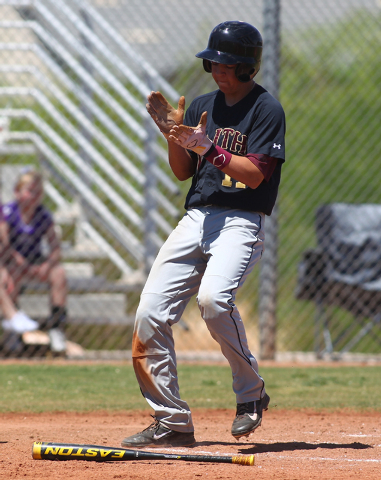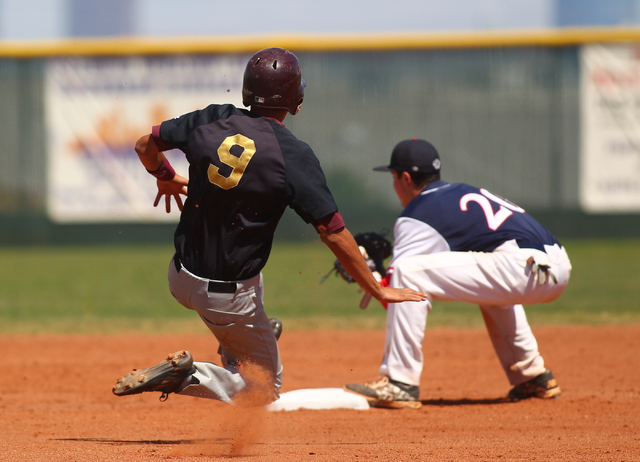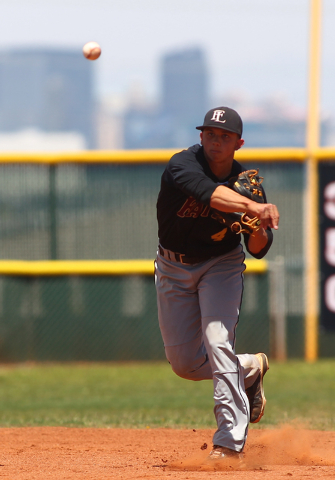 Not many pitchers in Southern Nevada can be relied on as much as Faith Lutheran's Brandon Johnson.
The senior right-hander stayed true to form Saturday morning.
Johnson, a Kansas signee, gave up three hits and struck out seven in six innings to help the visiting Crusaders top defending state champion Coronado 11-3.
"He's been pretty consistent over the last three to four years," Faith Lutheran coach Blair Neagle said. "He's got a good work ethic, and he loves to compete. He's a clown outside of the lines, but when he crosses them, he's a competitor. He's a great guy to have."
Johnson wasted no time asserting his dominance, striking out the side in the first inning. He didn't give up a hit until the fourth and walked just two batters in his 90-pitch outing.
"He used his breaking ball a little more than he has recently," Neagle said. "That helps him quite a bit; it makes his fastball better. He's been working on his changeup since he's going to need that next year. He's really working on a lot of things, so I think he battled through it and did a nice job."
Johnson's offense took care of the rest, scoring 10 runs in the first four innings.
Chad Jones got the Crusaders going in the second with a one-out single to score Cameron Sepede and Erich Uelmen. Jones then scored for a 3-0 lead after two innings.
Logan Etherington led off the third with a walk and a stolen base before Dakota Greenawalt's RBI single. Two batters later, Uelmen added a two-run homer to left-center to push the lead to 6-0.
In the fourth, Greenawalt hit a bases-clearing double to make the score 9-0. Justin Daraban's fielder's choice scored Greenawalt, who finished 3-for-4 with a double, solo homer and five RBIs.
"He's just a big, strong, powerful kid," Neagle said. "When he gets on time, he can hit it a ton. It's just a matter of seeing it and being on time."
Uelmen was 1-for-2 with two RBIs, two walks, two runs and a stolen base, and Sepede went 2-for-3 with two runs and a walk for the Crusaders (20-6).
Coronado's Tanner Bellamy broke up the no-hitter in the fourth with a leadoff double to right-center. Anthony Olheiser singled in the fifth, and teammate Donte Glover tripled in the sixth for the Cougars (15-11), who got two walks and a run from Jacob Klein.
It was the third meeting between the teams this season. The Crusaders were 14-1 winners March 14 in the Bengal Varsity Tournament. Coronado won 3-2 at Faith Lutheran on April 5.