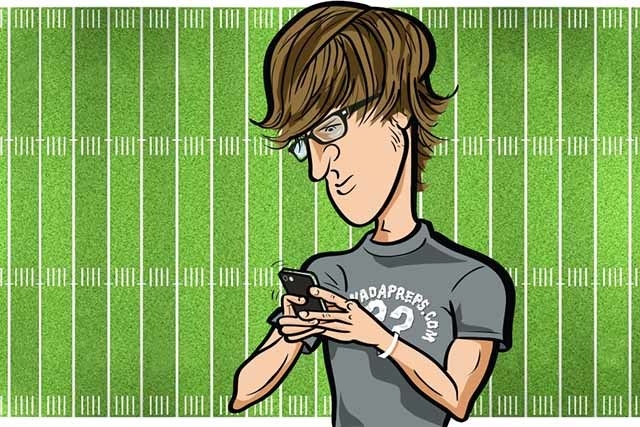 Being sick this time of year is the worst.
Not only am I missing out on the beautiful weather we've been having in the valley (minus that minihurricane on Monday, of course), but it also puts a major kink in my Halloween plans. Originally, I was going to spike my hair into a point and dress up as a working sundial. Now, my costume choices are pretty limited.
I could go trick-or-treating dressed as Peter Griffin, and Eric, Skeet and I can re-create the scene from "Family Guy" in which Peter, Brian, Chris and Stewie drink the ipecac syrup and bet who can go the longest without vomiting.
Otherwise, I'm down to Regan from "The Exorcist" — ask your parents/grandparents — or Justin Bieber from his "Believe" show a year ago in Glendale, Ariz. Gross, I know.
But since I'm all about the ghosts and the ghouls, here's another scary thought for you: The Division I regular season is almost over.
The Southeast League title will be settled tonight as Foothill (5-3, 3-1) hosts Liberty (6-3, 4-0), and then it's straight to the Sunrise Region playoffs. Across town, Centennial (4-3, 3-0) visits Bishop Gorman (7-2, 3-0) with first place in the Southwest League at stake, while the rest of the Sunset Region playoff picture gets sorted out in the finale next week.
And if that doesn't spook you, maybe this will: The Division I-A playoffs begin Friday, which means basketball season is getting close.
After a rough start last week, my picks finished with a flurry. I'm still in search of the elusive 8-0 week, but being bedridden has given me extra time to study this week's schedule, so I'm feeling confident. Make sure to find a few more of my scary picks at Nevadapreps.com.
■ Liberty at Foothill — The leading passer in the area will be featured in this first-place showdown. So will Foothill's highly recruited quarterback, Drew Doxtator.
That's right. Patriots QB Tyler Newman tops everyone in the valley with 2,555 yards and 31 touchdown passes, and Liberty's hopes of a fourth straight league title rest heavily on his shoulders. The Patriots haven't shut down a good offense except for that of Hamilton (Ariz.), and Uncle Lefty likes over the total of 60, so this figures to be a keep-up game. I don't think the Falcons can keep up. … Liberty by 7.
■ Centennial at Bishop Gorman — The Bulldogs' defense did work on the road last week, forcing five turnovers and blanking Cimarron-Memorial to clinch a playoff spot. Now they head south for this matchup of league unbeatens essentially on a free-roll.
I must admit, this rematch of last year's Sunset Region final reminds me of Saturday's Florida State-Miami clash. Both teams are undefeated, but one team is in a different class. … Bishop Gorman by 20.
■ Canyon Springs at Las Vegas — Each team is rooting for Silverado to upset Green Valley, as the winner of this game then would earn a share of the Northeast League title. Not likely to happen, but, hey, we are the music makers, and we are the dreamers of dreams.
Regardless of what happens with Green Valley, the No. 2 seed for the playoffs and a first-round home game is on the line for the Pioneers and Wildcats. In Hunkie We Trust. … Canyon Springs by 1.
■ Virgin Valley at Mojave — This easily is the most intriguing matchup in the first round of the Division I-A playoffs, as the third-seeded Bulldogs make the trip from Mesquite in search of their first postseason victory since 2008.
The Rattlers finally put it all together in a 47-0 win over Pahrump Valley to secure a No. 2 seed. However, Mojave didn't see anyone in the Sunset League with Virgin Valley's pace on offense, and that should lead to a few big plays for the Bulldogs. … Virgin Valley by 6.
Last week: 6-2, 6-2 (with points)
Season: 56-16, 49-23 (with points)
Contact Fielder at Fielder@nevadapreps.com Follow him on Twitter: @FielderNVP.