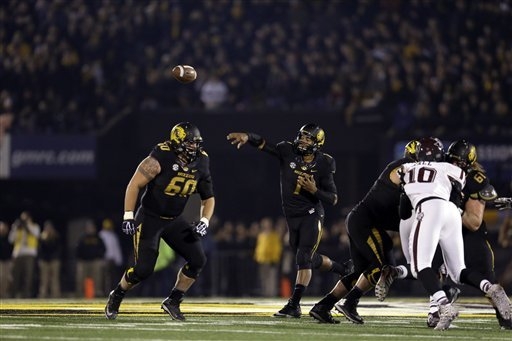 The reason Missouri will beat Auburn in today's Southeastern Conference football title game is quite simple. Missouri has the better team.
Other than the final 12 minutes of regulation in an improbable overtime loss to South Carolina, coach Gary Pinkel's team has been challenged once. That happened last week, when Missouri's defense held Texas A&M quarterback Johnny Manziel in check in a 28-21 win.
Each of Missouri's 10 other wins were by margins of 14 points or more, including a 16-point victory at Georgia that was achieved despite the loss of quarterback James Franklin to a separated shoulder in the third quarter.
When Franklin returned after missing five weeks, he led the Tigers to a 14-point victory at Mississippi. Missouri also won by 23 on the road against an eight-win Vanderbilt team.
Missouri might have the nation's most balanced offense that can beat foes in a variety of ways. The unit is two-deep at quarterback and three-deep at running back and has three receivers destined to play in the NFL.
Running back Henry Josey and wideout Dorial Green-Beckham are especially impressive, and expect both to make several game-changing plays today.
Both offenses will have advantages over the defenses, but Missouri's defense is more capable of containing Auburn's offense than vice versa.
This is a neutral-field game at the Georgia Dome in Atlanta, but that's only two hours from Auburn. Therefore, the crowd will be at least 60-40 in favor of Auburn. But Missouri is 5-0 straight up and against the spread in road games, winning each by at least two touchdowns.
I normally wouldn't bring up a possible letdown scenario for a game that decides a conference title and a potential shot at the Bowl Championship Series title game. And it isn't the basis of this selection, but there's no doubt the letdown label can be attached to Auburn.
The Iron Bowl is a different beast. This year's version was an all-timer in terms of the stakes and in the way it played out. Auburn fans will talk about that game many years from now.
They also will point to it as a reason the team was emotionally drained and got beat by Missouri in a pick-'em game the following week.
Four more plays for today (home team in CAPS):
■ Duke (+29) over Florida State — The Blue Devils can score 24 to 28 points against a Seminoles defense that has faced only two or three quality offenses. That's not to say Duke can contain Jameis Winston and Florida State's high-octane offense. The Seminoles are going to score at least 48 points. But in this Atlantic Coast Conference title game in Charlotte, N.C., the Blue Devils are catching a lot of points and have a coaching advantage.
■ Stanford (+3) over ARIZONA STATE — During coach David Shaw's tenure, the Cardinal have been an underdog five times. Stanford has a 4-0-1 spread record with three outright victories in those situations. Both games Stanford didn't win went into overtime. Yes, the game is in Tempe, Ariz., and Arizona State is vastly improved since losing 42-28 in Palo Alto, Calif. But don't be fooled by that final score. Stanford led 29-0 at halftime and 39-7 early in the fourth quarter. The Cardinal will win outright.
■ Michigan State (+5½) over Ohio State — I've been saying for a month the Spartans are going to win this game outright. That opinion didn't change last weekend when quarterback Devin Gardner and Michigan shredded an overrated Ohio State defense for 41 points. The Spartans have one of the nation's best defenses. The Michigan State offense was awful in September and mediocre for most of October. But because of quarterback Connor Cook's development, the Spartans have become more than adequate offensively. Cook has a 17-4 touchdown-to-interception ratio, and running back Jeremy Langford has rushed for 1,210 yards and 16 TDs. Michigan State will win the Big Ten title game in Indianapolis.
■ FRESNO STATE (-2½) over Utah State — The line value is with the Bulldogs. Before Fresno State suffered its first loss to San Jose State last weekend, it would have been favored by at least eight points over the Aggies. In the Mountain West title game, quarterback Derek Carr will lead the host Bulldogs to victory.
Last week: 3-2 against the spread
Season: 32-37-3
Brian Edwards of VegasInsider.com and BrianEdwardsSports.com is providing college football analysis for the Las Vegas Review-Journal.