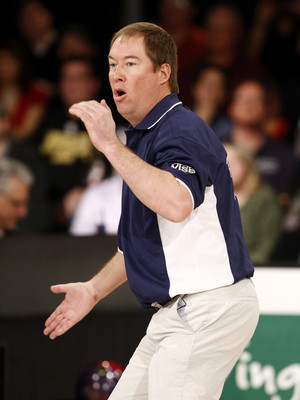 Heartbreak isn't new to bowling, but it's usually not the winner who reflects the most pain.
Patrick Allen won Sunday for the second time in the past three PBA tournaments when his opponent in the final game left an ugly split in the 10th frame.
Two weeks ago in Reno, it was veteran Walter Ray Williams Jr. who left a solid 8-10 on the second ball of his 10th frame when he needed a strike to beat the 38-year-old Allen.
But it visibly hurt Allen when Ryan "Rhino" Page, his road roommate and reigning PBA rookie of the year, struck on his first roll in the 10th and needed to close out the frame with a nine-count and spare to win the Tournament of Champions at Red Rock Lanes.
Page, 25, just missed the headpin, and his ball cut through to take out only the Nos. 2, 5, 6 and 8 pins.
Allen buried his face in his hands and remained subdued several minutes after edging Page 267-263 to claim $50,000 and one of the PBA Tour's four major titles.
"It's not the way you want to win," Allen said of the 12th PBA title and second major of his 10-year career. "Once he threw the first one, I thought I was done."
Page, of Topeka, Kan., rallied with six consecutive strikes after starting with two spares. Allen opened with six straight strikes before two spares allowed Page to take the lead in the seventh frame.
Page advanced to the title game by defeating Wes Malott 243-200 in the semifinals after Malott, of Pflugerville, Texas, and the only right-hander to finish in the top four, rolled a 276 to eliminate Mike Scroggins of Amarillo, Texas.
Page, who was gunning for his second title and first major, said he could tell right away it was a bad throw.
"I knew when I let it go we were in trouble," said Page, who earned $25,000.
"He out-bowled me until that shot," said Allen, who tied a PBA record by making his fifth consecutive singles-format TV appearance. "I really feel for him. You don't win out here if you don't get some breaks, but that's not the way you want to win.
"I got a huge break two weeks ago against (Williams), but to be honest, I didn't feel as bad for Walter Ray. He's got 45 titles."
"Over the past few weeks, everything has been going my way," added the New York native who is 3-0 in championship games when he's the top seed.
Go to LVRJ.com/blogs/bowling for more news from the tournament. Contact reporter Jeff Wolf at jwolf@reviewjournal. com or 702-383-0247.