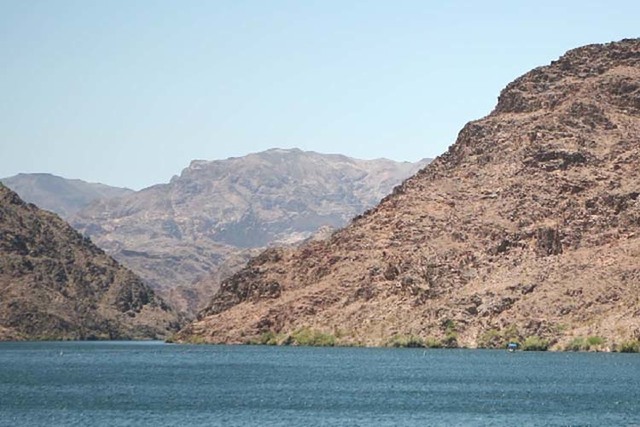 ■ LAKE MEAD — Those anglers who have made their outings an overnight affair also have increased their odds of bringing in a quality-size striper, though their catch numbers aren't any larger than those who fish during the daylight hours. With warmer water temperatures sending the larger fish deeper during the day, the striper boils are made up primarily of fish ranging from 1 to 2 pounds. Plastic lures and anchovies have been the baits of choice this week for stripers, largemouth and smallmouth bass, and catfish. The black bass species are still hanging in shallow water, and anglers fishing from shore have reported success bringing these in. Catfish can be found in the backs of coves, with prime fishing taking place at night.
■ LAKE MOHAVE — Catfish action continues to improve with anchovies being the bait of choice and anglers finding success at night in the backs of coves. Chicken livers, hot dogs and prepared stink baits also work well. Striper action has been hit or miss, with anglers having good luck in coves early in the morning. At those times, top-water and reaction baits work best.
■ LAUGHLIN — Fishing on this stretch of the Colorado River remains good, with the best results coming at night or early in the morning. Boating traffic is lighter and the temperatures cooler than during the day. All techniques seem to work, as anglers are catching from boat and shore, with anchovies or lures and from shallow or deep. The key is locating a school of fish or having the fish locate you, and then fishing while you can before they move on.
■ URBAN PONDS — Water levels have been good at most of the ponds. The one exception is Lorenzi Park pond, which is a little low and muddy around the edges. Bluegill and small catfish are taking mealworms at Lorenzi, and mealworms and nightcrawlers are working at all the other ponds for sunfish.
■ KIRCH WILDLIFE MANAGEMENT AREA — Emerging vegetation is causing problems for those casting from shore or trying to navigate the shallower waters. At the time of this report, most of the Dave Deacon Campground has been taken up by fire crews fighting the Bear Trap fire. As long as the fire does not flare back up, the crews are expected to be out by Friday.
■ EAGLE VALLEY RESERVOIR — Though the lake is getting weedy, trout are still taking small spinners such as Mepp's, Rooster Tails and Panther Martins in a variety of colors during the early-morning hours or after sundown. Anglers are also catching fish with PowerBait off the dam and fishing dock.
■ ECHO CANYON RESERVOIR — Crappie action has really slowed down this past week, but anglers continue to have success for rainbows and largemouth bass. Weed growth has increased over the past few weeks, making fishing a little difficult.
■ FISHING CLASSES — The Nevada Department of Wildlife will hold a free family fishing clinic for all ages at 6 p.m. Aug. 12 adjacent to Lorenzi Park pond. Registration is required, and a limited amount of loaner rods and reels will be available. To register or for more information, contact Tammie Frost, weekdays at 702-486-5127, extension 3850.