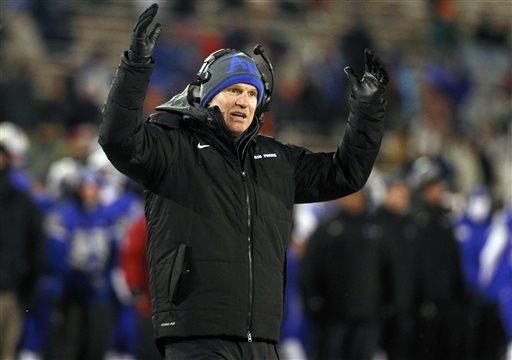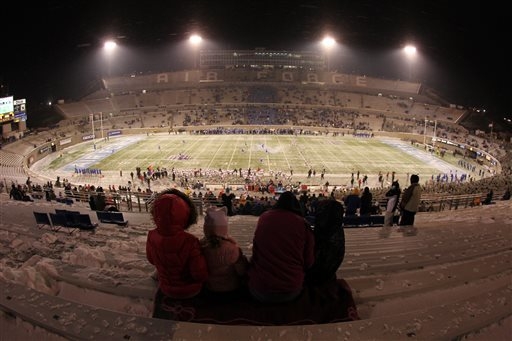 The conditions were right for an Air Force victory.
Snow fell throughout the day, and the temperature at kickoff was 11 degrees with a wind chill factor of minus-7.
The Falcons, as it turned out, never had a chance.
UNLV, the warm-weather football team, jumped on them quickly and went on to win 41-21 in last season's meeting at Air Force. That victory made the Rebels bowl eligible and continued a dire season for the Falcons, who finished 2-10.
Now the situations are reversed, with the Rebels 2-7 entering Saturday's 1 p.m. game at Sam Boyd Stadium against an Air Force team that is 6-2, has qualified for a bowl and has won the Commander-in-Chief's Trophy after beating Navy and Army.
How did the Falcons do it?
Several factors went into the turnaround:
■ Quarterback Kale Pearson remained healthy.
■ Two new defensive coaches made a large impact.
■ Inside linebacker Jordan Pierce emerged.
■ Most of the players who received experience last season returned.
■ The schedule worked out nicely.
Pearson went out in the second quarter of last year's opener, lost for the season because of a knee injury. That would become a trend for the Falcons, who by year's end used four starting quarterbacks.
This season, Pearson has started every game and passed for 1,098 yards and nine touchdowns and rushed for 411 yards and four TDs in operating the triple-option offense.
"He's been just absolutely super," Air Force coach Troy Calhoun said. "We ask him to do a significant amount in our offense — defensive recognition, changing plays. You look at how efficient he is throwing the ball, and still can make some plays with his feet, too."
On the other side of the ball, Air Force was coming off a season in which it allowed 490.2 yards per game and a 40-point average.
Following the season, Calhoun hired Ron Vanderlinden to be his inside linebackers coach and Tim Cross to oversee the defensive line. Vanderlinden joined the Falcons after coaching Penn State's linebackers for 13 years, and he was Maryland's head coach from 1997 to 2000. Cross spent the three previous seasons as Texas' strength coach, which followed three years as the associate head coach and defensive line coach at Minnesota.
"We had two openings, and fortunately we were able to make it a match," Calhoun said. "Hopefully, it's been good for both Ron and Tim because, I tell you what, it sure has meant an enormous amount to our football program."
That's clear in the numbers, with Air Force giving up averages of 368.1 yards and 22.1 points. The Falcons went from 114th nationally in total defense last season to 45th this year. Their scoring defense went from 116th to 35th.
One of the players responsible for the tremendous improvement is Pierce, who wasn't in the starting lineup when the season began. Joey Nichol started the first game before suffering a groin injury.
Now the position is all Pierce's. He leads the Falcons in tackles with 70, tackles for loss with 12 and sacks with four. He also has intercepted two passes.
"He had moments last year where he was really productive as an inside linebacker," Calhoun said. "Just to see how much he's grown and sprouted, anywhere else, it would be fun to have him for a fifth year."
Air Force, however, doesn't redshirt players.
The Falcons' success can be attributed to the collective as much as the individual. The Falcons returned 16 starters from the team that went 0-8 in Mountain West play last season. That experience turned out to be valuable, though Calhoun wouldn't buy into the notion those players were better for the struggles.
They were simply better for gathering playing experience.
"Last year, we really played only about 12 seniors, which when you combine it with playing a number of different quarterbacks, is not going to be pretty," Calhoun said. "It's just not."
Finally, the schedule worked out in Air Force's favor. Except for a 28-14 victory over Boise State, which controls its destiny in the Mountain Division, the Falcons' wins have come against teams that are a combined 10-34.
But unlike last season, the Falcons are winning again.
They entered this season off back-to-back losing records, but this is a program that has been successful for many years. Calhoun posted winning records in his first five seasons and went to bowls in his first six, and is 55-43 in eight years at his alma mater.
"You have your blueprint," he said. "You have your values and your principles."
Contact reporter Mark Anderson at manderson@reviewjournal.com or 702-387-2914. Follow him on Twitter:@markanderson65.
Check our GameDay page for all the news leading up to the UNLV-Air Force game.