Bishop Gorman rolls past Cocoa without Biaggio Ali Walsh
September 2, 2016 - 11:21 pm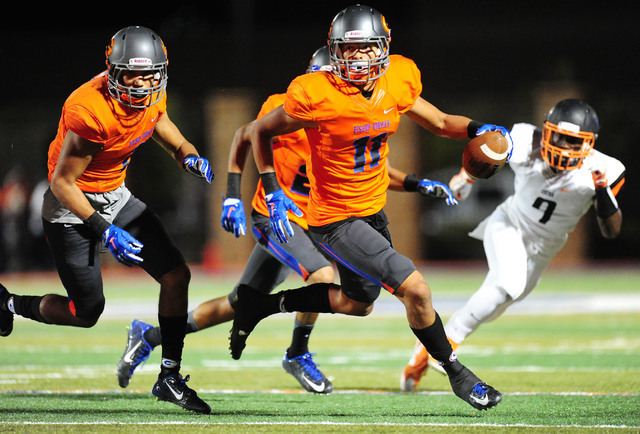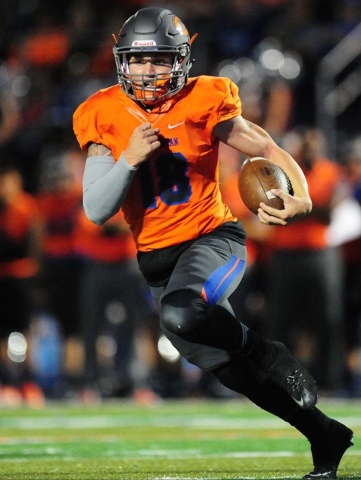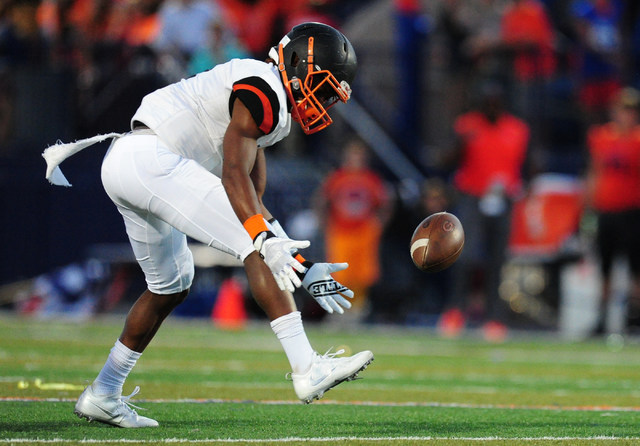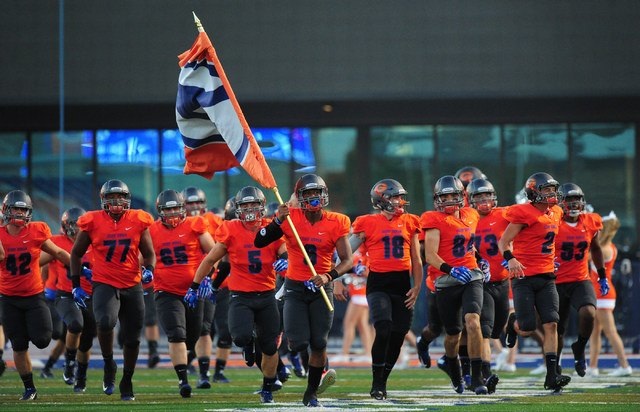 The reigning state football player of the year didn't step onto the field for Bishop Gorman on Friday night.
It hardly mattered.
Tate Martell threw four touchdown passes and ran for a score to lead the Gaels to a 46-10 home win over Cocoa (Florida). Gorman played without running back Biaggio Ali Walsh, who was nursing a right ankle injury.
"We're good at putting people in and keep rolling," Martell said. "They could do the same thing with me. They could go out here and do the same thing."
The Gaels (2-0), ranked No. 1 in the nation by USA Today, struggled early, netting just two field goals in three first-half trips to the red zone. But big plays eventually were too much for the Tigers.
Cocoa (1-1) cut the lead to 12-10 on a 29-yard field goal by Alex Petruzzello with 29 seconds left in the first half. The momentum didn't last long.
On the final play of the first half, Martell avoided the rush, rolled out and lofted a pass to the right front corner of the end zone. Brevin Jordan outjumped a Cocoa defender and came down with the 42-yard touchdown catch, and the Gaels took the momentum and a 19-10 lead into halftime.
"It was good to get that right before halftime," Martell said. "It helped us steal the momentum going into half. It was just a play that Brevin made. My line gave me time, I rolled out, and Brevin just made a great play."
It was all Gorman from there. The Gaels outgained Cocoa 219-9 in the second half.
"I thought we made a lot of mistakes in the first half," Gorman coach Kenny Sanchez said. "We were playing a good football team, and I thought they took advantage of our miscues. I told them, 'We've got to settle down, go out there and have a little bit of fun, relax, and our players have got to go out and make some plays.' And I thought we played really well in the second half."
The Gaels drove 66 yards on the second half's first possession, capped by Martell's 18-yard scoring run, and Derek Ng's extra point made the score 26-10 with 7:55 left in the third quarter.
Martell then lofted a pass down the middle over a leaping Cocoa defender to Jimmy Telles for 52-yard TD reception that made the score 33-10 with 5:51 left in the quarter.
Martell added a 12-yard scoring pass to Jalen Nailor with 1:56 left in the quarter to push the lead to 40-10.
Martell completed 13 of 21 passes for 273 yards, including a 61-yard scoring pass to Nailor in the first quarter.
Even without Ali Walsh, the Gaels rushed for 186 yards. Martell led the way with 87 yards on 14 carries. Sophomore Amod Cianelli added 76 yards on his first 11 varsity carries.
"Guys are going to get hurt during the season, so it's up to the next guy to get in there, and he's got to fill the position," Sanchez said. "I thought he played really well for a young guy against a good defensive line."
Nailor had four catches for 120 yards to lead the receivers. Sanchez said Ali Walsh is expected to play next week against St. John Bosco (California).
"He'll be ready to go for next week," Sanchez said. "He could have went tonight. We just held him out for precautions."
Bruce Judson, who has committed to South Florida, completed 5 of 9 passes for 126 yards, including a 79-yard scoring pass to Javian Hawkins that cut the Gorman lead to 9-7 with 11:49 left in the first half. But the Tigers never got going on the ground, finishing with 57 yards on 25 carries.
Contact prep sports editor Damon Seiters at 702-380-4587 or dseiters@reviewjournal.com. Follow him on Twitter: @DamonSeiters
Complete coverage of high school sports
Box score:
Bishop Gorman 46, Cocoa (Fla.) 10