Cardinals demolish Eagles, wrap up NFC West title
December 20, 2015 - 10:31 pm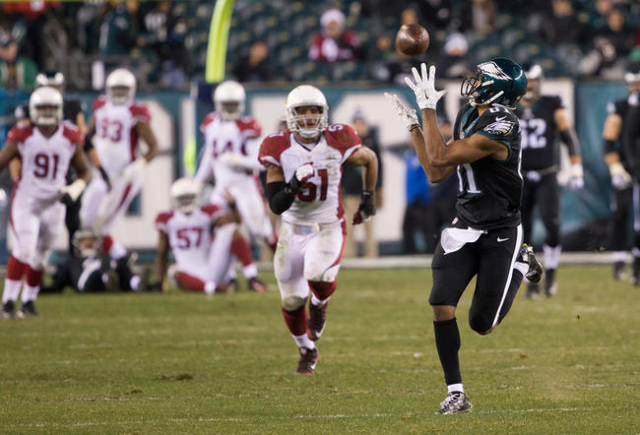 PHILADELPHIA — The Arizona Cardinals are in the midst of an amazing season that already includes more victories and more points than any year in franchise history.
They want more, though.
That was the message the Cards sent Sunday night after they clinched their first NFC West title since 2009 by beating the Philadelphia Eagles 40-17 at Lincoln Financial Field.
The Cardinals (12-2) can clinch a first-round bye in the playoffs if they beat the Green Bay Packers at home next week.
"Winning the division is always your No. 1 goal, and we're happy to have accomplished that," Cardinals defensive end Calais Campbell said. "At the same time, you'll notice that even though we're happy in (the locker room), nobody is jumping around or anything. We're not satisfied because we know we still have a lot more to accomplish this season."
The Eagles (6-8) must beat the Washington Redskins (7-7) next week to be tied for the lead in NFC East going into the final week of the season, when they play at the New York Giants (6-8) while the Redskins play at Dallas. If Philadelphia loses to Washington, the Eagles would be eliminated from playoff contention.
"We're all a little frustrated with the way things went tonight," Eagles quarterback Sam Bradford said. "But next week is going to be here before we know it, so we have to have a short memory and put this game behind us."
Cardinals rookie running back David Johnson ran 29 times for a career-high 187 yards and three touchdowns. Arizona quarterback Carson Palmer completed 20 of 32 passes for 274 yards with one touchdown and no interceptions.
Bradford finished 28-for-41 passes for 361 yards with two TD passes and two interceptions. Philadelphia wide receiver Jordan Matthews caught eight passes for 159 yards and a touchdown.
Eagles running back DeMarco Murray, who left Dallas for a $40 million contract, didn't have a single carry until midway through the third quarter. He finished with just two carries for 3 yards.
Philadelphia coach Chip Kelly said he planned on using a three-man rotation at running back, but his team didn't run the ball well, so the Eagles called only 19 running plays, with Ryan Mathews getting 11 carries for 58 yards and Darren Sproles six carries for 9 yards.
The Cardinals held a 17-10 lead at halftime, and after the Eagles started the second half with a three-and-out, Arizona moved downfield for another touchdown. The eight-play, 87-yard drive featured one big play — a diving, 29-yard catch by wide receiver Michael Floyd, who came down with the ball on the Eagles 1-yard line.
Johnson scored on the next play to give Arizona a 23-10 lead with 9:48 left in the third quarter.
"The biggest disappointment (on defense) was we didn't tackle well," Kelly said. "And on offense, we turned the ball over (two interceptions and two lost fumbles). You can't do those things against a good team like that and expect to win."
Arizona moved in for another touchdown at the end of the third quarter on a 16-yard pass from Palmer to wide receiver John Brown to make it 30-10.
The Cardinals delivered the knockout punch when safety Deone Bucannon intercepted a pass from Bradford and returned it 39 yards for a touchdown to make it 37-10 early in the fourth quarter.
"That was exciting," Bucannon said, "and you could tell that the air went out of their balloon on that play. They're a good team and they played us tough, but we made the big plays when we had to, which has been a mark of this team all season."
The Cardinals took the opening kickoff and marched downfield with little resistance from theEagles, a drive that included a 36-yard completion to tight end Darren Fells, who carried cornerback Byron Maxwell on his back for the final 20 yards. That set up Johnson's 1-yard touchdown run and a 7-0 Arizona lead with 10:44 left in the opening period.
The score was tied 10-10 when the Cardinals took the lead for good because of the extra effort of Johnson and the poor tackling of the Eagles. Johnson ripped off a 47-yard run on which he shook off the tackle attempts of at least four Eagles, and he made it all the way to the end zone to give Arizona a 17-10 lead.
"I just found my blockers and found the hole and broke a couple of tackles, and the next thing you know, I was in the end zone," Johnson said. "It was fun."
NOTES: The Eagles finished the game without starting CBs Eric Rowe (concussion) and Byron Maxwell (shoulder). … Cardinals S Tyrann Mathieu left the game in the final minutes with what appeared to be a leg injury. … Dallas was eliminated from division race Sunday, which means the 2003-2004 Eagles remain the last team to win consecutive NFC East titles. … The ready-for-prime-time Cardinals improved to 5-0 in night games this season.