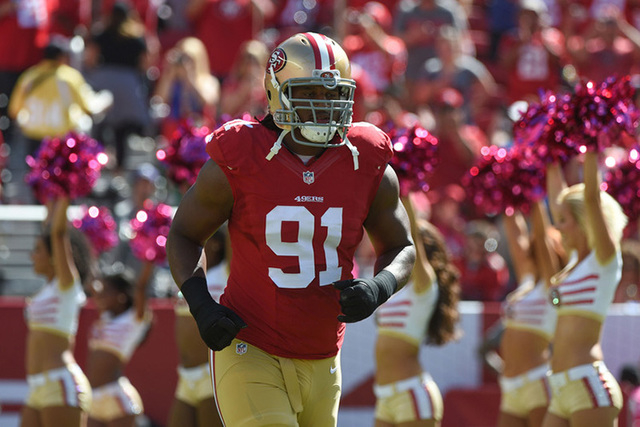 Free-agent defensive end Ray McDonald will sign a contract with the Chicago Bears, according to reports Tuesday.
The Bears also reached agreement with free-agent defensive end Jarvis Jenkins on a one-year contract, the Chicago Tribune reported.
Terms of McDonald's contract were unknown. McDonald would be reunited with former San Francisco 49ers defensive coordinator Vic Fangio, who now holds the same position with the Bears.
With the Bears switching to a 3-4 base defense under Fangio, McDonald and Jenkins are considered good fits at defensive end.
The 49ers released McDonald in December after allegations that police were investigating him on suspicion of sexual assault. He also was accused of domestic abuse last August by his fiancee, but in November the case was was dropped without charges being filed.
Since 2011, McDonald started 56 games for the 49ers, including 14 last season. He had 39 tackles and three sacks in 2014. In his eight-year NFL career, all with the 49ers, McDonald has 210 career tackles, 19 1/2 sacks and one interception.
Last year, the 26-year-old Jenkins started 14 games for the Washington Redskins and had 28 tackles.
RELATED:
Ex-49ers player to sue woman who accused him of sexual assault
49ers say McDonald had demonstrated 'pattern of poor decision-making'