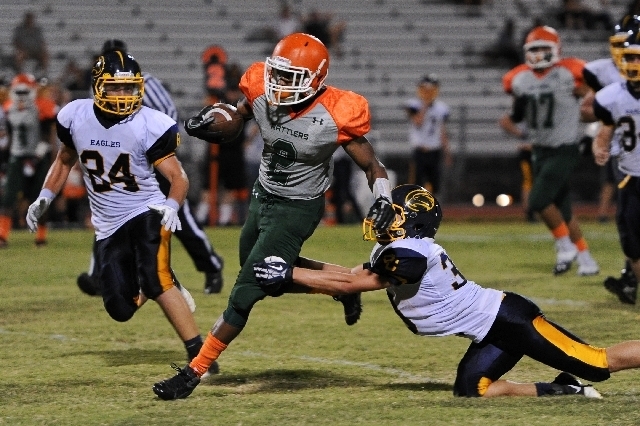 The first Boulder City defender met Mojave's Ty Flanagan 5 yards deep in the end zone, but the junior running back kept on chugging.
He shrugged off an attempted arm tackle at the 5 and then bulled past another tackler at the 10, and there was no catching him, as he was off for a 99-yard touchdown run, the biggest play in a 40-12 season-opening win over the visiting Eagles on Friday night.
"My coach was telling me before we came out here that every inch counts," Flanagan said. "Sacrifice for every inch. And that's what I did. I told myself I wasn't going to stop and get tackled before I got to the first-down marker, and I ended up getting more than what I meant to get, but everything worked out for me."
Almost everything worked out well for the Rattlers all night.
Boulder City's Xavier Steel scored on a 63-yard run on the game's second play from scrimmage. Cornerback Davion Fletcher had gone low to try to take out Steel's legs near the 50. And though Steel's helmet and shoulder appeared to hit the ground, he never was ruled down and kept sprinting for the touchdown.
But it was about the only highlight for Boulder City, which managed two first downs in the first half.
Flanagan broke off a 50-yard run with Steel dragging him down at the 10 on Mojave's first play from scrimmage. And two encroachment penalties helped set up Flanagan's 1-yard touchdown run. Hector Martinez kicked the extra point for a 7-6 lead with 8:33 to go in the first quarter, and the Rattlers didn't trail again.
"It seems like we came out with a little bit of jitters there in the beginning," Mojave coach Joe Delgado said. "But I was really happy that they came right back and scored right off the bat. They could have just let down and could have been the Mojave of old, but instead we've got the new realm going and came back and scored and didn't let up from there."
Flanagan's 99-yard touchdown made it 14-6 with 3:51 left in the first quarter. He finished with 206 yards on 10 carries.
"Ty's put in the effort since the end of last season," Delgado said. "He started in the weight room the following week after the season ended, put on 25 pounds, and obviously it showed on that play.
"We'd be dumb not to run behind Ty."
Deandre Armstrong scored on a 34-yard run on fourth-and-11 with 11:49 to go in the first half to extend the lead to 21-6, and Boulder City never threatened the lead after that.
Mojave quarterback Zack Arave completed just two passes, but both went for touchdowns. He hit Davion Fletcher with a 23-yard TD strike with 5:35 to go in the first half and then connected with Eric Snyder on a 10-yard TD pass with 49 seconds left in the third quarter. Mojave's final score came when Lorenzo Guerrero blocked a punt, and Kaleb Friedman scooped it up and ran 13 yards for a touchdown with 24 seconds to play.
Steel finished with 113 yards on eight carries. Sam Woodbury added 41 yards, including a 7-yard touchdown run in the fourth quarter for the Eagles, who had beaten Mojave 16-13 in last year's opener, something the Rattlers didn't forget.
"Last year we had a little fall coming out and losing to them," Flanagan said. "This year, we came out, did what we said we were going to do, and we're one step closer to state."
Mojave dumped an ice bucket on Delgado as time wound down, something that might seem excessive for a season-opening win. But the Rattlers have made the playoffs just twice in school history, and Delgado was 0-2 in openers before Friday. Mojave hadn't won an opener since topping Carson 19-14 in 2007.
"That's huge for us with the expectations we have this season," Delgado said. "We can't get to where we want to be unless you start from game one and win it."
Contact prep sports editor Damon Seiters at dseiters@reviewjournal.com or 702-380-4587.