Former Bishop Gorman QB Tate Martell to be in upcoming docuseries
January 6, 2017 - 3:53 pm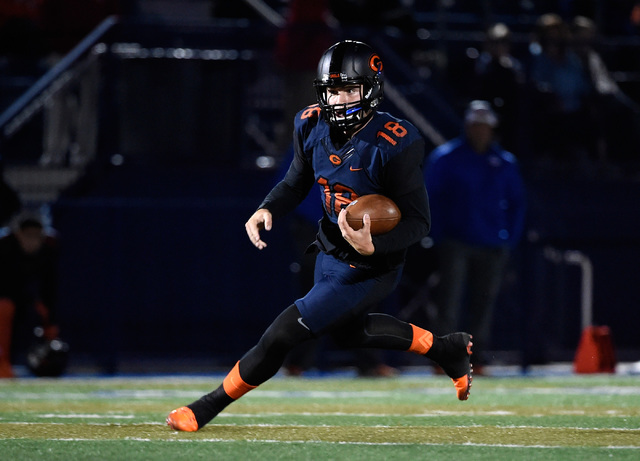 Former Bishop Gorman quarterback Tate Martell will be featured in an upcoming docuseries titled "QB1: Beyond the Lights."
The 10-part series from award-winning director Peter Berg ("Friday Night Lights") follows Martell and prep quarterbacks Jake Fromm of Warner Robins, Georgia, and Tayvon Bowers of Harrisburg, Pennsylvania, throughout their senior seasons.
The show is scheduled to debut Feb. 15 and is available through Complex Networks' Rated Red on go90.
"This is most certainly a passion project for me and everyone involved in QB1," Berg said in a release. "It's intimate and soulful and takes us deep inside the hearts and minds of these young men who are faced with an unknown future – one that is filled with anticipation, anxiety, excitement and fear. And yet, they need to be fearless in the face of it all to succeed. It's the kind of narrative that pulls no punches, and I am proud to tell these personal and very compelling stories."
Martell, who is set to enroll at Ohio State next week, led Gorman to a 15-0 record and its third straight mythical national championship as a senior.
He finished his career 43-0 as a starter and recently was named the Gatorade and MaxPreps.com Player of the Year.
RELATED
Bishop Gorman QB Tate Martell caps storied career in style
Bishop Gorman's Tate Martell gets Gatorade National Football Player of the Year award
Bishop Gorman's Tate Martell nears end of electrifying career
Complete coverage of high school sports