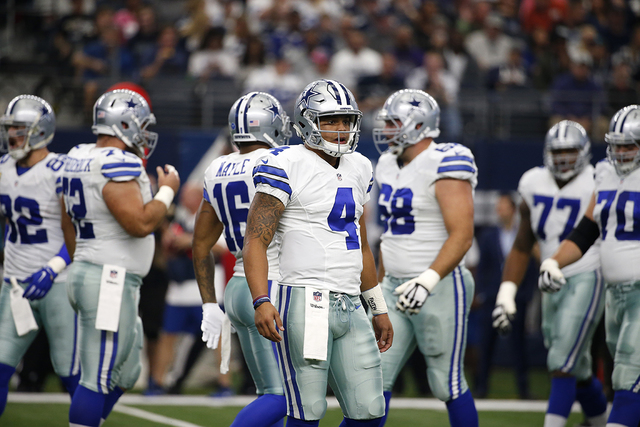 Football fans get an early start on Week 12 of the NFL season with six teams meeting on this Thanksgiving Day.
FIRST GAME
To start things off, the Minnesota Vikings (6-4) visit the Detroit Lions (6-4) at Ford Field. The Vikings enter today's game off a Week 11 win over the Arizona Cardinals, which snapped a four-game losing streak for Minnesota. The Lions also enter the matchup off a win, beating the Jacksonville Jaguars 22-16 last week.
Time: 10:30 a.m. PST
TV: CBS (Cox 8, DirecTV 8, Dish 8, CenturyLink 8)
SECOND GAME
The second game of the day features the Washington Redskins (6-3-1) visiting AT&T Stadium in Arlington, Texas to face the Dallas Cowboys (9-1).
Washington enters the game on a two-game win streak with victories over the Green Bay Packers and the Vikings. Dallas enters the game fresh off a 27-17 Sunday victory over the Baltimore Ravens.
Time: 2:30 p.m. PST
TV: FOX
THURSDAY NIGHT FOOTBALL
The final game of the day features the Pittsburgh Steelers (5-5) visiting the Indianapolis Colts (5-5) at Lucas Oil Stadium for Thursday Night Football.
Pittsburgh enters the TNF game off a Week 11 win over the Cleveland Browns, 24-9. Indianapolis enters the matchup off a 24-17 win over the Tennessee Titans.
Time: 6:30 p.m. PST
TV: NBC (Cox 3, DirecTV 3, Dish 3, Century Link 3)
Online: NBS Sports live stream (cable credentials required)
Contact Kira Terry at kterry@reviewjournal.com or 702-477-3880. Follow @kiraterry on Twitter.