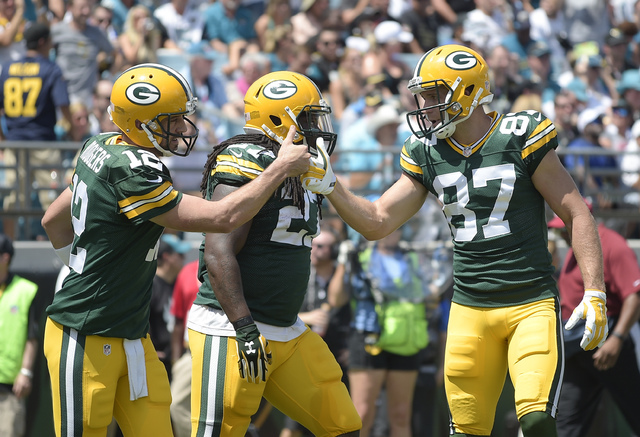 Week 2 of the NFL season is here.
This week's Sunday Night Football matchup features the Green Bay Packers paying a visit to the Minnesota Vikings for the big stage.
Along with tonight's SNF matchup, this week you can watch three Week 2 games on TV in Las Vegas. And all of the Sunday action kicks off at 10 a.m. PDT.
Here's everything you need to know if you want to watch Week 2 of Sunday Night Football in Las Vegas.
Who: Packers at Vikings
Where: U.S. Bank Stadium
Time: 5:30 p.m. PDT
TV: NBC (Cox 3, DirecTV 3, Dish 3, Century Link 3)
Online: NBC Sports live stream (cable credentials required), NFL GamePass (listen live, subscription required)
Other Sunday games televised in Las Vegas:
(all times PDT)
— Dallas Cowboys at Washington Redskins, 10 a.m., FOX (Cox 5, DirecTV 5, CenturyLink 5, Dish 5)
— Cincinnati Bengals at Pittsburgh Steelers, 10 a.m., CBS (Cox 8, DirecTV 8, Dish 8, CenturyLink 8)
— Indianapolis Colts at Denver Broncos, 1:25 pm, CBS (Cox 8, DirecTV 8, Dish 8, CenturyLink 8)
Other Sunday matchups:
(all times PDT)
10 a.m.
— New Orleans Saints at New York Giants
— Tennessee Titans at Detroit Lions
— Kansas City Chiefs at Houston Texans
— Miami Dolphins at New England Patriots
— Baltimore Ravens at Cleveland Browns
— San Francisco 49ers at Carolina Panthers
— Tampa Bay Buccaneers at Arizona Cardinals
— Seattle Seahawks at Los Angeles Rams
— Atlanta Falcons at Oakland Raiders
— Jacksonville Jaguars at San Diego Chargers
Full Sunday sports schedule listings can be found here.
Contact Kira Terry at kterry@reviewjournal.com. Follow @kiraterry on Twitter.
Like Vegas Sports News on Facebook: