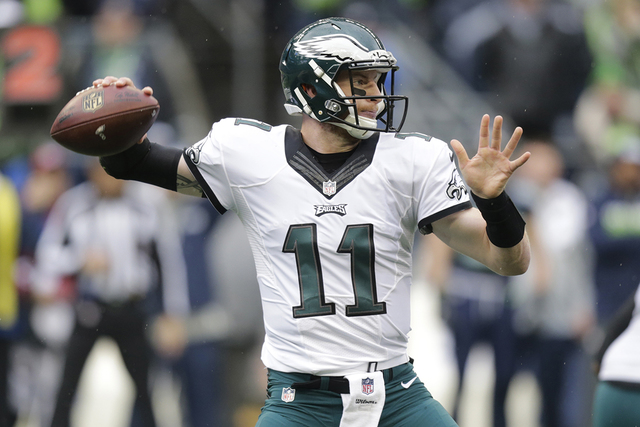 Week 12 of the NFL regular season wraps up tonight with the Green Bay Packers visiting the Philadelphia Eagles for Monday Night Football.
The Packers (4-6) enter tonight's game on a four-game losing streak seeing loses to the Atlanta Falcons (33-32), Indianapolis Colts (31-26), Tennessee Titans (47-25) and Washington Redskins (42-25) in the last four weeks. The Eagles enter the MNF matchup off a Week 11 loss, 26-15, to the Seattle Seahawks.
The two sides haven't met since Aug. 29, 2015, and in the last three meetings, the Eagles have taken two of the wins, including the last meeting, 39-26. The Packers beat the Eagles 53-10 in 2014.
Here's what you need to know if you want to watch in Las Vegas:
Place: Lincoln Financial Field, Philadelphia
Time: 5:30 p.m. PST
TV: ESPN (Cox 30, DirecTV 206, CenturyLink 27, Dish 140)
Online: WatchESPN live stream (cable credentials required)
Radio: KWWN (1100 AM, 100.9 FM)
If you can't catch the game from home, the Las Vegas Valley offers many NFL team bars where you can watch the game with other fans, including locations specific to both the Packers and Eagles.
Contact Kira Terry at kterry@reviewjournal.com or 702-477-3880. Follow @kiraterry on Twitter.
RELATED
Carson Wentz, Aaron Rodgers duel to keep hope alive
Like Vegas Sports News on Facebook: