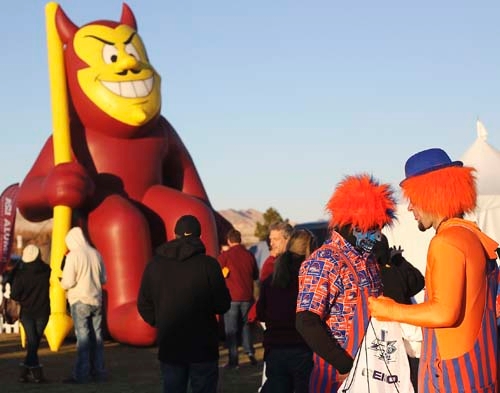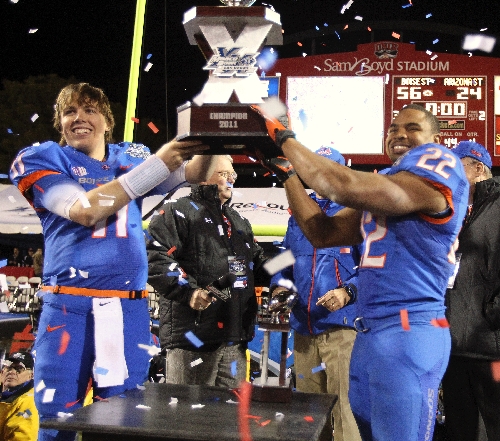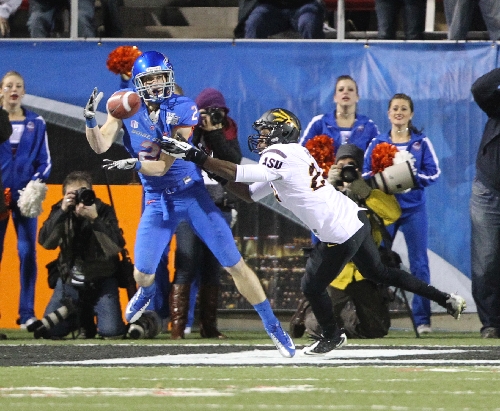 Boise State fans in the front row unfurled a sign that read "OCCUPY BCS," and their favorite team gave a performance Thursday worthy of a Bowl Championship Series game.
Maybe that's where the eighth-ranked Broncos should have spent their postseason, rather than at Sam Boyd Stadium clubbing a reeling .500 team three days before Christmas.
Boise State took control from the moment Doug Martin returned the opening kickoff 100 yards for a touchdown, making quarterback Kellen Moore's final night in a Broncos uniform a memorable one with a 56-24 rout of Arizona State in the MAACO Bowl Las Vegas.
"I think we made a statement," said Martin, who was named the game's Most Valuable Player after rushing for 151 yards and a touchdown on 31 carries to go with his tone-setting kick return.
Martin's 301 all-purpose yards broke a bowl record set by Oregon's Patrick Johnson in 1997.
Boise State is 12-1 and will watch the rest of the bowl season. The Sugar Bowl passed over the Broncos in favor of No. 17 Virginia Tech because of Hokies fans' reputation for traveling well.
Turns out Virginia Tech supporters aren't eating up tickets, and the Sugar Bowl missed out on a potentially larger crowd and perhaps a more marquee quarterback matchup between Moore and Michigan's Denard Robinson.
If anyone is happy Boise State won't play in the Sugar Bowl, it's probably the Wolverines after what the Broncos did to Arizona State. When asked if this performance would've beaten Michigan, Martin said, "I'd like to think so."
Boise State coach Chris Petersen mostly stayed away from such talk but took the opportunity to take a not-so-subtle swipe at the Mountain West Conference's television package his school will leave behind when it joins the Big East in 2013.
"We got a chance to be back on ESPN," Petersen said. "A lot of people see us and see these seniors and this team. I think these guys have made a statement for a real long time, including most of this season."
That includes Moore, the winningest quarterback in NCAA history. He recorded his 50th career victory by completing 26 of 34 passes for 293 yards and two touchdowns.
"You always talk about finishing seasons or games, you talk about finishing careers," Moore said. "There's no reason to settle or relax. Take care of business, and we were fortunate to do that."
Arizona State lost its fifth consecutive game and sixth of seven to drop to 6-7 in Dennis Erickson's final game as its coach. He was fired Nov. 28.
"It's difficult when you put a lot of your life into something like this, which I have over 40-some years," Erickson said. "It's very emotional."
Arizona State's Brock Osweiler passed for 395 yards and two touchdowns. His favorite target was wide receiver Gerell Robinson, who set a Las Vegas bowl record with 241 yards and a touchdown on 13 receptions.
The Sun Devils threatened to rally after falling behind 28-3 at halftime. They cut Boise State's lead to 18 points and could've made it a 28-17 game with fourth-and-goal at the 1-yard line.
"There was a little bit of confusion on what play we wanted, if there was going to be a timeout," Osweiler said. "We didn't have the right personnel out there. So I should've probably have taken a timeout right there."
Erickson tried to call one himself.
"(The official) was so far down there," Erickson said. "Twenty years ago, I might've got there, but I didn't tonight. But I was yelling at him, and he couldn't hear me."
Then Osweiler threw a fade pass to the right corner of the end zone that Boise State cornerback Jamar Taylor intercepted and returned 100 yards for a touchdown to put the Broncos in front 35-10 with 6:52 left in the quarter.
"I thought Jamar's play was the play of the game," Petersen said. "If he wouldn't have made that play, I think it's game on, and it's a much different feel."
■ NOTE — The crowd, announced at 35,720, ended the bowl's six-game sellout streak. All six previous games also sold more than 40,000 tickets.
Contact reporter Mark Anderson at manderson@reviewjournal.com or 702-387-2914. Follow him on Twitter: @markanderson65.
BOISE STATE — 56
ARIZONA STATE — 24
KEY: Doug Martin returned the opening kickoff for a touchdown and totaled a bowl-record 301 all-purpose yards for the Broncos.