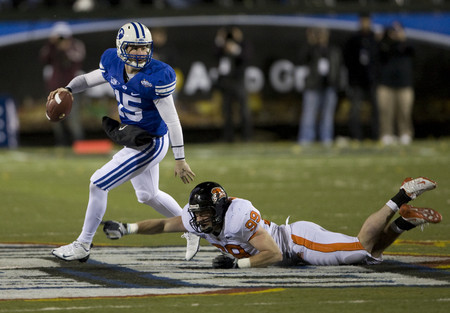 If a year ago, Brigham Young's football team showed up disinterested, on Tuesday night, the Cougars were more than ready to play.
If a year ago, 10 victories were a reason for disappointment, this time, 11 wins are something for BYU to cherish.
The No. 15 Cougars now have a shot at finishing in the top 10 for the first time in 13 years. They blew away No. 16 Oregon State — more than even the 55 mph gusts could — with a 44-20 rout in the MAACO Bowl Las Vegas at Sam Boyd Stadium.
"I think we were able to make a statement tonight," Cougars tight end Dennis Pitta said. "I think it's a great win for our program in gaining more national respect. I think it's a great win for our conference (Mountain West) in taking a step forward."
BYU (11-2), making its fifth consecutive Las Vegas bowl appearance, put on a performance reminiscent of its 38-8 victory over Oregon in 2006, rather than last year's 31-21 loss to Arizona.
The Cougars went into last season talking about perfection, so they were disappointed long before they arrived in Las Vegas. This season, they talked openly of preferring the change to go to a different bowl.
But when BYU saw it could play a ranked team in Oregon State (8-5), the Cougars jumped at the chance.
"I was thrilled with the way our seniors led our football team," BYU coach Bronco Mendenhall said. "It was clear that they were determined to finish on the right note. It was clear they wanted as good a team as they could play on as big a stage as they could play."
After the Beavers went ahead 7-0 midway through the first quarter, it was all BYU. The Cougars answered with a 14-play, 84-yard drive into the wind, capped by tailback Harvey Unga's 1-yard run.
Then the Cougars took the lead for good. Oregon State tailback Jacquizz Rodgers, who had not fumbled in 621 career touches, dropped a lateral. BYU linebacker Matt Bauman scooped up the ball and ran 34 yards for a touchdown and a 14-7 lead with 1:41 left in the first.
"It changed the whole game," BYU quarterback Max Hall said.
Hall was named the game's most valuable player after passing for 192 yards and three touchdowns, but defense had as much to do with the victory, especially against Oregon State's Rodgers brothers.
Jacquizz Rodgers, who rushed for 1,377 yards and 20 touchdowns in the regular season, was held to 63 yards and a TD on 18 carries.
James Rodgers, who entered the game with 87 catches for 1,004 yards and nine touchdowns, had just four receptions for 30 yards and no TDs.
"Our whole game plan was to stop them," BYU defensive end Jan Jorgensen said of the Rodgers duo. "We knew if we could stop them, the other guys couldn't beat us."
BYU also did the job against Sean Canfield, an All-Pacific-10 Conference quarterback. He was 19 of 40 for 168 yards, with no touchdowns and one interception.
"Offensively, that was our worst game," Canfield said. "We were just not in rhythm."
Oregon State ended the season with two gut-wrenching defeats. The first, a 37-33 loss at Oregon, kept them from reaching the Rose Bowl. And then this one.
"They just executed better than we did tonight," Oregon State coach Mike Riley said. "We knew going in their balance was very good. They just showed that in every part of the game tonight. That's how they basically won it."
Contact reporter Mark Anderson at manderson@reviewjournal.com or 702-387-2914.
View the slide show
BRIGHAM YOUNG — 44
OREGON STATE — 20
•KEY: After falling behind 7-0 midway through the first quarter, the Cougars scored the next 37 points, and the rout was on.