Cougars' grit won't let them quit in Las Vegas Bowl
December 20, 2015 - 2:04 am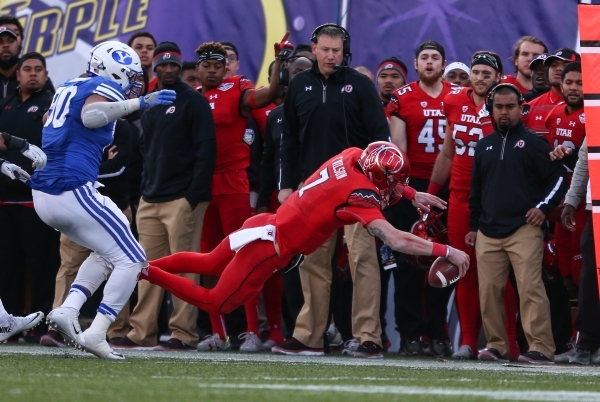 The turnovers and points came so maddeningly quick that Brigham Young coach Bronco Mendenhall almost didn't know what to do.
"It's 35-0, and I don't even know how much time expired," he said. "What, 5 minutes or something? It could've easily gone to 70 if (BYU's players) hadn't responded the way they did."
The Cougars did respond and nearly came away with a history-making comeback.
After falling behind by 35 points in the first 10:22 of Saturday's Las Vegas Bowl at Sam Boyd Stadium, BYU rallied and made it interesting in eventually falling 35-28.
"I think a lot of the credit goes to the way we're coached and the group of guys because quitting or giving up has never been an option," BYU tight end Remington Peck said. "Even our wins, in many of the games this season, we trailed. There was no question this team was going to keep fighting."
That fighting instinct was clear from the season opener at Nebraska on Sept. 5 when the Cougars lost quarterback Taysom Hill to a season-ending foot injury. Freshman Tanner Mangum rallied them, completing a 42-yard touchdown pass to Mitch Mathews on the final play for a 33-28 victory at Lincoln.
BYU pulled off a similar victory the following week against Boise State, scored the winning touchdown with 19 seconds left in a 45-38 victory over East Carolina, and scored 21 points in the fourth quarter to rally to beat Cincinnati 38-24.
"No matter what happens or how much we get down in anything, this team will fight back," said Cougars defensive end Bronson Kaufusi, who had three tackles for loss. "And that's something I'm so proud about, is that no matter what happened in the game, everyone had the mentality that we're going to get ourselves back into it."
The five-touchdown deficit, however, turned out to be too much to overcome. All five were directly converted or set up by turnovers.
And yet the Cougars made a run at it, and even outplayed Utah over the final three quarters. For the game, BYU outgained the Utes 386 yards to 197.
It was a game, despite the opening 10-plus minutes, that got away.
This was Mendenhall's final game at BYU after 11 seasons there. He now is Virginia's coach, and Oregon State defensive coordinator Kalani Sitake will succeed Mendenhall.
"I think there is an outstanding foundation in place for someone else to come and put their stamp on it," Mendenhall said. "I leave with no regrets."
— Contact Mark Anderson at manderson@reviewjournal.com or 702-387-2914. Follow him: @markanderson65