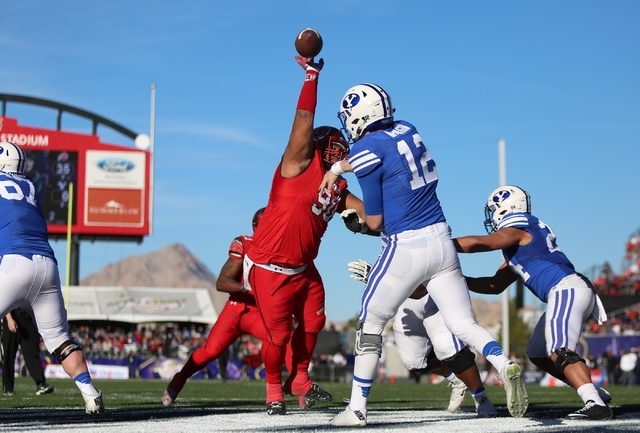 The Las Vegas Bowl is six days from announcing its 2016 matchup. And bowl director John Saccenti says it's a mystery to him who the opponents will be.
"I've never seen a year like this," Saccenti said.
The bowl, which is scheduled for Dec. 17 at Sam Boyd Stadium, is obligated to offer bids to pair the top team in the Mountain West conference and the No. 6 team in the Pac-12 Conference on Sunday when all of the bowl matchups are decided. That's where the confusion begins.
On the Mountain West side, the bowl could offer a bid to winner of the Mountain West championship game that pits San Diego State (9-3) at Wyoming (8-4) on Saturday. Or instead it could go with Boise State, which finished the season 10-2.
"I never thought all three teams would lose last weekend," said Saccenti. "We thought that part would shake out before the championship game."
On the Pac-12 side, there might not be a Pac-12 team coming to Sam Boyd Stadium. With Washington (11-1) possibly going to the College Football Playoff if it beats Colorado (10-2) on Friday in the Pac-12 championship game, there might be enough bowl-eligible teams to fill the conference's commitments.
With only four other Pac-12 teams becoming bowl eligible, the Las Vegas Bowl would miss out with the sixth pick from that league. The bowl had been eyeing Arizona State for weeks, however the Sun Devils finished 5-7 after losing its last six games.
"We're planning on not having a Pac-12 team," Saccenti said. "Even if Washington doesn't beat Colorado, Colorado would go to the Rose Bowl and Washington still likely get an at-large bid for one of the New Year's Six games."
That might leave the Las Vegas Bowl looking at teams with 5 eligible wins. Those teams are led by Army (6-5 with two victories over FCS school counting as one in NCAA bowl rules), which has first pick. Then selection order is based on football graduation rates, putting North Texas (5-7), Mississippi State (5-7) and Texas (5-7) in the hunt for as many as three open bowl spots.
Expect the Las Vegas Bowl to have keen interest in Mississippi State, which would bring thousands of fans to Las Vegas. It also would mark only the second time a Southeastern Conference team would cover to the bowl. UNLV defeated Arkansas 31-14 in 2000.
It's a big change from last year when BYU already had committed to the bowl one week before the matchup was set.
"We'll have a Las Vegas Bowl committee meeting Wednesday night to hash out all of the possibilities," Saccenti said. "We'll talk about what's best for the bowl and what's best for the city. Then we'll see how it all plays out."
Bill Bradley is the Sports Editor of the Las Vegas Review-Journal. Contact Bradley at bbradley@reviewjournal.com or 702-387-2909. Follow @billbradleyLV on Twitter.
Like Vegas Sports News on Facebook: