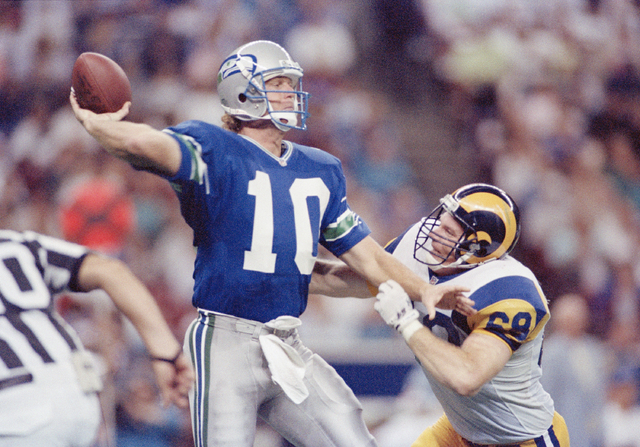 Leading up to the Las Vegas Bowl between Houston and San Diego State, the Review-Journal will provide glimpses into each school's football history. We'll take a look at each school once per day until game day Saturday at Sam Boyd Stadium.
Dan McGwire's big presence
Dates: 1989-90
San Diego State has had a decent history of quarterbacks, but one of its former ones clearly left the largest shadow.
Dan McGwire, standing 6 feet 8 inches tall, had two successful seasons with the Aztecs before becoming the tallest quarterback drafted in NFL history in 1991. Since then, 6-8 Brock Osweiler has matched McGwire in NFL quarterback stature.
McGwire transferred to San Diego State after two seasons at Iowa and became the team's starter in 1989. His senior season, he passed for 3,833 yards, 27 touchdowns and only seven interceptions, and was named to the All-Western Athletic Conference first team.
The Aztecs' offense scored 41.7 points per game in McGwire's final season, second in the FBS, but the team finished 6-5 because the defense allowed 35.1 points per game.
After his senior year, the Seattle Seahawks selected McGwire with the 16th overall pick in the 1991 NFL Draft, 17 selections ahead of Brett Favre. McGwire struggled in the NFL, throwing two touchdowns and six interceptions in his five-year career with the Seahawks and Miami Dolphins.
McGwire is the younger brother of famed baseball slugger Mark McGwire. Dan reportedly is now the president of an enhanced water company in Reno.
Ben Gotz can be reached at bgotz@reviewjournal.com. Follow @BenSGotz on Twitter.