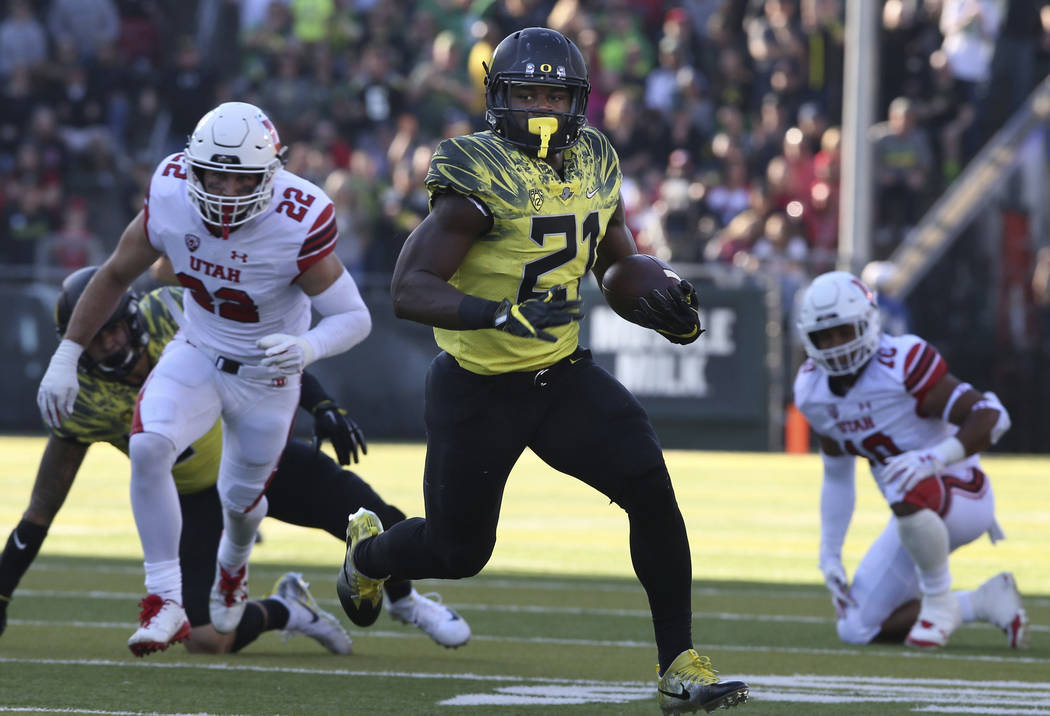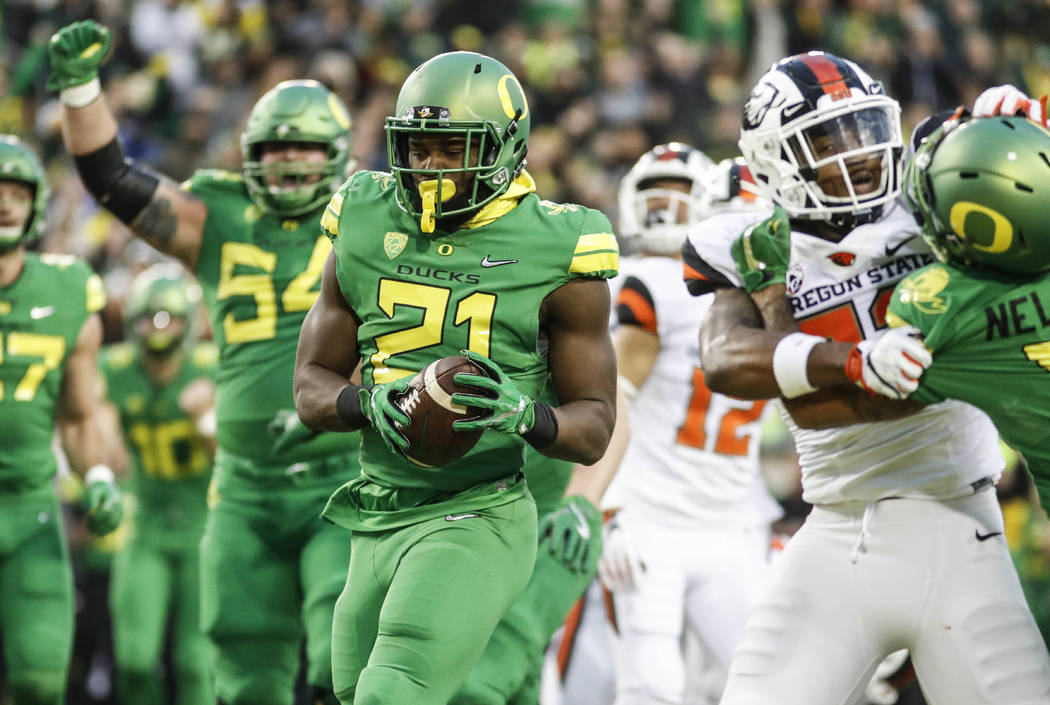 Oregon running back Royce Freeman has decided to skip Saturday's Las Vegas Bowl game against No. 25 Boise State.
Ducks coach Mario Cristobal said Thursday he and Freeman had an honest dialogue regarding whether to play in the 12:30 p.m. game at Sam Boyd Stadium.
"It's eye to eye, being truthful and putting things on the table that affect it one way or another, and then a decision is made, and as long as there is communication there is always going to be respect," Cristobal said. "I think a lot of the problems in this world are because there is no communication. In our locker room, it's the opposite. We communicate. We make sure everything is put out there front and center so we can find the best solution. That's a decision Royce has made, and it's something you have to respect."
The newly promoted head coach said Freeman will remain with the team in Las Vegas.
"He's a valuable member of our organization," Cristobal said. "This is hard for him. It's not an easy thing for a guy who has invested his heart and soul in the program."
Freeman, the leading rusher in school history, is projected as an early to midround pick in April's NFL draft.
He is the latest player to join the recent trend of skipping bowl games to protect against an injury that could impact their draft stock.
"I like to see players play," Cristobal said. "I do. It's new and it's different. You've got to keep investing time and researching and taking a deeper dive into the people involved to understand the trends.
"Am I disappointed in him? No, I'm not. Do I want to see him play? Absolutely. But I stand by him like I gave him my word, and I don't break my word for nobody."
Boise State's Vander Esch weighs options
Boise State junior linebacker Leighton Vander Esch, the Mountain West Defensive Player of the Year, will have to decide whether to return for another season or declare early for the NFL draft.
Broncos coach Bryan Harsin said he hasn't discussed the issue with Vander Esch.
"That's the thing about Leighton, he's not a distraction," Harsin said. "He's not going to have that conversation right now. He's going to go prepare himself like any other game, get ready and go play his best. At the end of the year when the game is over, we'll probably sit down and decide what is best for him."
Vander Esch will meet with the media Friday as the team defensive representative at a news conference.
When asked last week about the NFL, Vander Esch didn't commit either way.
"I really don't want to talk about it right now," he told the Idaho Statesman.
Vander Esch (6 feet 4 inches, 240 pounds) made 129 tackles this season, including 5.5 for loss and three sacks. He also intercepted three passes.
Vander Esch could be drafted in the first three rounds, according to the Statesman.
Ducks happy to be back in postseason
Oregon senior wide receiver Charles Nelson is excited to play in a bowl just a year after Oregon missed out on the postseason for the first time since 2004.
"It's definitely important," Nelson said. "It's one of the first games, so everyone is going to be watching. We want to send everyone out on a good note and show the country what this program is going to do going forward."
Contact Mark Anderson at manderson@reviewjournal.com. Follow @markanderson65 on Twitter. Contact Adam Hill at ahill@reviewjournal.com or 702-277-8028. Follow @AdamHillLVRJ on Twitter.