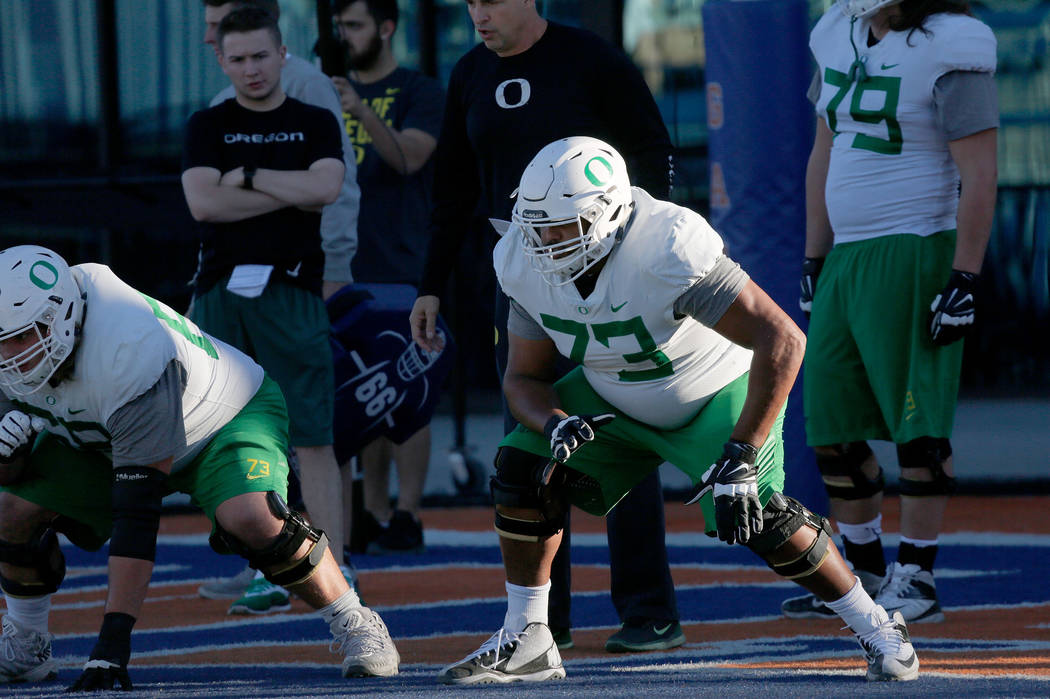 Not only will Oregon star left tackle Tyrell Crosby play in Saturday's Las Vegas Bowl against Boise State, he will do so while paying tribute to his hometown.
The Green Valley High School alumnus announced Friday morning on Twitter that he will wear No. 58 in honor of the victims of the Oct. 1 shooting on the Strip.
There had been speculation Crosby would join teammate Royce Freeman on the sideline to protect against an injury that could impact his status for the NFL draft.
"Looking forward to PLAYING my last game wearing a number so significant to the City of Las Vegas," he posted with the hashtag #VegasStrong.
Looking forward to PLAYING my last game wearing a number so significant to the City of Las Vegas. #VegasStrong pic.twitter.com/JCspIFLbzy

— Tyrell Crosby (@Tyrellcrosby) December 15, 2017
Crosby, who usually wears No. 73, is projected as a midround pick.
His decision to play is a major boon for the Oregon running game that will be without its leading rusher in Freeman.
"Tyrell is a special football player and person," Oregon coach Mario Cristobal said. "This is a homecoming for him, and obviously the events of (1 October) had a tremendous impact on him."
In Sync
Don't expect any mistakes when it comes to the timing of the traditional flyover coinciding with the last note of the national anthem at Sam Boyd Stadium.
The pilots from Nellis Air Force Base always have been precise, but bowl organizers realized several years ago that even if the flyover is planned to the exact second, any slight change in the schedule can throw off the timing.
So several years ago, someone was tasked with keeping the pilots informed of exactly what was going on with the pregame festivities.
"We have somebody with a military-grade walkie-talkie that actually opens the line up to the cockpit and sings along with the anthem so they know to throttle it up or down to time it right," Las Vegas Bowl executive director John Saccenti said Friday. "Those guys are awesome."
Saccenti said Saturday's flyover is expected to consist of four F-16s, including two painted with the #vegasstrong message and names of the victims.
It's gotta be the sauce
Elijah George was excited for the opportunity to show some Oregon teammates some hot spots in his hometown of Las Vegas this week.
The Arbor View graduate was surprised when he found out where they wanted to go.
"Half the team wanted to go to (Raising) Cane's," the senior defensive lineman said. "I didn't know it had grown that big. So I took them there, and they just loved it."
Know when to fold 'em
Oregon defensive end Jalen Jelks hopes to have more success on the field Saturday than he did at the roulette table.
Jelks said he caught the fever watching cornerbacks coach Charles Clark catch a hot streak.
"He won a lot of money in a short amount of time," Jelks said. "It was crazy. I was betting a little on the inside and a little on the outside and just see what numbers were hitting. I won a little bit and then lost a little bit and pretty much broke even, so I just walked away."
But he won't be walking away from school. Jelks announced this week he would return to Oregon for his senior season instead of declaring early for the NFL draft.
"I decided a couple weeks ago after talking to my family and my coaches," he said. "We decided it was the best decision."
He said the school's decision to promote Mario Cristobal to head coach was a major factor in his decision.
"It affected me in a big way," he said. "It kind of put a smile on my face when I found out he was going to be the head coach."
Contact Adam Hill at ahill@reviewjournal.com or 702-277-8028. Follow @AdamHillLVRJ on Twitter.