Stoops encouraged by Arizona's progress
December 10, 2008 - 10:00 pm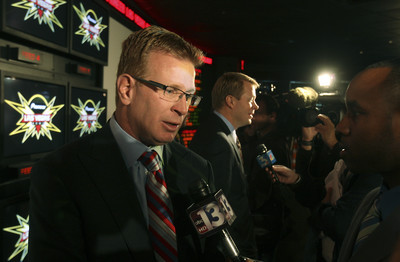 Mike Stoops watched from the press box two years ago, longing to be on the sideline, as Brigham Young beat Oregon 38-8 in the Las Vegas Bowl.
Arizona's coach soon will get his wish.
Stoops' Wildcats (7-5) will face No. 17 BYU (10-2) on Dec. 20 at Sam Boyd Stadium.
The Las Vegas Bowl isn't the most desirable postseason destination for Pacific-10 Conference teams, but for Stoops, getting here represents progress.
"I think it continues to validate what we're doing," Stoops said Tuesday at the ESPN Zone inside New York-New York. "I think we've laid the foundation for the program, and we want to move forward and compete in bowl games and then compete for championships."
It will be the Wildcats' first postseason appearance since the 1998 Holiday Bowl, which capped a 12-1 year, Arizona's last winning season before this one.
BYU coach Bronco Mendenhall saw the Wildcats' improvement coming.
Arizona opened 2006 with a 16-13 victory over the Cougars in Tucson, and a year later, BYU won 20-7 in Provo, Utah.
Mendenhall and offensive coordinator Robert Anae noticed Arizona's new offensive system was remarkably similar to BYU's, and they believed success was in store for Arizona.
"We're not preparing like we played the previous teams," Mendenhall said.
But Stoops has endured some trying times in Tucson.
The Wildcats went 3-8 in each of his first two seasons, 2004 and 2005. They improved to 6-6 in 2006, but the grumbling around the program wasn't hard to detect after the team slid to 5-7 last year.
Arizona athletic director Jim Livengood stood by Stoops, though.
"The whole idea was to not build a team but build a program, and he's done exactly that," Livengood said. "I saw growth with the coaches. I saw growth with recruiting. I saw all those kinds of things, and he's delivered."
Even with the AD's support, Stoops — whose brother Bob will coach Oklahoma in the national championship game against Florida — felt pressure to succeed.
"You have to be really strong-willed in your approach and really believe," Stoops said. "Sometimes your belief can get shattered and your confidence. That was something that was really taxing on me and on our kids, but our kids never really wavered in their approaching to wanting a program that was really successful. That kept my sanity."
Arizona quarterback Willie Tuitama said it wasn't hard to keep believing in the program given the Wildcats lost four games by a touchdown or less last season. Seeing the close losses turn into victories made the wait pay off.
"This is the first time that anybody on our team has been to a bowl game," Tuitama said. "That is definitely exciting for all of us, but then again we have to make sure that when we get here that we understand we're here to play."
• NOTES — The Wildcats' invitation to the Las Vegas Bowl boosted ticket sales for the Arizona-UNLV basketball game on the same day at the Thomas & Mack Center. More than 1,300 tickets were sold between Saturday and Monday. … The Wildcats are 3-point favorites in the bowl over BYU.
Contact reporter Mark Anderson at manderson@reviewjournal.com or 702-387-2914.