Utah confident with senior QB Cain at controls
December 21, 2010 - 12:00 am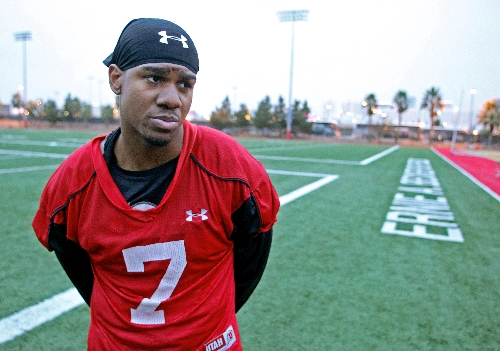 Terrance Cain has proven he's a winner, going 9-1 in two seasons as the starting quarterback for Utah.
In 21 games since joining the Utes out of junior college, the senior from Houston has completed 65.5 percent of his passes for 2,234 yards and 17 touchdowns, with seven interceptions.
So when Cain takes the field for No. 20 Utah against 10th-ranked Boise State in the MAACO Bowl Las Vegas at 5 p.m. Wednesday, he will be supported by the confidence of his coach, his teammates and himself.
Cain said his record "lets me and my coaches and teammates know I can get the job done."
The bowl game marks a return to the starting lineup for Cain's final collegiate game. After starting his first eight games with the Utes last season, he backed up then-freshman Jordan Wynn in the final four games of 2009 and made only two starts this season while Wynn was injured.
But Wynn isn't available for the game at Sam Boyd Stadium because he had surgery on his right (throwing) shoulder Dec. 13, putting Cain back in control.
Cain (5 feet 11 inches, 194 pounds) is adept on his feet — a crucial trait against a Boise State defense that averages a nation-leading 3.75 sacks per game and has 45 for the season.
"He's a very capable quarterback, and brings a lot to the table that even Jordan doesn't bring as far as speed and athleticism," coach Kyle Whittingham said. "So we feel comfortable with Terrance at the helm."
Cain came to the Utes highly regarded from Blinn College in Brenham, Texas, where he was the Junior College Offensive Player of the Year in 2008. (His successor as Blinn's quarterback was Heisman Trophy winner Cam Newton of Auburn).
Cain lost his starting job to Wynn last season when he struggled in the Utes' eighth game. Wynn rallied Utah from a 10-3 halftime deficit to a 22-10 victory over Wyoming and held the job the rest of the season. He entered this season entrenched as the starter after leading the Utes to a 37-27 victory over California in the Poinsettia Bowl, throwing for 338 yards and being voted the game's Most Valuable Player.
To Cain's credit, he didn't cause problems or split the locker room. He stayed loyal to his team and waited for another chance to help the Utes.
That opportunity came early this season when Wynn was out with a thumb injury. Cain guided the Utes over UNLV (38-10) and New Mexico (56-14) in their second and third games before Wynn reclaimed the job.
Losing Wynn hasn't been the setback it could have been without a capable backup in Cain. The Utes have had plenty of time to get him ready.
"If you're going to go with your No. 2 guy, the earlier you know that, the better because you can tailor your gameplan and get him the (repetitions)," Whittingham said. "It would be a much different story if you lost your starter in practice four or five days out from the game."
Cain's teammates don't sound worried at all by the QB switch.
"I feel comfortable with Terrance back there," said receiver DeVonte Christopher, a Canyon Springs High School product. "I know he's got all the tools to be a great quarterback."
Contact reporter Mark Anderson at manderson@reviewjournal.com or 702-387-2914.