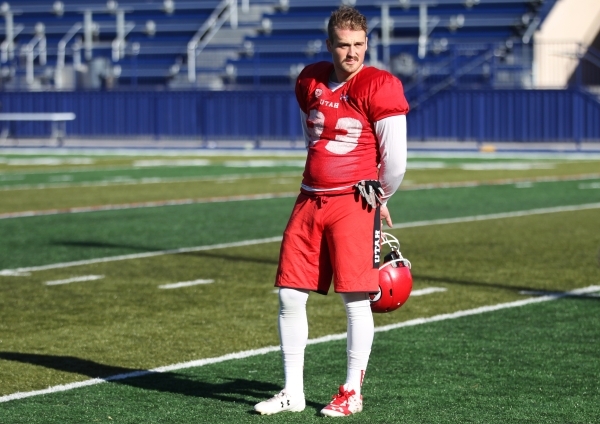 If Utah punter Tom Hackett doesn't make it in the NFL, he might want to try his hand at being a color commentator. The Australian is one of the most colorful quotes in college football.
After winning the Ray Guy Award as the nation's best punter for the second straight year at the College Football Awards on Dec. 10, Hackett gave ESPN host Chris Fowler an amusing answer about why he plays American football instead of Australian rules football.
"The main reason I'm playing this sport right now is because deep down I'm fat and I don't like running very far," Hackett said. "So running 20-odd yards on and 20-odd yards off, it's about all I've got for you."
That's not entirely true. In Utah's 62-20 rout of then-No. 13 Oregon earlier this season, Hackett sprinted 33 yards for a first down on a fake punt after he leapt high to make a one-handed grab of a bad snap. After the game, he joked that he was running scared after hearing the play call.
"I heard it, crapped my pants a bit and went out and ran," he said.
Poking fun at his position last season, the self-deprecating Hackett said, "At the end of the day I'm kicking essentially, pigskin. We eat bacon, so I'm kicking bacon down a field for people's entertainment."
Considering footballs are actually made out of cowhide, Hackett corrected himself Wednesday following the Utes' practice at Bishop Gorman High School in advance of Saturday's Las Vegas Bowl showdown against rival BYU at Sam Boyd Stadium.
"I probably should've said hamburger because that makes more sense," said the mustachioed senior.
Whether kicking bacon, burgers or a footy — as the ball is known in Aussie rules football — Hackett usually hits it long and on target.
For the second straight season, Hackett leads the Pac-12 and is third in the nation in punt average (47.8 yards) and has two of the six longest punts in the country — a 76-yarder against Oregon and a 74-yarder against Michigan.
A rugby-style kicker who rolls out a few steps before booting the ball, Hackett is Utah's career leader with 65 punts of at least 50 yards and four of 70 or more. Over the past two seasons, Hackett has had 60 punts downed inside the 20-yard line, 30 inside the 10 and eight inside the 5.
"Football's a battle of field position and he's been such an important part of our success the last couple of years," Utah coach Kyle Whittingham said. "As loose and gregarious as he seems off the field, he's an absolute workhorse on the field. He's all business during practice, and that's what makes him so good is his preparation and the way he works."
Hackett, who ends all his tweets with the hashtag, PuntersArePeopleToo, has been feted like a VIP in recent days. Along with becoming only the third two-time recipient of the Ray Guy Award, Hackett earned consensus All-American honors for the second straight season and also was named to the Pac-12 All-Century Team, joining the likes of Pro Football Hall of Famers John Elway and Ronnie Lott.
Not bad for someone who didn't punt an American football until 2011.
"Four years ago, I'd probably bet my life that I wouldn't be standing here with the accolades that I've won," he said. "(Tuesday) night was really the first night I've actually been able to settle down and have a drink and lose 50 dollars and enjoy my time for the first time in about two or three weeks.
"Give me a couple of years and I'll be sitting in Australia on the beach maybe reminiscing with my missus."
After playing soccer and Aussie rules football growing up in Australia, Hackett attended Prokick, an academy in Melbourne that trains Australians to become American football punters. The academy has helped fuel an Australian invasion, with Michigan's Blake O'Neill, Ohio State's Cameron Johnston, Penn State's Daniel Pasquariello and others hoping to join countryman Brad Wing, the New York Giants punter, in the NFL.
"There's too much money for me not to (try)," Hackett said. "My passion's punting, kicking the football, whatever you want to call it. I'll give it my best shot for a couple years, and if I can't crack it, I'll give it up."
For now, Hackett is focused on helping Utah beat BYU in the rivalry game that's been called the Holy War in Sin City.
"We don't like them. They don't like us," he said. "Hopefully I won't have to be out there all that much."
Like most of his teammates, Hackett is disappointed the No. 22 Utes (9-3) weren't chosen for a more prestigious bowl.
"I would've liked it not to be in Vegas, but we're here now and I'm $50 in debt to the casino already, but that's all right," he said.
For the record, Hackett is 5 feet 11 inches tall and weighs 195 pounds.
"I've got some puppy weight that I've had on since I was 16 that I can't get rid of," he said. "So if you've got any tips for me, let me know."
We wouldn't change a thing.
Contact reporter Todd Dewey at tdewey@reviewjournal.com or 702-383-0354. Follow him: @tdewey33