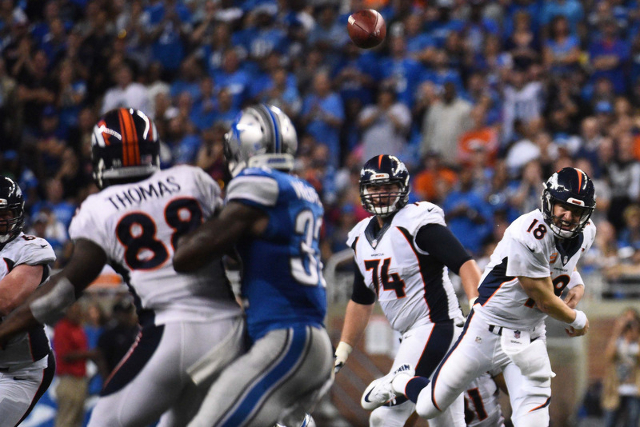 DETROIT — Peyton Manning threw two touchdown passes, including a 45-yarder to Demaryius Thomas in the closing seconds of the first half, and the Denver Broncos topped the winless Detroit Lions 24-12 on Sunday night at Ford Field.
Manning, who was 31-of-42, threw for 324 yards and surpassed 6,000 career completions during the third quarter. Thomas, a wide receiver, caught nine passes for 92 yards, and running back Ronnie Hillman added a rushing touchdown for the Broncos (3-0).
Detroit quarterback Matthew Stafford passed for 282 yards and a touchdown but was also intercepted twice and lost a fumble. Wide receiver Calvin Johnson caught eight passes for 77 yards, and running back Joique Bell had a rushing touchdown for the Lions (0-3).
The Lions made the game close early in the third period. Thomas extended his arm to try to pick up a first down on Denver's initial second-half possession and lost the ball. It was ruled a fumble after an officials' review and the Lions cashed in the gift on Stafford's 16-yard pass to running back Ameer Abdullah. Bell was stopped on a 2-point try, leaving Detroit with a 14-12 deficit.
Stafford fumbled trying to scramble out of trouble with 10:12 remaining and Broncos defensive end Malik Jackson recovered at the Detroit 49. Brandon McManus missed a 53-yard field goal try but the Lions were called for an illegal formation. He then connected from 48 yards out with 7:50 remaining to make it 17-12.
Tight end Owen Daniels' 11-yard touchdown catch with 2:28 left following Stafford's second interception gave Denver a 24-12 lead.
Stafford was picked off late in the first quarter by cornerback Bradley Roby, who returned the interception to the Detroit 36. The Broncos got inside the 10 but free safety Glover Quin intercepted a Manning throw that was tipped by defensive tackle Haloti Ngata.
The Broncos finally ended the scoring drought on Hillman's one-yard run with 4:54 remaining in the half. The 12-play, 80-yard drive was highlighted by tight end Virgil Green's 26-yard reception.
Bell's one-yard leap into the end zone with 1:07 left put Detroit on the board but cornerback Aqib Talib blocked Matt Prater's extra-point try to keep Denver on top.
Thomas' 45-yard, fourth-down grab, in which he out-fought cornerback Darius Slay for the ball, gave the Broncos a 14-6 lead with five seconds left in the half.
NOTES: LB DeAndre Levy (hip) and TE Brandon Pettigrew (hamstring) were among the inactives for the Lions, while CB Kayvon Webster (ankle) and DE Kenny Anunike (knee) missed the game for the Broncos. … Lions WR Calvin Johnson and Broncos WR Demaryius Thomas rank 1-2 since the 2011 season in 100-yard receiving games. Johnson began the game with 32, three more than Thomas. … The Broncos led the all-time series 6-5 but the Lions won the last two, including a 45-10 romp on Oct. 30, 2011. … Detroit won its last four home openers. … Denver's Owen Daniels caught a first-quarter pass, extending the NFL's longest active streak by a tight end to 106 games with at least one reception.