Manning joins Favre in exclusive win club
September 7, 2014 - 8:19 pm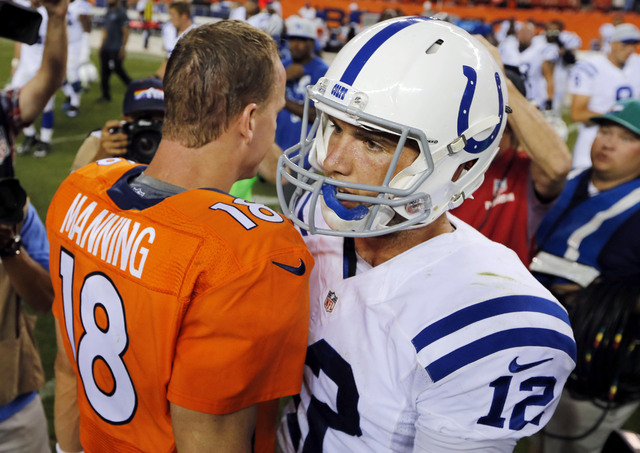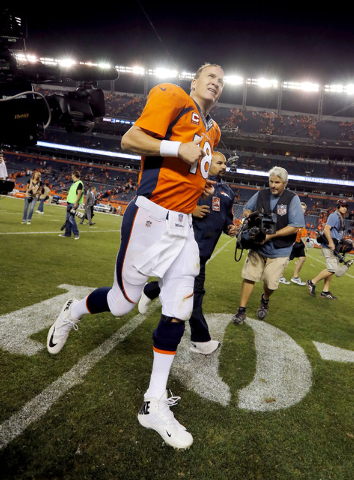 DENVER — Peyton Manning sure didn't need Wes Welker in this heart-pounding opener. He threw three touchdown passes to tight end Julius Thomas in the first half and the Denver Broncos held on to beat the Indianapolis Colts 31-24 on Sunday night.
In his second try, Manning beat his old team and joined Brett Favre as the only quarterbacks to beat each of the current 32 NFL franchises.
The Broncos raced out to a 24-0 lead thanks to Thomas, then turned to their revamped defense to fend off a furious comeback attempt by Andrew Luck, who was working wonders behind a patchwork offensive line.
Luck brought the Colts within a touchdown when he found Hakeem Nicks for a 9-yard scoring strike with 3:26 remaining. But Indy's last drive stalled at midfield when rookie Bradley Roby broke up a fourth-and-6 pass to Reggie Wayne.
Welker is serving a four-game suspension for violating the league's policy on performance-enhancing drugs. But if there's an offense that can weather the loss of the NFL's premier slot receiver, it's the Broncos.
Thomas hauled in a 3-yard touchdown toss with Jerrell Freeman draped on him. Then, he weaved his way for a 35-yard score with D'Quell Jackson in pursuit. Finally, he beat finally beat LaRon Landry on the line for a 5-yarder.
Early in the fourth quarter, the Colts had three defenders focused on Thomas when running back Montee Ball bulled his way in from 3 yards out to make it 31-10.
Luck found Dwayne Allen down the Broncos sideline for a 41-yard scoring completion that made it a two-TD game and the Colts recovered the onside kick before safety Rahim Moore's second interception of the night.
Still, the Colts forced a punt and Indy needed five plays and 49 seconds to cover 45 yards and made it a one-score game.
Thomas' trio of touchdown grabs tied a franchise record for most in a game. Hall of Famer Shannon Sharpe did it three times.
The Broncos came out of tunnel for the second half looking they were the ones playing catch-up from a 24-7 deficit, not the Colts. Their first drive included two flags and two dropped passes and resulted in great field position for the Colts, who got the ball at Denver's 46.
Denver's revamped defense came up with two big stops deep in their territory during a third quarter dominated by Indy. On fourth down at the 1, linebacker Brandon Marshall, making his first career start, stuffed Luck's run up the middle.
Ahmad Bradshaw ripped the ball from his quarterback's hands and scampered around the right side to celebrate a touchdown that wasn't — Luck's forward progress had been deemed stopped.
Later, when the Colts had a first down inside the 5, the Broncos held them to Adam Vinatieri's 25-yard field goal following DeMarcus Ware's third-down sack.
Last year, Manning let both his emotions and the Colts get the best of him in a 39-33 loss at Lucas Oil Stadium, the house he helped build.
This time, he didn't have to worry a homecoming in Indiana or Colts owner Jim Irsay getting inside his head with comments about winning only one Super Bowl together. Irsay is serving a six-game suspension for violating the league's personal conduct policy.
And the five-time MVP didn't have to worry about suspended pass-rusher Robert Mathis, who hounded him last year with two of the season-high four sacks Manning endured.
Manning led the Broncos on a promising drive to on their first drive before three straight incompletions at the 3 led to a 21-yard field goal from Brandon McManus, who was picked up with Matt Prater serving a four-game suspension for violating the NFL's substance abuse policy.
Luck's pass was intercepted by Moore. After that, Manning and Thomas went to work with TD connections on Denver's next three possessions.
Thomas finished with seven catches for 104 yards but also fumbled a ball that teammate Bubba Caldwell recovered and also couldn't handle Indy's successful onside kick in the fourth quarter.
Still, it was the second straight big season opener for Thomas, who had a five-catch, 161-yard, two-TD night last year against Baltimore. That served as a springboard for his Pro Bowl season that included 14 touchdown catches and a couple of monster games in the playoffs that helped the Broncos reach the Super Bowl.
Manning finished 22 of 36 for 269 yards, three TDs and no interceptions. He was sacked once.
Luck was 35 of 53 for 370 yards with two TDs and two interceptions. He was sacked three times.
The Colts, who had won six straight against Denver, were without starting center Khaled Holmes and backup tackle Joe Reitz, both with ankle injuries. Luck was under constant pressure and sacked three times.
———
AP NFL website: www.pro32.ap.org and www.twitter.com/AP—NFL