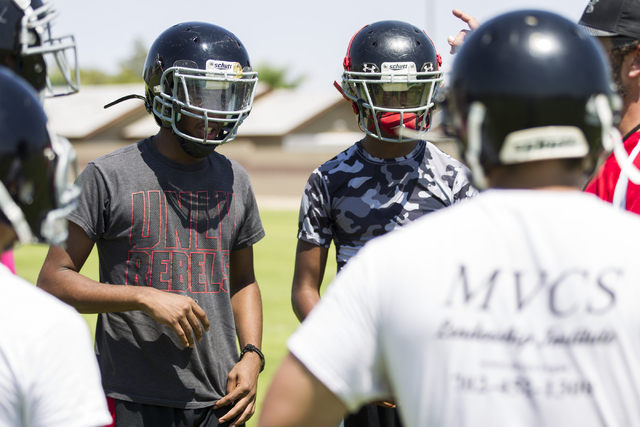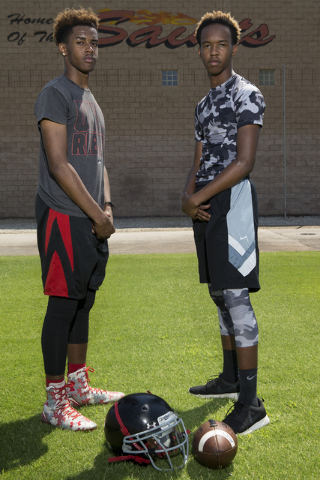 They don't wear suits to school, but these Brooks brothers are fitted for success on every playing field.
Much like the famous clothing company's ability to enhance a wardrobe, Mountain View juniors Terrence and Tyrell Brooks have been integral in sprucing up the small school's athletic look in their first two years of high school. The 16-year-old twins play three sports, including baseball when called upon, and are two of the most recognizable athletes in the Class 2A Southern League.
That presence won't go anywhere this fall, as the two hope to lead the Saints' football team back to the playoffs for the first time since 2013. Mountain View kicks off its season at home against Layton Christian Academy (Utah) on Sept. 3.
"They do different things, but I think they complement each other very well," Mountain View coach Ray LeBoeuf said. "I've seen them play together for years in all sports. In football, Terrence complements the things that Tyrell is trying to get done. In basketball, it's the same thing. They're different but equally valuable."
The brothers have attended Mountain View since the fifth grade and were spectators when the school's football program dominated the early 2010s, making appearances in the state championship game in three of five seasons.
But as that success has faded in recent years and the school continues to battle low participation numbers, Terrence and Tyrell have ensured the Saints remain competitive.
"The biggest compliment we get is on our work ethic," Tyrell said. "And just the effort we give all the time. It's a challenge (with so few players), but it's just fun to work at it. It helps you improve mentally on handling situations."
Last season, Mountain View played each week with just over the required 11 players and managed to finish 3-7. Terrence and Tyrell would like to see that win total go up this season, but promise to work hard regardless of records.
"The biggest thing is they want to be better," LeBoeuf said. "They have a desire to get better at the little things that we're trying to teach, and they don't get overwhelmed by 'What's our record?' or 'What's the game situation?' That allows them to be winners because they focus on the task at end."
Tyrell, who was born six minutes before Terrence, plays quarterback for the Saints and often throws to his brother at wide receiver during games.
The two also play in the secondary, so there is no shortage of interaction during games.
"He's like my best friend," Terrence said. "They always say brothers get into arguments and stuff, but we don't ever do that. We don't get in fights or anything like that. … It's pretty cool playing with him because he knows where I am and where I'm going to run to. We already have a connection."
And that's something LeBoeuf, who has been at the school for more than 20 years, said is special to watch.
"At this moment, they're the people who have been brought to us by the lord," LeBoeuf said. "Throughout the years, we've had the blessings of different athletes at different times. And right now, it's these guys."
Contact reporter Ashton Ferguson at aferguson@reviewjournal.com or 702-383-0430. Follow him on Twitter: @af_ferguson.