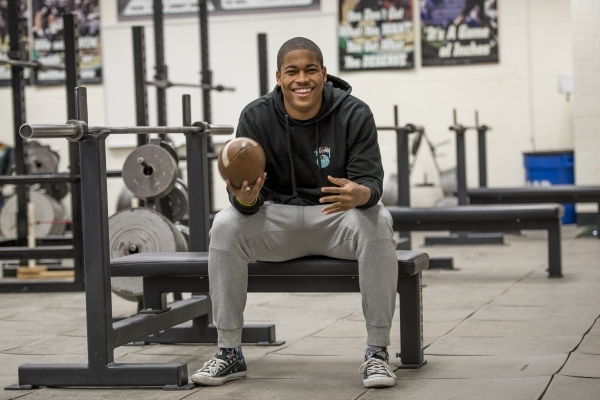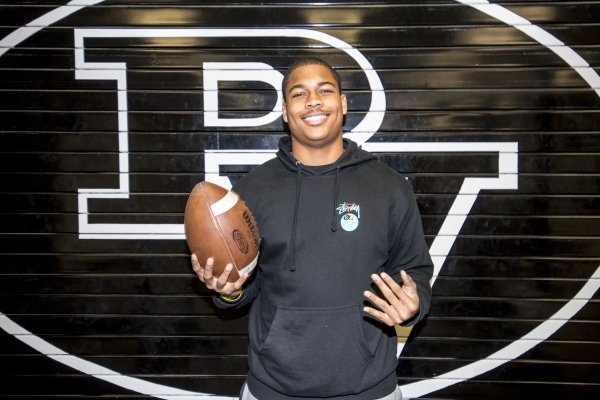 Many prep football players try to impress recruiters and earn a scholarship offer during their senior year.
Palo Verde's Kameron Toomer had a different motivation this past season.
"I always wanted to make sure that they didn't take it away from me," Toomer said. "They always said they'd never do that. 'We saw it on the film. We know what you can do.' But I'm like, 'I'm going to show out.' "
Toomer, a 6-foot-2-inch, 240-pound defensive lineman for the Panthers, was one of the first local players in the class of 2016 to make an oral commitment when he pledged to UNR during the summer.
After more than six months of waiting, Toomer finally will sign with the Wolf Pack on Wednesday, the first day football and soccer recruits can sign a national letter of intent. UNR's coaches cannot comment until that time.
The signing period runs through April 1 for football and Aug. 1 for soccer.
"He's going to be somebody that will get an opportunity to showcase what he's got," Palo Verde coach Joe Aznarez said. "We've known that Kameron possessed that kind of talent, and it was kind of a matter of time before somebody jumped on him. They were the first and have really stayed on him ever since. It made him feel special, and I think they're getting a special player, too, so it's going to work out well for both of them."
Toomer picked up a scholarship offer from Division II Adams State (Colo.) after his junior year and impressed UNR's coaches during the Wolf Pack's camp June 26 at Faith Lutheran.
Toomer said he was timed at 4.59 seconds in the 40-yard dash and was offered by UNR soon after. Toomer made his oral commitment July 22 and shut down his recruiting from that point forward.
"I knew that's where I wanted to go," Toomer said. "I chose (UNR) because the coaches really believed in me. They really took the time out, sat down, looked at my film and said, 'Man, that's a good player.'
"Yeah, they looked at my brother and said he's from (the same family), but they looked at me and said, 'Dude, you're a good player and we could use you.' It's not what many schools do. They look past you, especially being in Vegas."
Toomer's brother Korey is a reserve linebacker for the Oakland Raiders following stints with the Seattle Seahawks (2012 to 2014), Dallas Cowboys (2014) and St. Louis Rams (2014 to 2015).
Korey Toomer attended Arizona Western Junior College and Idaho after graduating from Shadow Ridge in 2007 and regularly offered advice to his brother during his senior season.
"It's good because I get to see what he did, some of his mistakes, what to do and what not to do," Kameron Toomer said. "To see somebody that made it, it's cool to see. He always tells me I'm better than him because my grades are better now than him. I don't have to go the tougher route like he did."
Toomer finished his senior season at Palo Verde with 43 tackles and tied for the team lead with three sacks. He was a second-team All-Southwest League pick in a league that featured three other high-end defensive linemen: Boise State commit Derriyon Shaw of Legacy, Columbia-bound senior Michael Geraghty of Bishop Gorman and Haskell Garrett of Gorman, a four-star recruit in the class of 2017.
Toomer is expected to be a pass-rushing defensive end for the Wolf Pack, who have had success developing players at that position the past three seasons under coach Brian Polian. Ian Seau led UNR in sacks the past two seasons from his defensive end spot and was a first-team All-Mountain West pick in 2015.
"Kameron is a great kid, great student and definitely somebody you want in your program," Aznarez said. "And his skill set is something that will project. He's got the quickness, he's got the speed, and he's got a good frame where they can put weight on him and get him bigger, faster and stronger. I think he'll be able to do some good things there."
Contact reporter David Schoen at dschoen@reviewjournal.com or 702-387-5203. Follow him on Twitter: @DavidSchoenLVRJ
Complete coverage of high school sports.
Class of 2016 College Commitments