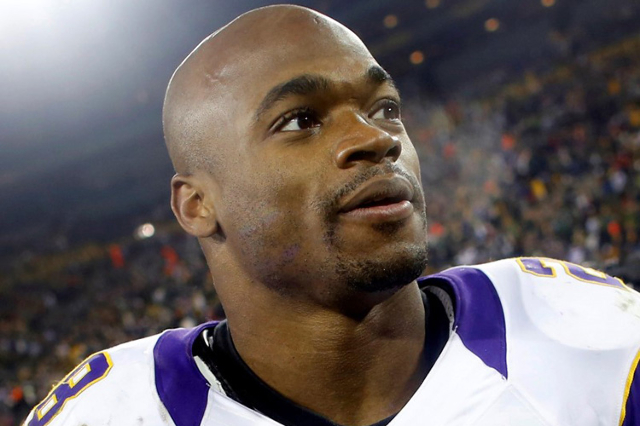 The Minnesota Vikings announced they have agreed to restructure the final three years of running back Adrian Peterson's contract. While details of the new deal were not disclosed, Peterson will receive more guaranteed money during the final two years of the contract, according to multiple reports.
Peterson, who missed the final 15 games last season for abusing his son, wanted to restructure the seven-year, $100 million contract he signed in 2011 after it became clear earlier this offseason that the Vikings would not grant his request to be traded. The 30-year-old was due to earn $12.75 million in base salary this season along with the final $2.4 million of the signing bonus he received as part of his 2011 contract. He was scheduled to earn $14.75 million in 2016 and $16.75 in 2017 in base salary, along with a $250,000 workout bonus each year, but Peterson was seeking more in guaranteed money.
After some contentious months between Peterson and the Vikings, the running back decided to show up for the team's offseason program, paving the way for the sides to work on a new agreement. According to multiple reports, the restructured contract provides Peterson more guaranteed money over the next two years with the Vikings holding an early team option for 2017.
"This agreement is a win for both Adrian and the Vikings and is a positive step toward Adrian finishing his career as a Minnesota Viking," Vikings general manager Rick Spielman said in a statement. "As we have consistently said, Adrian is a valuable part of the Vikings organization and we look forward to his return to the field."
The Vikings also released a statement on behalf of Peterson that read: "I appreciate the Vikings for working together on this restructured contract, which provides additional security for me but also allows opportunities for me to further prove my value to the team and within the NFL.
"It was important for me to continue my career in Minnesota, and I cannot wait to get on the field in front of Vikings fans again."