Younger Sanchez gladly inherits Gorman's ambitious expectations
August 10, 2015 - 10:56 am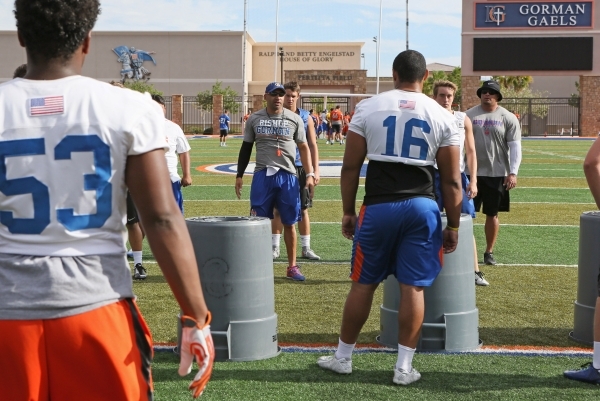 Tony Sanchez faces a daunting task as UNLV's first-year football coach, taking over a team that's won only 15 games in the past five seasons.
His younger brother, Kenny, faces an entirely different task, but one with its own pressures as he takes over as head coach at Bishop Gorman.
Tony Sanchez guided the Gaels to a 15-0 record and the mythical national championship last season, and the team has won six consecutive state championship.
So which is more difficult, building a program from the bottom or keeping one at the top?
"(Tony) is obviously really good at his job, so I'd say I have the tougher job," Kenny Sanchez said.
The Gaels and the rest of the state's high school teams put on helmets for the first time today with their first noncontact practices. But just because a new Sanchez is in charge, doesn't mean the expectations have changed at Bishop Gorman.
"It doesn't matter who's coaching us, we're always going to have intense practice," junior defensive back Alex Perry said.
Kenny Sanchez's practices are fast-paced and highly scripted, just as his brother's were. Also like his brother, Kenny Sanchez almost wills his player to maintain their intensity with his own energy and attitude.
"There's no difference at all," Perry said. "(Kenny) is a little more energetic."
Kenny Sanchez was Gorman's defensive coordinator for all six seasons his brother was head coach, and the team had a 86-5 record during that span. He said being part of that run makes him feel ready to take over the program.
"I got to be there every step of the way, so that's really prepared me for this," Sanchez said.
"If I were to sit here and say that I'm doing such a great job because I'm the guy and I just know what I'm doing, I'd be lying to you. He left me a great blueprint, and I've been following it to a T as much as possible."
Junior quarterback Tate Martell said the team hasn't relaxed after capturing the national title. Instead, that serves as motivation. The Gaels are ranked third in the nation by maxpreps.com, and open the season against No. 17 Chandler (Ariz.) on Aug. 29.
"Obviously, that's our goal now — being national champions — because we've done it," Martell said. "But we're not looking at last season, we're looking at this season.
"Last season doesn't really mean anything to us anymore. We just have to look forward and focus on this year's team and see what we can do with them."
The Gaels had six players sign with major college programs after last season, and two more went to play in the Ivy League. But the team also had an exceptional sophomore class, led by Martell, who was the Review-Journal's state player of the year after passing for 2,537 yards and 40 TDs.
That group inherits many of the team's leadership roles. Just as Sanchez is confident in his ability to step in as head coach, he's confident those players are ready for the added responsibility.
"Anyone who's in business or whatever, if you're around an organization that from the top has really good leadership, the people in the middle and the bottom learn how to follow that," Sanchez said. "And then at some point, hopefully, they get promoted and they want to lead the exact same way as before, and I think our kids are doing a great job of that."
Sanchez also thinks his players are ready for the pressure that comes with having won the national title.
"Last year's group wanted to do something that's never been done before, which was try to win a mythical national championship and try to win six state titles in a row," Sanchez said. "This group, they want the same things, but they've been there before so they want to try to stay on top. There's a bit of a burden that's on their shoulders, a little monkey on their back that they want to get off by showing they can play to those expectations and be worthy.
"So far, they've been doing a great job of just showing up and working their butts off to try to fulfill every expectation possible."
Contact prep sports editor Damon Seiters at 702-380-4587 or dseiters@reviewjournal.com. Follow him: @DamonSeiters