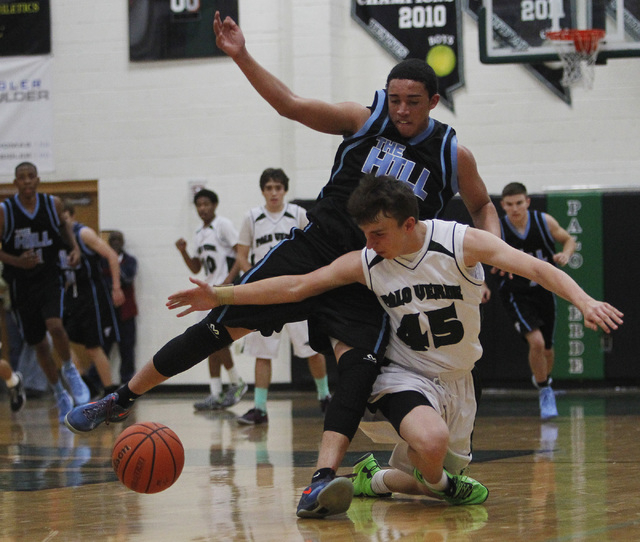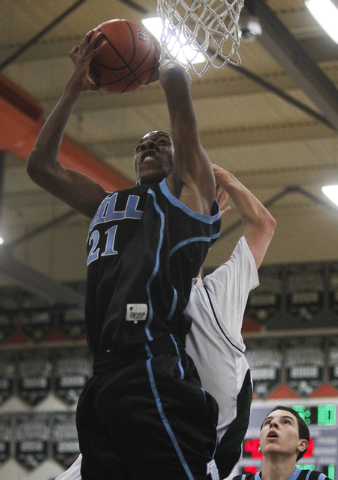 Foothill looked like a different boys basketball team in the second half on Tuesday night.
That's because it was.
Point guard Jalen Shepard sat out the first half for disciplinary reasons; but he made his presence felt after halftime, with 16 points, five rebounds, six assists and a blocked shot as the Falcons pulled away for a 106-72 road win over Palo Verde.
"He makes us go," Foothill coach Kevin Soares said. "And when he came in, he didn't pout; he came in and played hard."
The Falcons led 38-34 at the half, but quickly pulled away once Shepard entered the game. He scored seven straight points midway through the third quarter to help Foothill extend its lead to 53-41.
"We put some guys at the point at the start of the game that weren't comfortable running it, and that showed," Soares said. "But we fought through it. We still had the lead at the half and something to build on for the second."
The Falcons also got red hot from the perimeter. Foothill was 10-for-15 on 3-pointers in the second half. For the game, Foothill was 13-for-26 on 3-pointers.
"I can't remember the last time we shot the ball like that," Soares said. "All the stuff that we've been working on in the offseason paid off tonight."
Matt Rapp made all five of his second-half 3-pointers. He finished 8-for-10 from the field and 6-for-8 on 3-pointers to score 22 points.
While Rapp and Shepard were leading the charge from the perimeter, Torrance Littles was giving the team an inside presence. The 6-foot-7-inch junior finished with 23 points, 11 rebounds and four blocked shots.
"He's been getting better and better," Soares said of Littles. "He's a sponge, soaks up everything that we teach him. One thing he's realized is if he runs the floor, he can pretty much outrun everybody."
While Foothill was struggling early, 6-3 senior forward Ian Ellis stepped up, crashing the boards and picking up some garbage baskets to ignite the Falcons.
Foothill trailed 16-9 before back-to-back post buckets by Ellis started a 9-2 run to get the Falcons back in the game. He finished with 10 points, all in the first half, and 11 rebounds.
"He's that kid that you don't account for sometimes," Soares said. "He's unassuming, he's an undersized post player, but he does all the dirty work and he gets rewarded sometimes. And he kept us in the game in the first half."
Austin Starr had 17 points and six assists for the Falcons.
Braxton Richards led Palo Verde with 14 points, but had just one point in the second half. Travis Gondrezick added 11 points and seven rebounds.
Contact prep sports editor Damon Seiters at (702) 380-4587 or dseiters@reviewjournal.com. Follow @DamonSeiters on Twitter.
TUESDAY'S HIGHLIGHTS
BOYS
Desert Oasis' Kodi Leslie had 17 points, including two free throws with 30 seconds left, to help the Diamondbacks to a 59-56 home win over Sunrise Mountain.
Valley's Spencer Mathis racked up 20 points and 12 rebounds in the Vikings' 79-36 win over visiting Del Sol.
Arbor View's Terrell Butler scored 11 of his 28 points in the first quarter of the Aggies' 89-50 victory at Legacy.
GIRLS
Valley's Gabrielle Cabanero had 21 points, 11 rebounds and 10 steals in the Vikings' 68-31 win over visiting Del Sol.
Tech's Clarissa Szluha hit the go-ahead free throw with six seconds to go to lift the Roadrunners to a 45-44 win at Spring Valley.
Green Valley's Rianna Rudolph had 19 points, eight steals and five assists as the Gators topped visiting Basic, 77-63.
OVERSET FOLLOWS:For all of Tuesday's scores and highlights, visit www.nevadapreps.com.