Footwork, handwork boost Kobe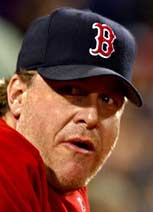 Forget about seeing a sports psychologist or taking extra jump shots.
Maybe getting a manicure or pedicure is all Boston Celtics stars Paul Pierce and Kevin Garnett need to regain their form for tonight's Game 4 of the NBA Finals.
Pierce and Garnett shot a combined 8-for-35 from the field in Tuesday's 87-81 loss to the Lakers in Game 3.
After Los Angeles star and NBA Most Valuable Player Kobe Bryant made only 9 of 26 shots in Game 1 of the Finals in Boston, he got a manicure and pedicure in his Four Seasons Hotel room two days before Game 2, according to a report in the latest issue of Us Weekly.
Donna Nieves, a nail technician in Boston, told the magazine that Bryant was "really concerned about the appearance of his hands and feet" and that "he told me he tries to get mani-pedis on a regular basis."
After getting his "mani-pedi," Bryant's shooting percentage improved as he made 11 of 23 shots in Game 2 and 12 of 20 in Game 3.
There's no telling what Kobe could do if he took a mud bath or wore a cucumber mask.
• SIMERS SLAMS SCHILLING — Los Angeles Times columnist T.J. Simers ripped Boston Red Sox pitcher Curt Schilling on Wednesday for his "38 Pitches" blog entry from Monday, which ripped Bryant for berating his teammates during the Lakers' 108-102 loss to the Celtics in Game 2 of the NBA Finals.
"First of all, like that's news," Simers wrote. "If Schilling has got something to write, let's see him come to Los Angeles, stand outside the Lakers' locker room and get cussed out by Vanessa Bryant like every other blogger. Talk about bloody socks."
Schilling wrote that Kobe Bryant would "yell at someone, make a point, or send a message, turn and walk away, and more than once the person on the other end would roll their eyes or give a 'whatever dude' look."
Simers wrote "Had Schilling written that Lamar Odom and Luke Walton were rolling their eyes, at least that would have been something positive, the two guys doing something while they were in Boston. Instead, he seemed to go out of his way to irritate Bryant, and I can't imagine anyone doing that.
"So maybe he'll come out aggressively and really show them, Schilling inspiring Bryant, and I wonder how that plays in Boston, Schilling doing more for the Lakers than the Red Sox or Celtics."
• DEFENDING PIERCE — After witnessing how Lakers fans reacted to Pierce in Game 3, booing him for four quarters, shouting "Faker!" at him and even carrying signs such as, "Hey, Pierce, this is the Finals, Not the Oscars!," ESPN.com's Bill Simmons wrote, "I'm starting to wonder if KneeGate is going to follow him for the rest of his career." Then Simmons made a defense of Pierce.
"Before the 2000-01 season, Pierce was stabbed 11 times at a Boston nightclub, suffered a collapsed lung and nearly bled to death while staggering to the hospital. Less than two weeks later, he played in Boston's first exhibition game. If the same thing had happened to Vince Carter, he would still be on the injured list seven years later."
COMPILED BY TODD DEWEY REVIEW-JOURNAL