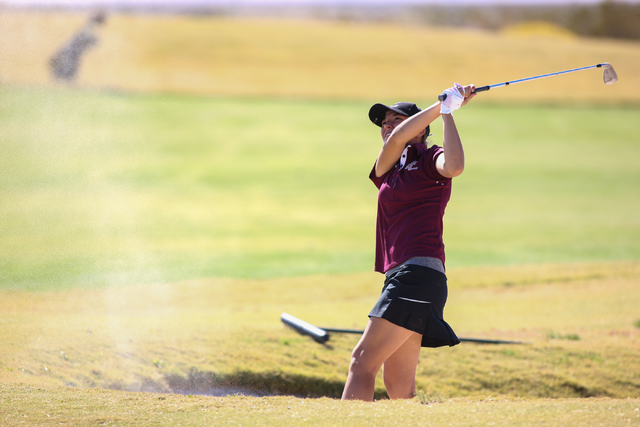 Julia Becker has always had a love-hate relationship with her favorite sport.
But it wasn't until recently that the senior standout for Faith Lutheran's girls golf team could feel comfortable using the "L" word again.
"Before, I did not want to have anything to do with golf after college. But then, this year, I really learned to love it," Becker said. "It all came together. I started playing really well, and it's a lot easier to love when you're doing really good."
Becker is favorite to capture her second consecutive region title Tuesday when the Division I-A Southern Region tournament tees off at 10 a.m. at Boulder Creek Golf Course. The Division I Sunrise and Sunset region tournaments also take place Tuesday at Anthem Country Club.
The top two teams and the top five individuals from nonqualifying teams advance to the state tournaments that begin Monday at Somersett Golf and Country Club in Reno (Division I) and Ruby View Golf Course in Elko (Division I-A).
Becker, the defending Division I-A state champion, has been on a roll since she won two Southern Nevada Junior Golf Association events in May. She competed at the Callaway Junior Worlds Championship in July and was the medalist in all but two events for the Crusaders.
Becker's stroke average of 71.4 this season is on pace to top the school record of 72.0 set by Annie Freman in 2012, and she enters the region tournament fresh off a 4-under-par 68 at Palm Valley on Thursday.
"She's playing very well. That's the best round she's put together," Faith Lutheran coach Mark Cheney said. "She's very long off the tee, so when you put her at the yardages we typically play, she has a big advantage. When you watch her swing, it's very free-flowing, no tension. … She's swinging with great freedom."
Becker, who committed orally to Sacramento State, has been a steadying influence on a Faith Lutheran team with eight new players. Becker said the presence of teammate Sydney Smith — the talented freshman is the only player to beat Becker in a meet this season — has elevated her game.
"Certainly the work she's done with them on the range, on the practice green with their short game, that's all been important," Cheney said. "And it's great for a rising player to have to play with somebody good. They've all had that experience of playing with the best player in town, so they're not going to be intimidated by playing with somebody else because they play with Julia every day."
The Crusaders have claimed five straight region titles dating back to their days in Class 4A but are expected to be pushed by Clark at the region and state tournaments. Faith Lutheran finished ahead of the Chargers in four of five Sunset League matches.
"I think as a team we just need to focus on a couple things that will have our scores drop a little, some short-game issues," Becker said. "But it's also nice being able to come in and say, 'We don't know what's going to happen. We don't know if we're going to win.' "
Becker shot a 3-over 75 at Boulder Creek to win the region tournament last year by seven shots. She will play in a foursome today with Sabrina Ho of Clark, Lani Potter of Boulder City and Tech's Meghan Chase.
"I've had some good rounds coming in, so that gives me some good momentum," Becker said. "I'm just going to play it one shot at a time and try not to think about my score as much as the process to getting a good score. If it's meant to be, it's meant to be."
Contact reporter David Schoen at dschoen@reviewjournal.com or 702-387-5203. Follow him on Twitter: @DavidSchoenLVRJ.